Hey guys 🙂 Happy Saturday! How's your day been so far?? Mine has been glorious, complete with an Insanity workout (today was Plyo) and a facial. Mmmm.
Recovery drink: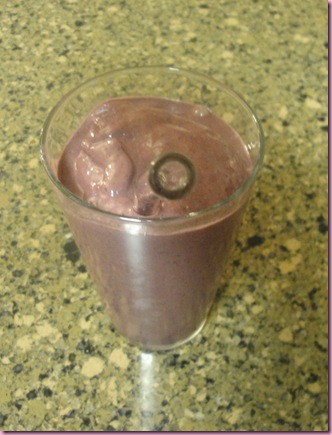 A Cocoberry Shake with:
-almond milk
-organic mixed berries
-1 T raw cacao
-1/2 T maca
-1 T hemp seeds
-1/4 t xantham gum (which thickened it nicely since I was out of bananners)
-vanilla
-1 scoop vanilla Sun Warrior
Perfection 😀
This morning's Insanity workout was really tough—my legs felt like lead since it was our 6th straight day doing the workouts. Tomorrow is our off day and I'm pretty stoked about it. While my body is tired from this week, I feel *really* good 😀
Since I was already schweaty from Shaun T.'s booty-kicking, I figured I'd try out the new Shiva Rea DVD that the company sent me. I LOVED her last one and thought it would be nice to do some stretching and foam rolling after an *insane* week of workouts.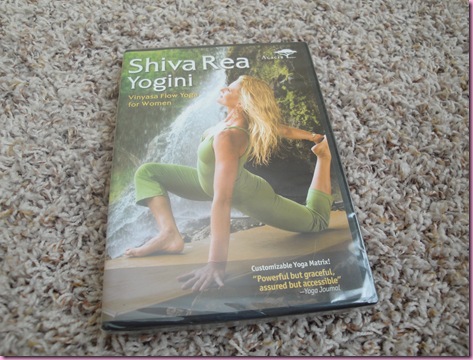 Like Daily Energy, "Yogini" has a customizable yoga matrix, so you can set up your own class.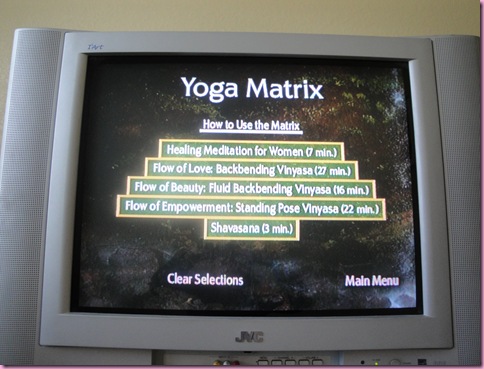 Since I was taking it easy, I selected the Healing Meditation, Flow of Beauty and Savasana.
Um, I lasted about 5 minutes.
Wow.
Ok, I've said before that Shiva Rea is a little nutty. This DVD was a little too "out there", even for me and I have a very open mind. I had no prob snaking my spine around and stretching and rolling around.. but once she got into "self massage" is when I called it quits. I left the DVD running and foam rolled instead.
The only one actually doing yoga was Bella: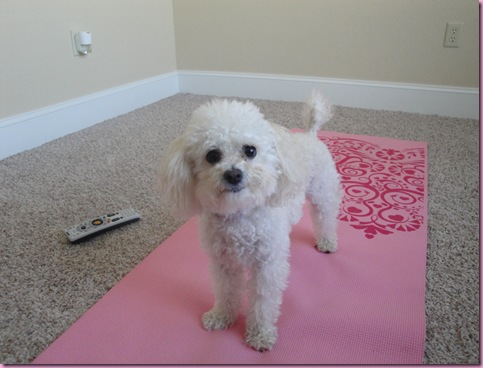 She is a very talented yogini. She's great at begforfoodasana and cuddllebugasana. 😉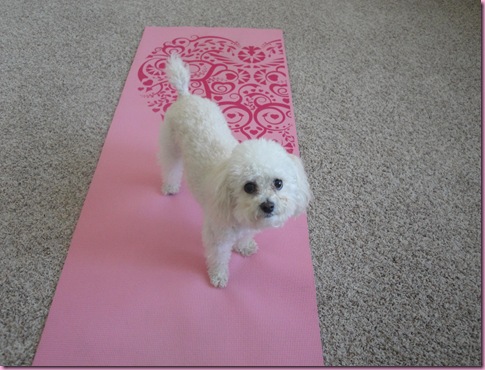 I decided that Shiav's new DVD prob isn't for me, but will definitely try or play through the other matrix options to see if I like them better.
I'm loving the new yoga room in the casa ever since I moved all of the furniture out last week. We have a lot of room to do our AM Insanity seshes and I don't have to worry about whacking into the bed during yoga 🙂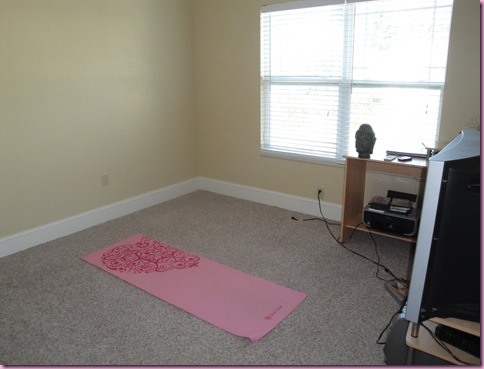 All that's in there is a TV, stereo, desk, spare laptop and printer, DVD player, space heater and Buddha head 😀
Snack:
Egg Puff + Millet covered in Texas Pete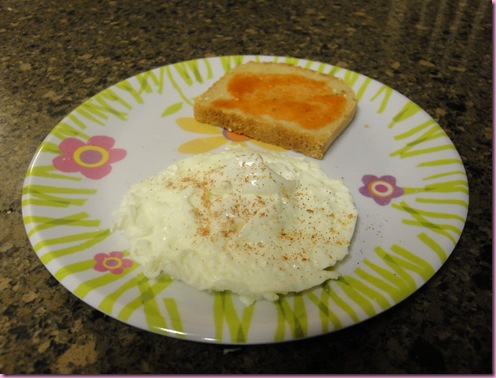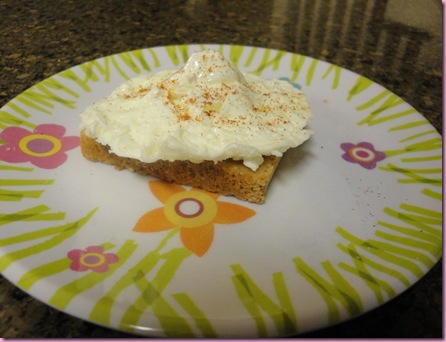 I'm gonna take the puppers out and then head to Bizzle to get some computer work done. I'm always more productive when I"m out of the casa.
Have a wonderful day and I'll see you tomorrow <3
xoxo
G$