Hey bloggies hey! It's FRIDAY

What are you up to this weekend??
I'm going to be planning out my life, chilling with the fam and Tucson friends, and making up for lost vegetables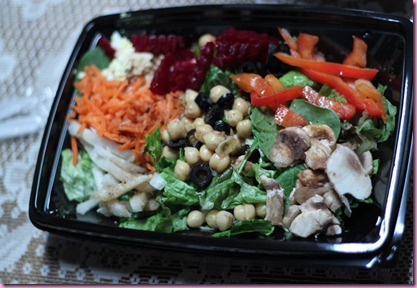 When the Madre and I got into Tucson last night, my grandparents suggested getting Sweet Tomatoes to-go since we were all hungry and I was craving a salad beast.
I got the above salad (greens, jicama, egg, garbanzo beans, olives, red pepper, mushrooms, carrots and beets with balsamic) and made a twin salad for my bro's girlfriend. The two of us also shared a small black bean soup and I ate one of the wheaty muffins off of this platter: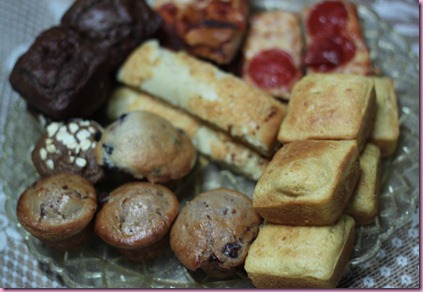 I curled onto the comfy chair and fell asleep watching novelas with the fam. Glorious

This morning, my bro and I hit up The Fanfreakingtastic Egg (aka the Good Egg) for some b-fast.
I was dubbed the Queen of Substitutions.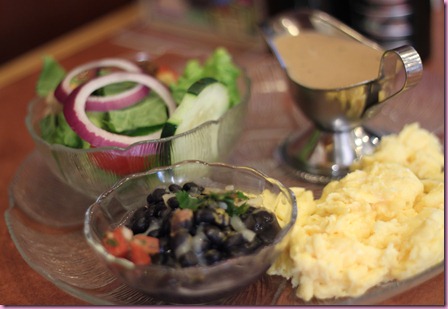 Traditional Day Starter with scrambled eggs, black beans instead of potatoes, and a house salad with balsamic on the side instead of an English muffin.
Menus are just suggestions, mmm k?

Plan for the day:
-Check out the place where the pups and I will be living
-Car wash
-Check out potential Dance Trance studio
-Dance Trance call
-yoga (my aching back and legs could use a little stretching)
-Interview
-Buddy the Elf and vegan hot cocoa
See ya later today!!!
xoxo,
Gina
Something to talk about: Are you a substitution queen too? What do you usually change about your meals? I like to ask for toppings/dressing on the side, no cheese, and salad instead of something. I'm always friendly and polite to the server so they don't seem to mind my ordering antics.
*Sun Warrior promo update: Finally!! We're going to be doing something new for my OpenSky promos- we'll have a follow page and if you click to follow, you'll be able to get the sahweet deals if you like. I'll post the link to the follow page when it's up and running! xoxo