Heyyyyy 😀 Happy Saturday! Hope you're having a wonderful morning! I was so proud of our family for waking up early and making it to the 5k.. we have a tendency to hit the snooze button a few hundred times on Saturday.
And it DIDN'T RAIN!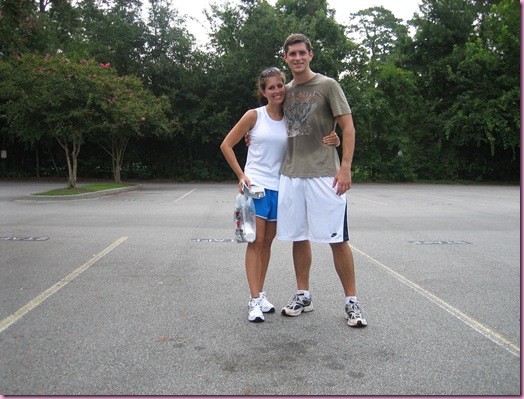 So I got to rock the new sneaks… and I loved them! They're just like my old Asics.. comfy, light and speedy 😉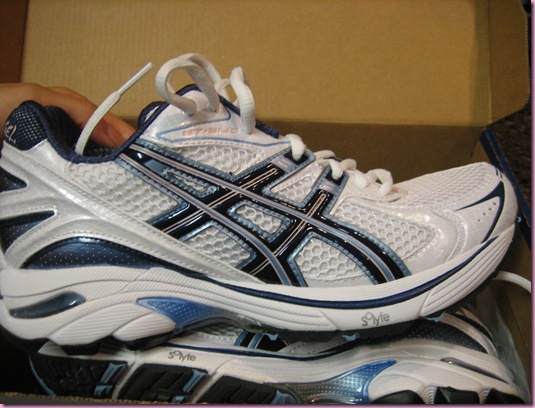 For my pre-race bfast I had a nanner with the last of this week's jar of almond butter (about 1/2 tbs?)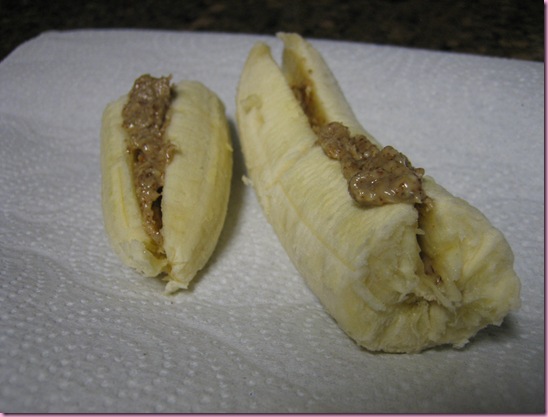 We got to the site, registered and walked to the starting line. I'm not gonna lie, I was extremely nervous. Remember the last time I ran for speed??? Neither can I 😉 I really wanted to push myself and was so glad the pilot crawled out of bed to be my running buddy.
I did my usual race strategy: picked the girl in the cutest outfit and told myself I was going to beat her. I always find a girl who appears to be the same age that I am, in a cute matchy-matchy outfit and convince myself I'm going to leave her in the dust. Today's victim was a really pretty blond girl in a purple Nike outfit- matching shorts and tank top. Super cute. And yes, I beat her 😉
I finished in 25:20 and felt like DEATH when it was over. It was 100% humidity and I really needed the pilot's pep talks to get me through since I was choking for air (and my stomach started cramping up)!!! I was so glad I did it, though. It was an excellent reminder that I can run a lot faster –my best 5k time is 24:15- and will be good motivation for me to keep running on the weekends..
And the best part, THE SHIRT!!!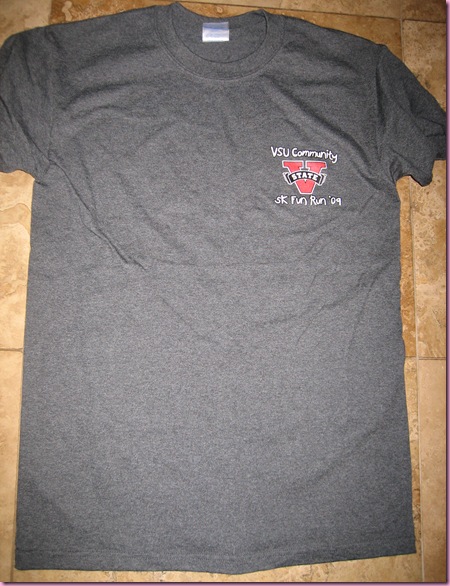 All you have to do to get me to run is make me pay you and give me a shirt when it's over 😀
The back: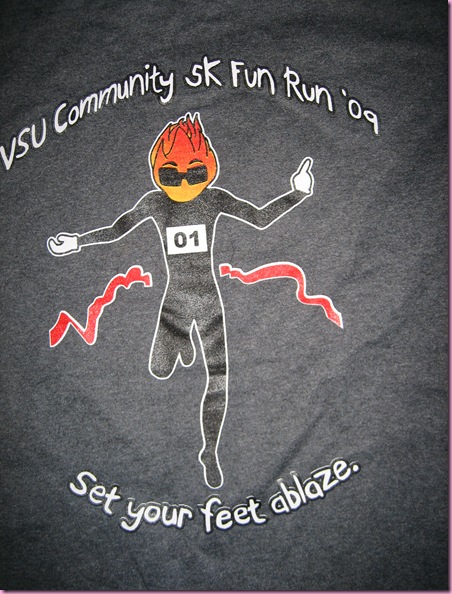 (VSU's mascot is the blazer… which appears to be a funny man with his hair on fire???)
Since he was such a trooper for waking up and running with me, the pilot got a bagel at ABC when we were done: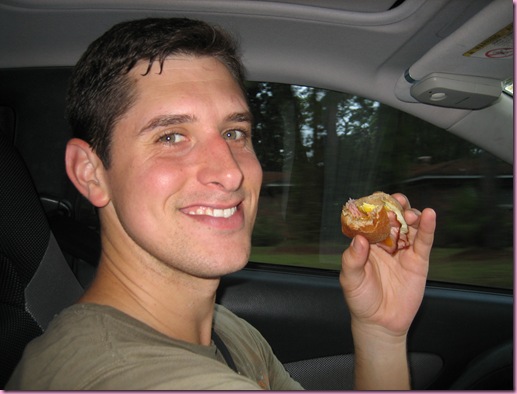 (hubba hubba)
And I came home for some cantaloupe: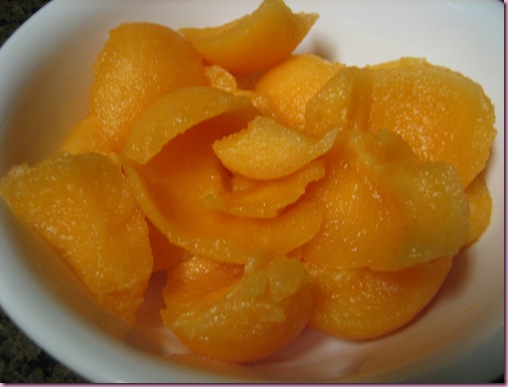 I know I'll eat more later but my stomach is feeling a little iffy. I don't think that nanner had enough time to digest before we ran.
So I'm off to start the cleaning extravaganza, make some macaroons and update the recipe page, run some errands (hoping my new camera gets here today!) and then who knows!
Hope you have a great day and I'll see ya tonight.
Much love,
G$
*Thanks again (SO mucho) for helping me get the word out about re-subscribing to the bloggy. The face lift we did removed my blog from Google readers and I'm so glad to see all of you back here post blog plastic surgery 😉 To say thank you, I'm running a giveaway on Monday morning just to let ya'll know how much I appreciate it—stay tuned 😀
Something to think: "It's only temporary." I remind myself of this often, particularly during a race or tough workout. It's going to be over soon and before I know it, I'll be sitting in my car, driving home. It's totally helped me push through races when I feel like giving up, teach a hardcore aerobics class even if I'm feeling blah, and kept me from scrambling out of doctor's offices as I'm terrified of needles. I just tell myself that it's temporary and isn't going to last forever. What are some of your favorite workout mantras??