Reader's Request: A stocked kitchen
Hey hey 😀 Hope you had a fantastic almost-Friday <3
My day was a blasty, but crazy as usual.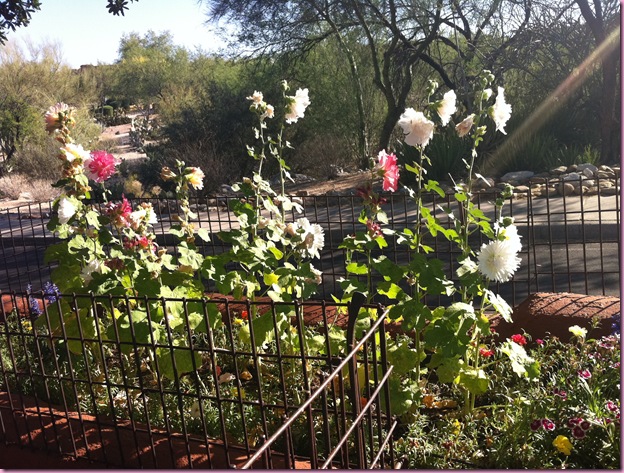 It started off with CRP cert– check out the "face" I got to use for the mannequin 😀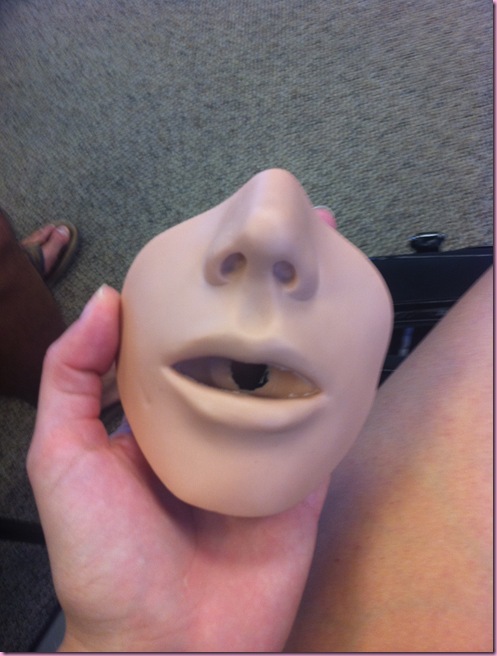 Our instructor was a firefighter and firefighters are very… knowledgeable… so class was better than my last experience 🙂 I feel fully-equipped with my CPR skillz, but hopefully will never, ever have to use them.
Also at work, I supervised the weight room, assisted Zumba, did 30 minutes on the Stairmaster (and was sweating buckets! It's been a while), and also got to act as a human metronome for the drumming class- banging two sticks together for 45 minutes to help the class keep the beat. That's always a good time, but my brain hurt when I got home.
So much in fact, that I needed a brainless, yet delicious dinner 🙂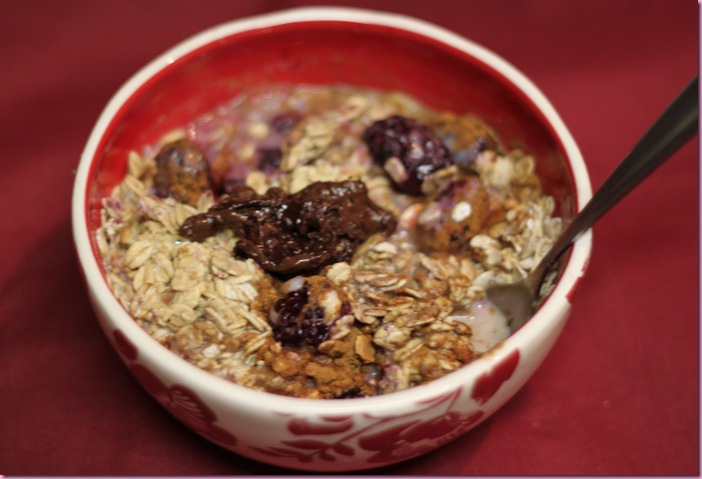 Breakfast cookie dough cereal to the rescue! (with organic blackberries, cinnamon and heated up for a minute in the microwave)
See that chocolaty blob in the middle?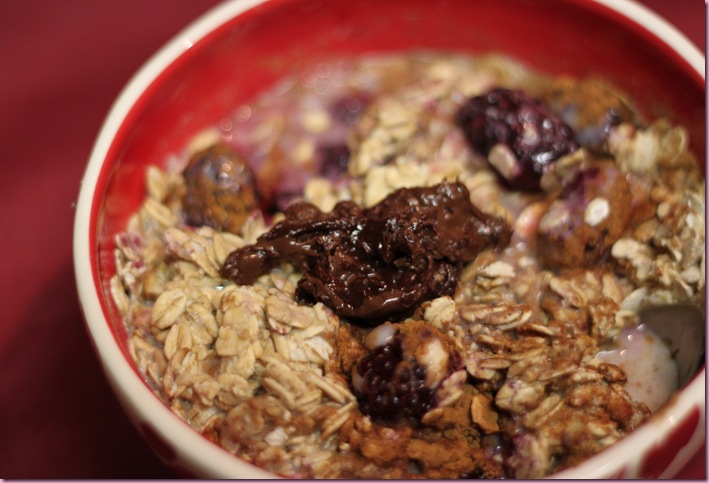 That's melted vegan dark chocolate truffle that I made the other night. (Melted chocolate chips with a little almond milk, chill in the fridge a little while and roll into balls. Easy peasy)
Cuddle time with Bell was just was the doctor ordered, too 😀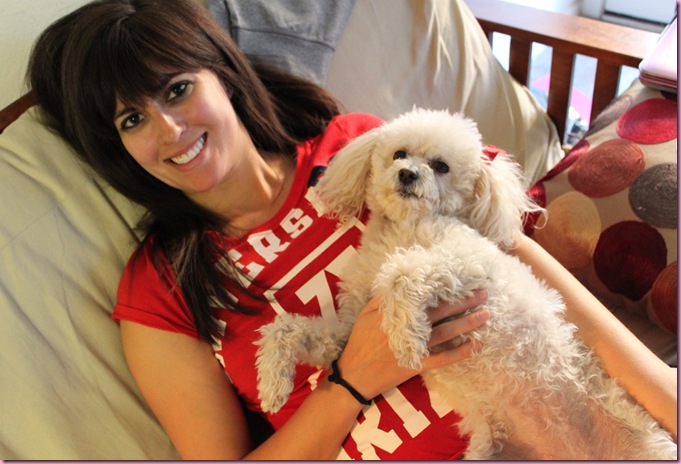 So I get quite a few questions about my favorite grocery staples and standards I keep on hand, so I thought it would be a good Reader's Request for this week.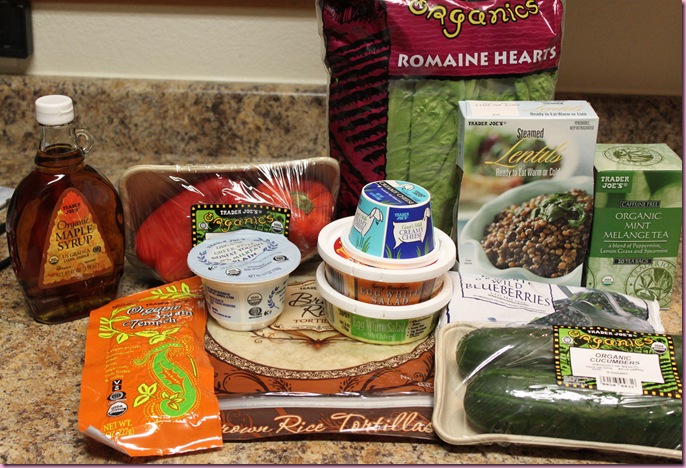 Here are the things that I like to have on hand, at all times in the casa:
Grains and breads:

-Brown rice

-gluten-free oatmeal

-brown rice farina

-quinoa

-1 type of pasta: I love mung bean fettuccini and black bean spaghetti the best

-brown rice bread + one "fun" bread (like brown rice tortillas, gluten-free English muffins or gluten-free bagels)

Dairy:

-organic butter or ghee

-organic eggs

-goat cheese

-goat cream cheese

Meat/fish

-frozen Wild-caught salmon (fresh is better, but since I live in Arizona, frozen is the same thing as the "fresh" stuff at the deli)

-frozen organic chicken breasts

-canned albacore tuna

-Deli meat or tofu is a great option, but there more occasional treats

Beans/legumes and canned food

-organic chickpeas

-organic kidney beans

-organic lentils

-raw cashews

-diced tomatoes

-pasta sauce

-artichoke hearts

-kalamata olives

-sundried tomatoes

-tomato paste

-tomato sauce

Condiments

-Almond butter

-Dijon mustard

-One salad dressing (Goddess dressing and balsamic are my faves)

-hummus

-Nama Shoyu or Tamari

Produce (all organic)

-salad greens- I switch it up every week. If I got romaine last week, I'll get spinach this week, arugula the next and so on

-green apples

-grape tomatoes

-bell peppers

-baby carrots

-cucumber

-lemons

-zucchini, squash, asparagus or eggplant- whatever looks fresh and in season

-onions

-berries (fresh and frozen for smoothies)

-baby bananas- I pick the smallest ones, since a large banana is usually two servings

Snacks

-Seaweed snacks

-Dark chocolate

Extras

-Extra virgin olive oil

-Coconut oil

-Sun Warrior protein powder

-Decaf espresso powder

-cacao powder

-Spices
So there ya go!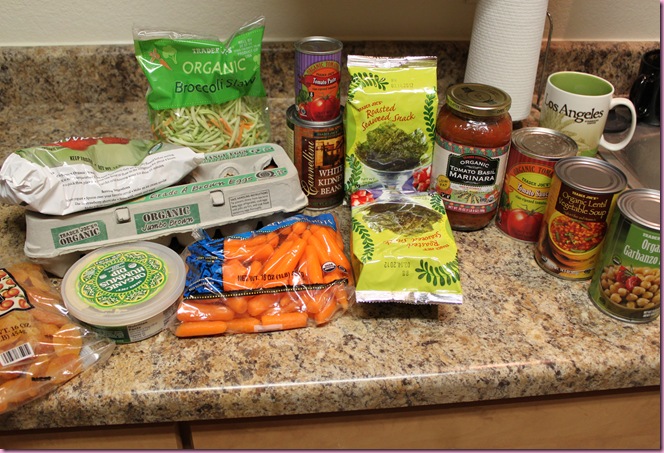 And guess what? That's the tentative shopping list for the first week of Summer Shape Up- it starts on Monday!! 🙂 If you're planning to follow along, check out your pantry and see what you may like to pick up this week to set yourself up for success. The meal plan is never set in stone, but rather a TON or breakfast, lunch, dinner and snack ideas that you can mix and match as you see *fit*
Hope this helps a little!
xoxo
Gina