Hi friends! How is your Sunday going? I'm so stoked to spend it relaxing. Absolutely nothing on the schedule, and it's our first full day with the three of us home since our return from Italy. My body is also grateful for a down day after yesterday's running and teaching extravaganza.
Before work, I met with the running group for our 8-mile training run. Initially, I felt pretty sluggish, but ended up picking things up and finishing a little faster than my ideal race pace. If I wouldn't have had plans to meet everyone for the run, I would have skipped it knowing that my teaching schedule had changed to an intense day. I'd have a long run looming over my head (and super sore body) this morning, and it's already DONE 🙂 I'm so thankful that running with the group has given me some critical motivation for my half marathon training. I have a group of people with a similar pace, so we can run together, I'm getting pushed with the track workouts, and they check in and hold me accountable. Getting through the last bit of hot weather is the only tough part left, and once fall and winter are here I'll be able to really enjoy the racing season.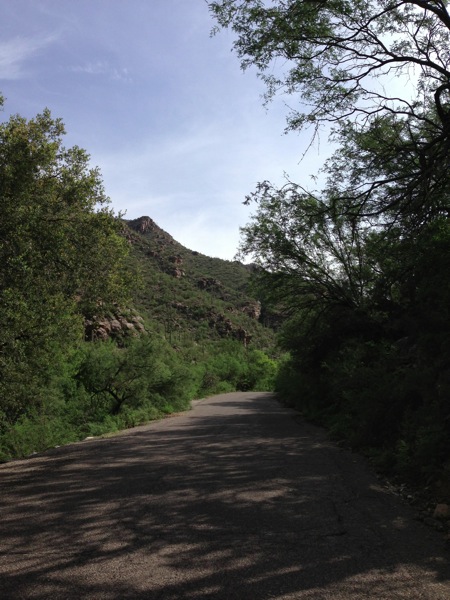 Another huge source of motivation is running blogs. There are so many fast, inspiring running bloggers out there, and one of my all-time faves is Hungry Runner Girl. About the same time I joined my running group, she posted a running-only playlist. I thought this idea was brilliant because I used to use the same songs for everything: the classes I teach + my own personal strength and cardio sessions. I would burn out on songs SO quickly, and during my run, I'd even get a little annoyed when one of my frequently-played jams would come on. No longer! Now, I have a running-only playlist, and when I hear these songs, it's a special treat 🙂
Here's what's on there right now: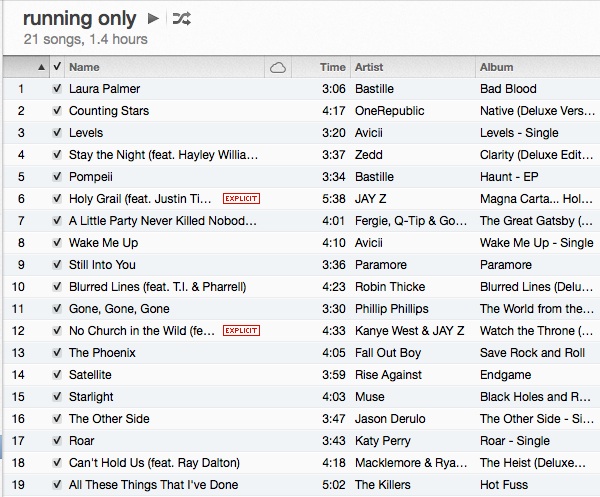 Each week, as we add in more mileage, I'll add in a couple more songs to the beginning of the playlist. When Katy Perry comes on, I know I'm almost there 😉
Here's what the rest of the week looks like: (tentatively, as my teaching schedule changes each day depending on sick calls and coverage)
Sunday: OFF
Monday: Easy run
Tuesday: Strength + Teach Zumba (Sasha and I are teaching a class here in Tucson– email me if you'd like the details)
Wednesday: Teach Zumba + track workout
Thursday: Teach DJ dance, Zumba
Friday: OFF
Saturday: Long run + teach Zumba + teach Barre
Some of the things I've been enjoying during my long runs and in between classes: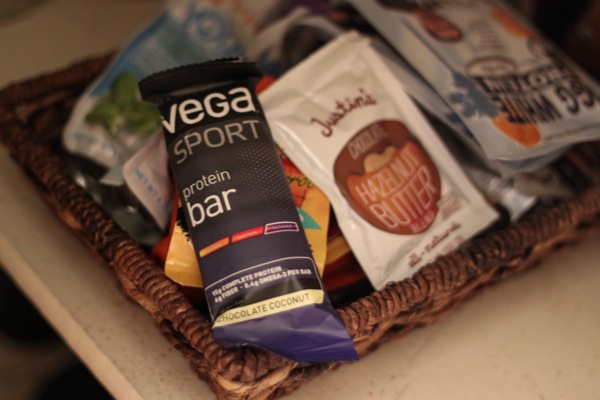 -Clif Gel
(the mocha flavor is the best!)
-Clif Shot Bloks
(Margarita flavor!)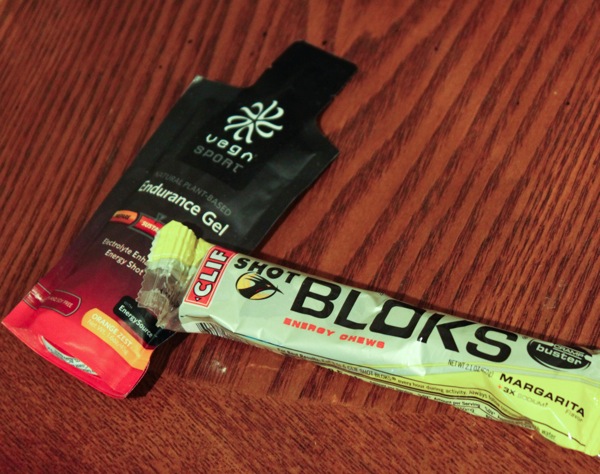 -Vega gels
(awesome for back-to-back classes)
As far as this week's meal plan goes, I'm going to do the usual prep work, but have NO idea what to do for dinners. If you're making anything amazing this week, I'd love some dinner inspiration… especially since my brain is still swimming in fresh bread with oil and balsamic, pasta, seafood and Napoli pizza.
What's on your fitness schedule? I love to hear what you're up to. Any fun new classes on the plan? Check out this month's workout calendar for some ideas to switch things up!
Have a happy Sunday.
See ya later with some pics from the day <3
xoxo
Gina
This post is part of my partnership with Women's Running Series, a compensated campaign through Fitfluential. I'll be running the Women's Running Series half marathon in November– you can check out the details here! Feel free to tweet along with us (#beamazing) and the code "FITAZGINA" is good for $10 off your registration until November 3.