Shake, Step and Fashion Friday
Hi guys!! How's your Friday treating ya? Hope it's been lovely 🙂
Zumba this morning was off the chizzle. Two hours!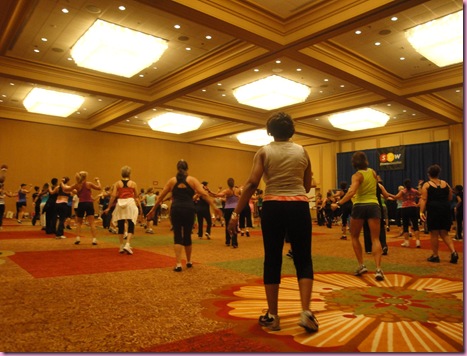 Loved. Every. Second.
Here's some info about Zumba for those of you who are wondering what the heck my fitness obsession is.
Zumba is an aerobics fitness program that was created primarily by Beto Perez. Zumba originated in Colombia in the 1990s, when Beto forgot a CD for his aerobics class. He used one of his personal CDs (traditional Latin music) and taught a dance-style aerobics class on the spot. Zumba was born! Since then, it has become a crazy booty-shaking world phenomenon, with over 6 million participants taking classes each week (Source). Zumba got its namesake from the buzzing of bees… Zuuuuuumba–it's Colombian slang for "fast."
Zumba is a Latin-style dance class (including salsa, merengue, cha-cha, cumbia, soca and samba), combined with hip hop and reggaeton, as well as international styles of dance like bellydancing, flamenco, Bollywood and African. Most classes should be about 70% Latin dances with 30% for the rest of the other fun stuff.
Many classes will utilize an interval style of training–combining slower dances with faster upbeat songs and songs dedicated to toning movements (arms, abs, legs).
The instructor will usually dance in front of the class, while the students follow along. Each song will repeat the same movements, so that it's easier to pick up.
There are over 25,000 Zumba instructors and Zumba is taught in over 100 countries

For more info, check out my *Daily Spark article on Zumba*
I munched this snack after: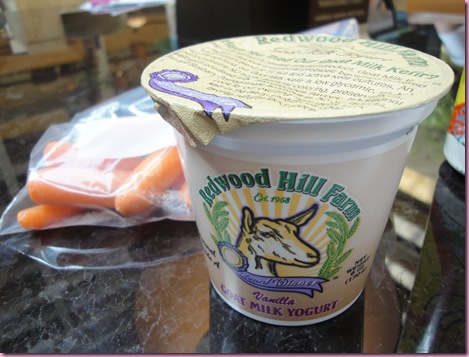 Goat milk yogurt and carrots
+ a Rudi's hamburger bun (leftover from the pilot's and in-laws burger dinner) smeared with almond butter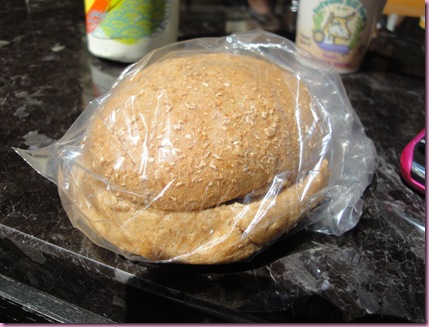 Nice-looking bun, eh? 😉
Next was Flirty Girl Fitness.
Some info on Flirty Girl:
Flirty Girl is brand-spanking new
Each dance has 4 "moves" that are repeated throughout for 32 beats each
There are 102 Flirty Girl moves and each one has its own [goofy] name
Examples:

-Flirty Bunny

-Hump Dat

-Cork n' Peek

-No you din't

-Chicka Chugs

Not even joking.
Flirty girls in da house: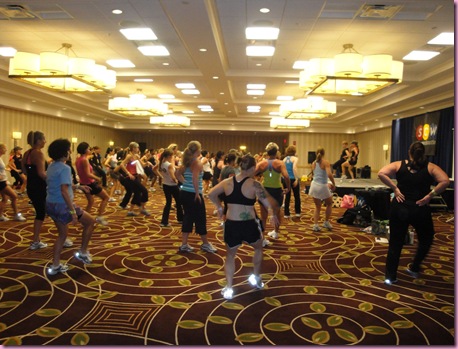 This class wasn't really my style. It wasn't nearly as raunchy as the infomercials make it look (as the instructor said "we're Flirty, not dirty") but I was super bored from repeating the same moves for each dance. Flirty Girl would be fun for girls with aerobics backgrounds that have never danced (it's very fitness-y) but if you like to *really* dance (even if you've never done it before!), I'd go with Zumba. You don't have to be a good dancer to Zumba. The main difference between FG and Zumba is that in FG, it doesn't matter what music you use—it just needs to have a solid beat (like techno remixes of top 40 stuff). In Zumba, the music determines the movements and each move goes with what the song expresses… I much prefer that.
While Flirty Girl wasn't really my thang, I LOVED the instructors. They were seriously amazing.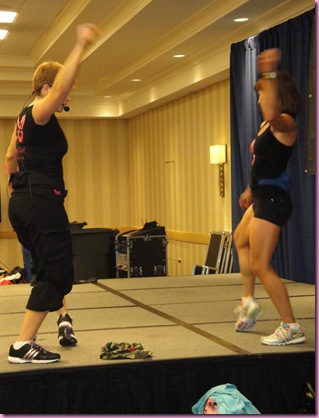 Snackage: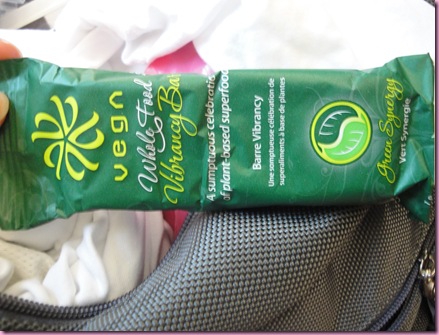 My favorite bar everrrrrrr 🙂
Next was Steplicious.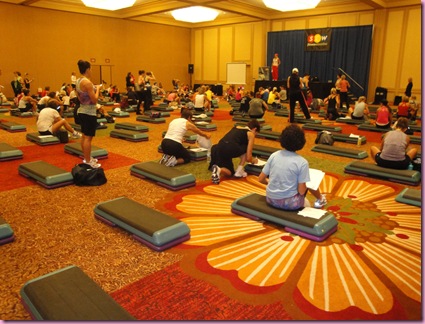 Steplicious was an advanced step class for step instructors. I used to teach step back in the day and it felt SO good to do it again.
Once again, incredible instructor: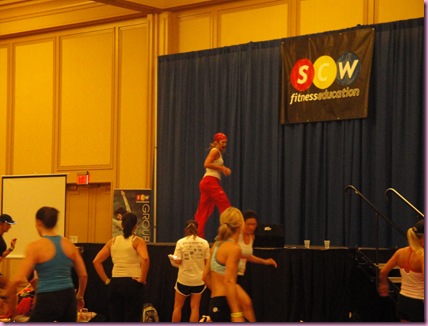 We stepped for a solid hour and a half – the choreography was incredible.
My legs are really tired… but I'm really happy 🙂
Off to Glutes, Guns and Guts (last one for the day!!) and then the pilot and I are meeting friends for dinner.
Have a great night!
Gina
Upcoming:
-A cookbook giveaway (it's one of my all-time favorites)
It's FASHION FRIDAY! Today I'm going to roll with something a little different- fitness fashion!
Here are some of the things I'm loving right now…
Zumba Gear
I'm not gonna lie, some of the Zumba stuff looks like clown attire, but a lot of it is really cute. It's kind of the same idea as the VS Pink collection—since they use the same color scheme, everything "matches" 🙂
At the expo, I picked up these blue highlighter pants: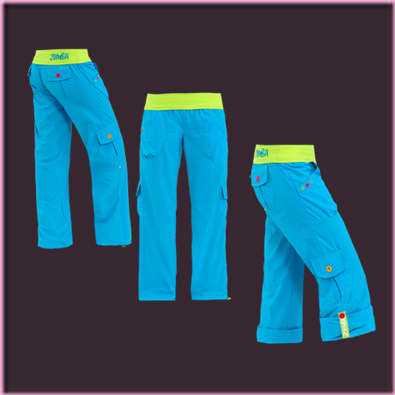 And this shirt: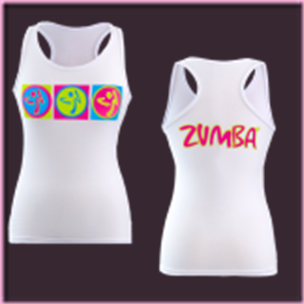 Right now, I'm really loving Lucy athletic clothes – especially since I hit up their online sale pretty fiercely a little while ago.
Some faves: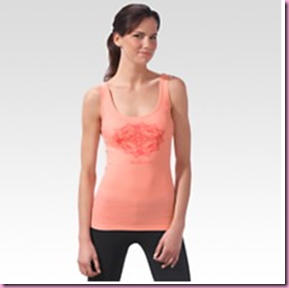 Lace medallion tank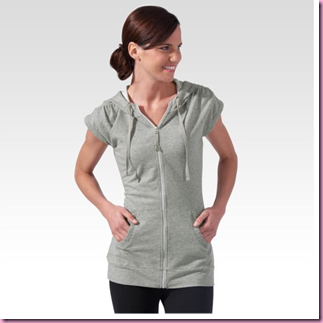 Gym coverup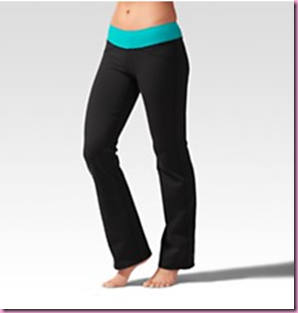 Power Cardio Pant –on sale!
If you're ever looking for an awesome yoga pant, check out the foldover pants at Victoria's Secret—these are my all-time favorite yoga pants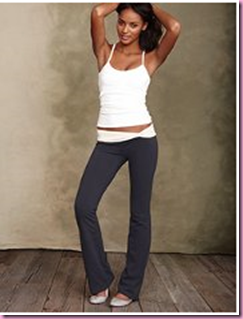 Foldover Yoga Pant
Where do you like to shop for athletic clothes?? My favorites right now are Lucy and Victoria's Secret—a lot of times you can find good stuff at TJ Maxx if you're willing to dig. The only thing I own from Lululemon is a headband—please don't throw anything at me, haha. What's your absolute favorite workout gear?
I'd say it's a toss up between my beloved Nike Tempo shorts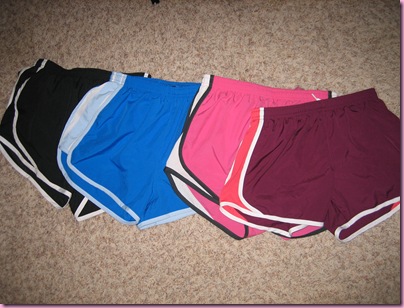 And my Livewell bag– it holds everything (laptop, lunch, extra shoes, make-up bag, camera, Flip, 2 binders and an extra outfit!) and I've gotten so many compliments on it this weekend