Hey everyone! Hope you're having a great day <3 WHOA! It looks like ya'll wanted some macaroons! Keep those entries coming- I'll announce the winner tonight after spin and Zumba 😀
I started the day with a lovely Cullen juice: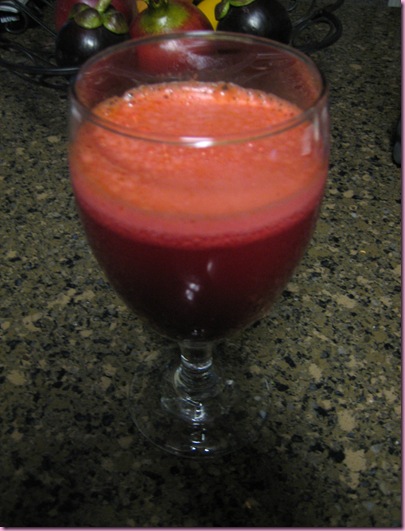 (4 carrots, 1/2 giant beet, and 1 gala apple)
And took the puppies on their morning excursion.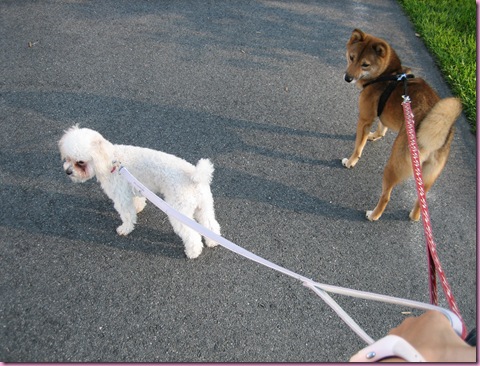 Just look at this little face!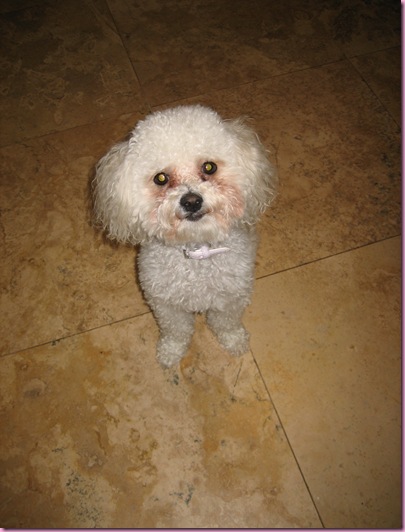 Don't you just want to hug her?? I'm going to miss my babies while I'm at school 🙁 I think I'll miss the pilot, too 😉 We're joking that it's my turn to go on a deployment since he'll be minding the home front while I'm away.
After walking for about 40 minutes with the puppies, we came back and they had dog food and a little peanut butter (they LOVE peanut butter) and I had the rest of my bfast.
Eggplant bacon rounds: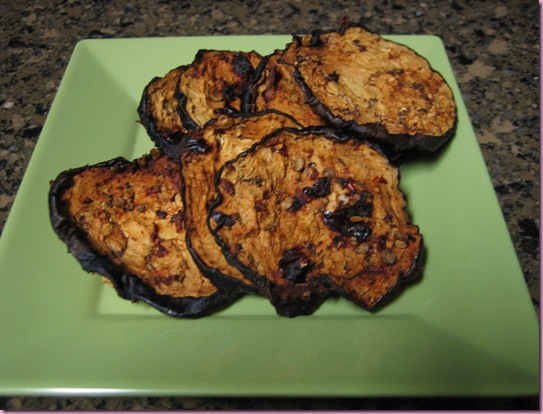 The recipe is in one of my favorite raw cookbooks and calls for 1 soaked dried chipotle pepper. I used 4. The marinade came out so spicy that when I smelled it last night, I erupted into a fit of coughing. They came out FIERY!! And I love them.
Also, raw chocolate cinnamon buckwheat crispies that I made last week with hemp milk and nanner.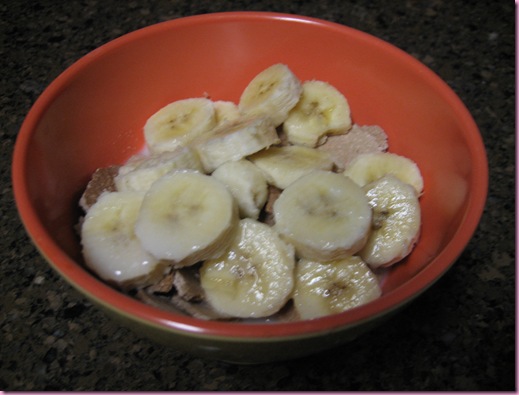 When I shook the hemp milk container, the top came off and covered our counter in said milk and drowned one of my favorite Coach bags. Lovely. At least it tasted delicious, right??
I went into work for a couple of hours to read an issue of US weekly and chat take care of important biznaz, then it was time to save the puppies and make some lonchi.
Today, I went for Raw Caesar Salad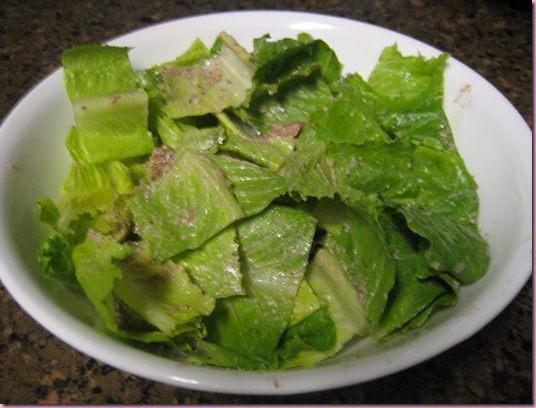 (I didn't use very much lemon juice or apple cider vinegar, so the dressing was more of a paste)
And bell pepper and tomatoes with the rest of the dressing-paste and some goat jack cheese.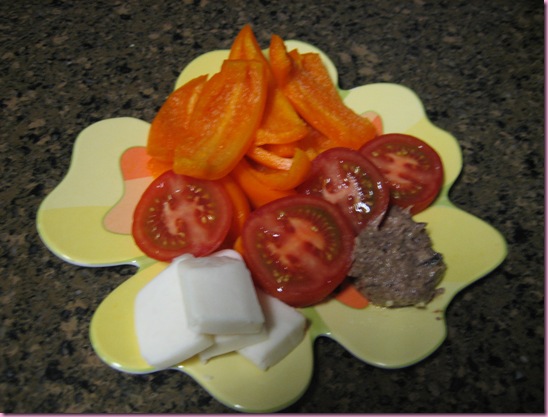 It was pretty much amazing and I couldn't even finish it all, which is rare for me. Usually I have no issue cleaning my plate 😉
I've been working on tonight's Zumba dances and still need to make a spin CD before I go teach –I'll post the playlist for ya'll tonight. After work, I'm coming home to make some Jambalaya. Oh yes 😀
Have a great afternoon! See ya tonight with a macaroon winner!
Ohhh, and Happy Birthday to VeggieMom! (VeggieGirl's super cute madre)
Much love,
G
Something to do: Be sure to check out Katie's blog for your chance to win an Upwelling CD! And if you don't win, their album comes out TOMORROW! It's good stuff… like SERIOUSLY good stuff! Their song "Wanderlust" rocks my face off.
*****My popcorn tip is on Yahoo! From a few comments on that post and the giveaway post, some people seem to have a problem that I suggest taking your own popcorn into the theatre. Yes, you're not supposed to bring outside food/drink into a theatre, but I feel that bringing something healthy is different than sneaking in the same items that they offer at the concession stand, like candy and soda. If you want candy and soda, it's available and should be purchased at the concession stand. I don't bring my own popcorn for financial reasons, I bring my own snacks for health reasons.
I put a small baggie of healthy popcorn in my purse and don't make it obvious—I might have a Larabar, or some dark chocolate in there too, but my purse almost always holds a couple of snacks. My thoughts are, until the movie theatres start serving food that I want to eat, I won't buy anything or I'll bring my own. I don't think that there's a need to stuff my face with an unhealthy choice to "financially support" the movie theatre. I may purchase a bottled water if I'm thirsty, but food wise, they do not offer a single item that I'd like to consume. When they start serving organic, butter-free popcorn, I'll be all over that. Until then, I'll sit there in peace and enjoy my homemade nutritional-yeast covered deliciousness.