Hi! How's the day going? Loving the giveaway entries from this morning. I've enjoyed reading them so much, and each one has brought a huge smile to my face! I'll pick the winner this Sunday night and announce in Monday's am post.
I'm excited to share my latest Stitch Fix
(<—referral link) with you guys, as it's one of my favorites in quite a while. The best thing about this one: it included a casual mix of clothes that I would wear on a daily basis, instead of dressy or date night pieces (which I love, but everyday clothes get more use). Since receiving it this week, I've worn every piece, minus a dress that I'm thinking may have been a mistake. More details ahead…
(If you're a Stitch Fix client, you can pin any of these pieces onto your style board to request from your stylist. If you're curious to learn more about Stitch Fix, here's my first post ever and my most recent fix. Also, I'll be doing a wall/winter capsule-ish wardrobe update once the weather cools down. For now, I've been sticking with many of my summer staples.)
#1: Market and Spruce Sam Hi-Lo Short Sleeve Tee
I usually don't love hi-lo, but this one is not severe at all. The shirt is very soft and comfy; I know I'll wear it a lot this fall with jackets and jeans, or with a skirt and booties.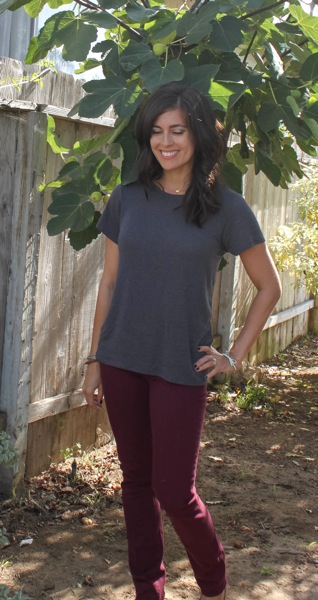 (worn with my burgundy Tory Burch skinnies and cheetah flats)
#2 Amour Vert Priscilla Floral Print V-Neck Silk Blouse
Maybe it's the "mom style" in me, but I love, love button-up blouses. 😉 They're flattering, they look polished (even when I'm makeup-free and my hair is in a messy bun) and versatile. I usually just wear them with sandals and jeans, like below: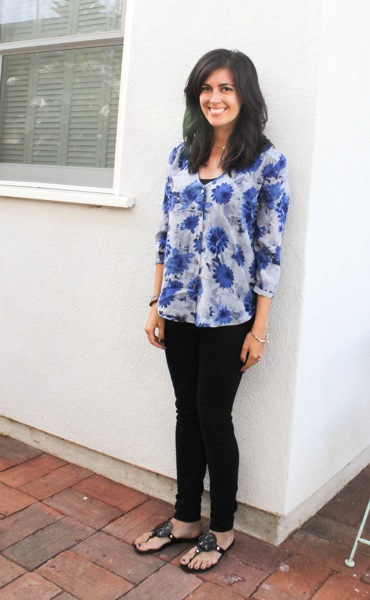 (with black skinnies and Tory sandals)
Daniel Rainn Taya Flutter Sleeve Silk Blouse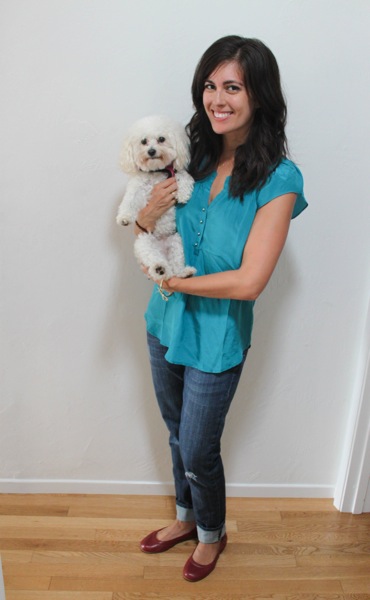 (with Kut from the Kloth boyfriend jeans that I thrifted + Juil flats)
Gorjana Juliette Bird Charm Necklace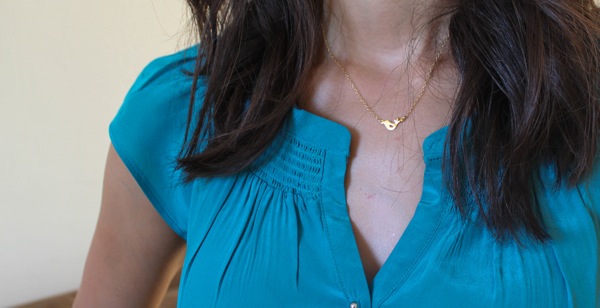 Hailey 23 Hailee Twist Waist Textured Sheath Dress
This one I was kind of "meh" about when I removed it from the box, mostly because I don't like the twist waist look. My waist is lower than most clothing styles dictate, so it leaves anything with a set waist point to look kind of awkward. I ended up keeping this one for a few reasons: if you get everything in your box, you save 25%, so it was a freebie. The fabric is dreamy, and I could see myself wearing it more as a skirt throughout the winter with a luxe sweater over it or fun jacket. Looking at the pic though, I think "oh no."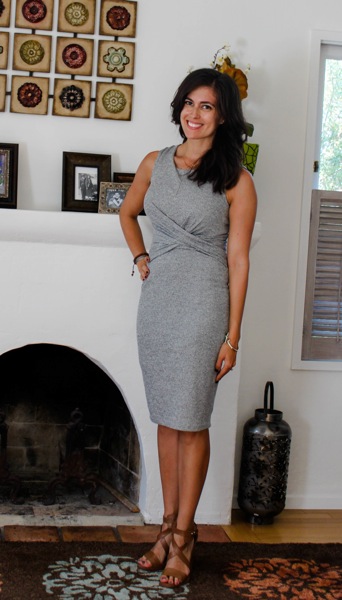 You win some, you lose some. Haha.
Hope you have a lovely night! I'd love to hear about any shopping successes or fails lately 🙂 Any styles you're loving for fall?
xoxo
Gina