Hi! Hope you've had an wonderful day so far <3 Thanks for hanging in there with me this week with a slightly sporadic blogging schedule. Things should be back to normal around here starting tomorrow 🙂 I'm still having an incredible time here In BC and am constantly blown away by the majestic scenery. I've had the privilege of making friends with some incredible people while I've been here, too. In my last post, there were some requests for what a full day of adventures looks like, so here's a recap of a typical day: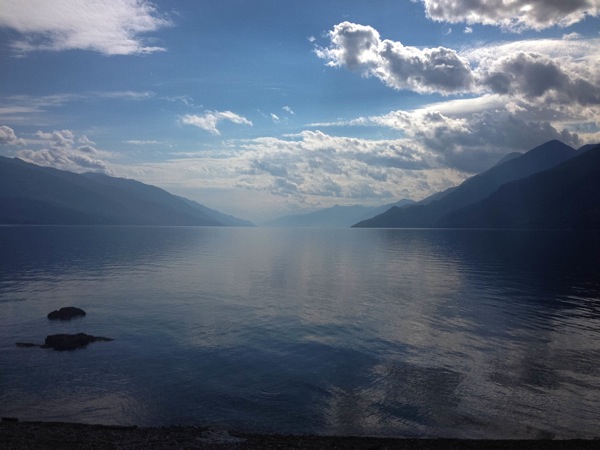 6:00 am: Knock at the door. "Good morning, Gina." At first I thought it would be totally bizarre to have someone knock to wake me up this morning, but turns out that I love it. It feels a little more kind than the blare of the iPhone alarm. Also, this is random, but whenever I pick a song to play as my alarm, it's always the WRONG CHOICE as soon as it goes off. Does this happen to anyone else?
After checking emails on my phone for a couple of minutes, I get dressed and head downstairs to start the day.
6:20: We meet in the lobby for pre-yoga smoothie and ginger drink. The ginger drink is boiled ginger in water, which is fresh and delicious, and the smoothie is frozen fruit blended with almond milk, chia seeds, hemp seeds and protein powder.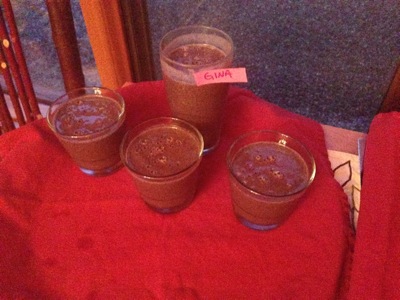 6:30-7:30: Yoga time! At first I thought it would be a vinyasa-style class, but it's more of a gentle stretching and foam rolling session. This is perfect because the day includes plenty of activity; it feels amazing to stretch first thing. Each day is different, and today we finish off with a 10-minute meditation series. Each day that I wake up to go to this class, I debate sleeping in, and each time I go, I'm so glad I did. I walk out feeling centered and awake, and will remember this when I'm back at home and tempted to hit the snooze on the alarm.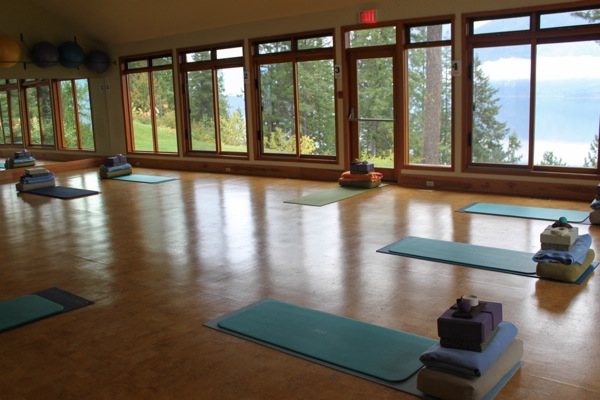 7:30-8: Breakfast time! This is my favorite meal of the day, and I have so many new recipes to try (and lots of inspiration) to take with me. Some favorites: grilled turkey sausage with sweet potato and veggies; poached eggs with refried beans and guacamole; quinoa porridge with apple compote and fresh fruit; and today's, a Manna bread with various toppings.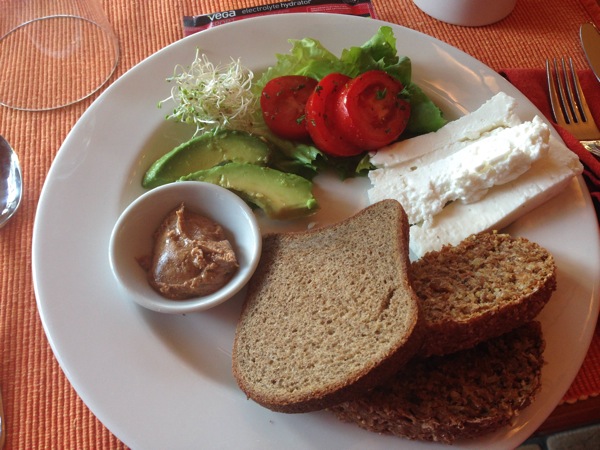 (Worth noting: as I mentioned in my last post, I asked for the "man portion" to get a little extra fuel while I'm here. The man portion is really a normal-sized portion, and very similar to the amounts and types of food I'd be eating at home. It's been incredible to enjoy clean foods this week that I didn't have to prepare! It has been a glorious treat. Also, bringing chocolate and caffeine was a wise choice.)
8-9: Get ready for the day + foot care. This is when I usually get to Skype with the Pilot and Livi for the first time of the day before grabbing my hiking gear, foods,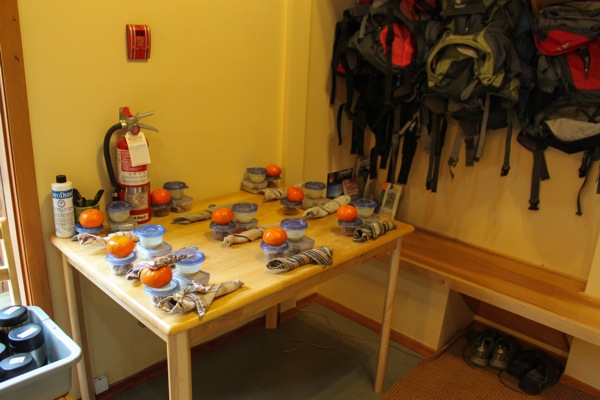 and filling up my water.
As far as the foot care goes, I never thought it would be a part of my life, and it's been a huge part this past week!
Everything on this table freaked me out.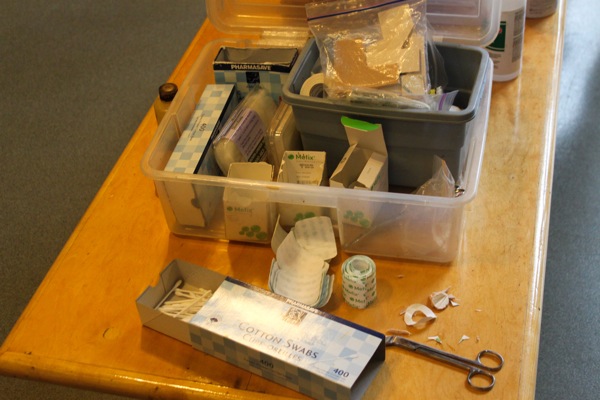 It is now my friend.
9:15: Head out for the day's hike. We hike an average of 3-4 hours a day in various locations. For this particular day, we explored Pilot Bay and hiked around the Kootenay Peninsula.
To get out there, we took the ferry!
Total ferry noob.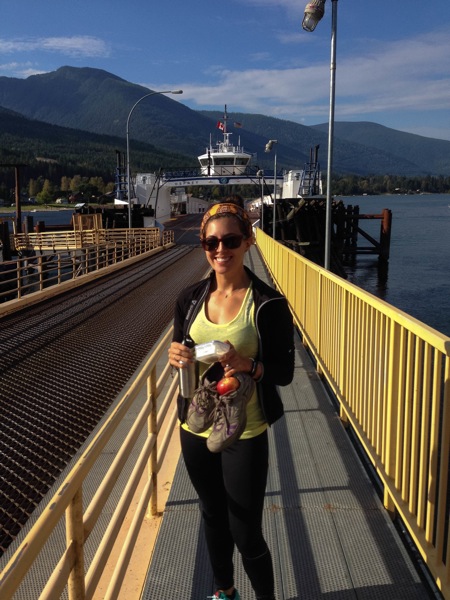 ("Wait, so cars go on that? But we can walk around? This is so cool.") <— eye rolling permitted. This whole "water travel" thing beguiles me.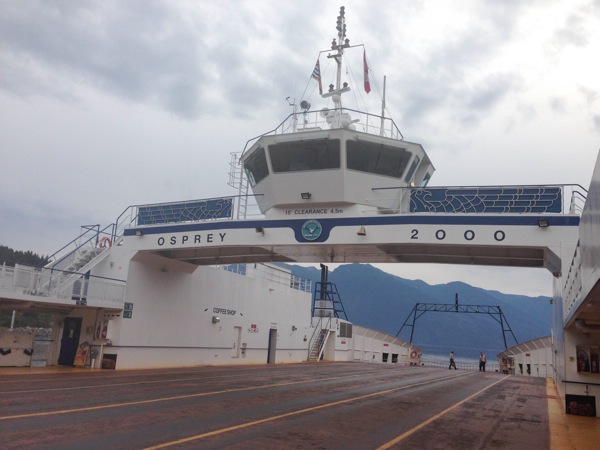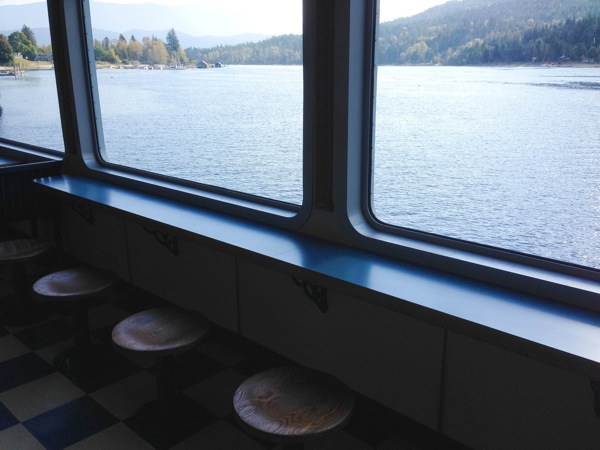 10-2: Hiking, hiking, hiking.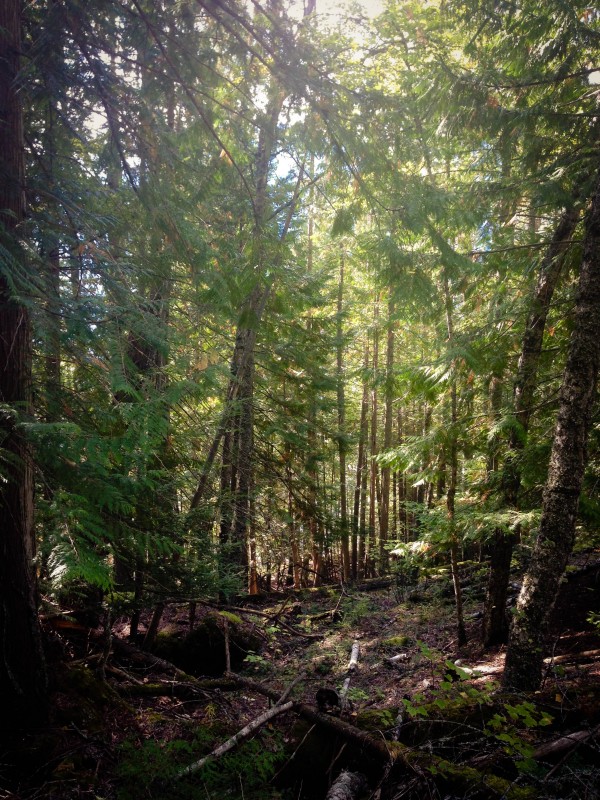 I've fallen in love with hiking, particularly due to the gorgeous scenery, and it's become almost meditative for me. It made me realize how noisy the world is, and it's been an appreciated escape from the constant distractions and volume in the world. At first, I was like an awkward 4-legged spider using the hiking poles. Poke, poke, step, step. Now… I'm a less awkward 4-legged spider. 😉
During our hike, we stop for snacks
(snacks are always some type of protein + fruit/veggies. Some examples: veggies and dip, egg and an apple, orange and trail mix, etc.)
and lunch.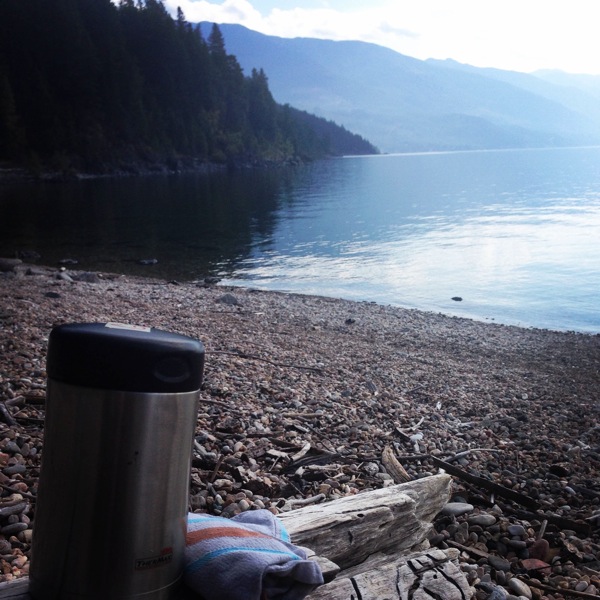 For lunch, it's usually some type of veggie and protein soup. Turns out, soup is the best hiking food. It's just enough to warm you up and satisfy you, without being too filling to finish the hike. Today we had a lentil and veggie curry (which was phenomenal) and yesterday was a hearty chili.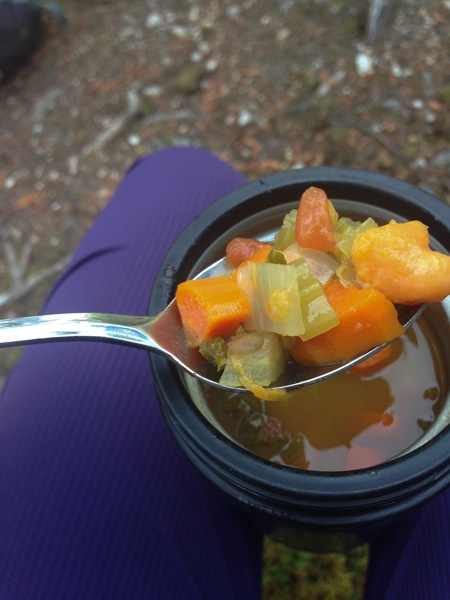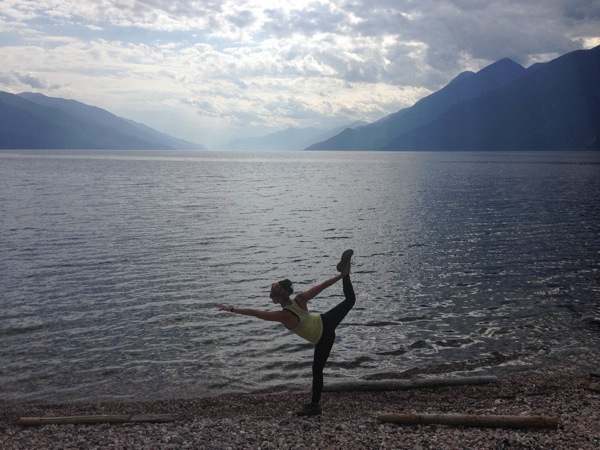 Not a bad view, eh?
We also have a chance to check out some local artisans in the Crawford Bay specialty shops, including homemade brooms: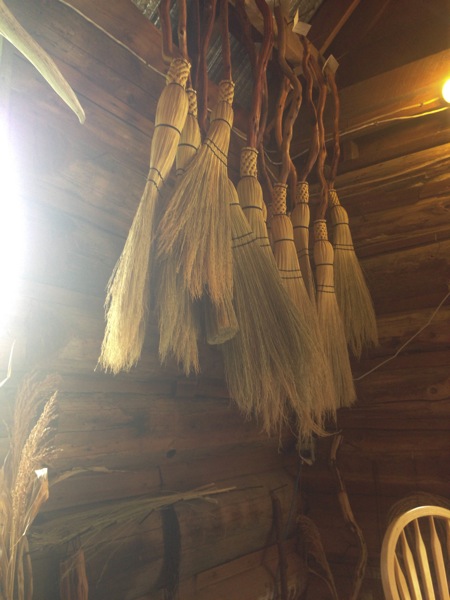 (the broom corn aroma was out of this world)
knit goods,
and pottery.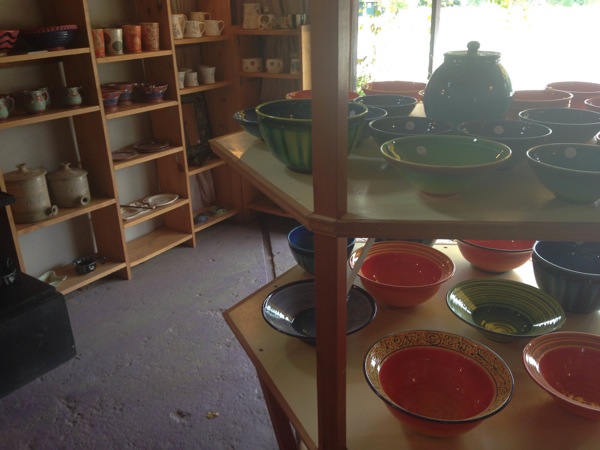 I also meandered into a coffee shop for an afternoon jolt and sweet treat.
We get back to the lodge in the afternoon and have enough time to shower/relax until our evening lecture.
4:00: Lecture time! One of the particularly amazing things about Mountain Trek is their emphasis on creating habits and learning techniques to take home with you. I have learned so much while I've been here, and am working on putting everything together to share in my last recap post, which will be a reflection (and history/focus of the lodge) after I get back. We've had lectures on nutrition, exercise, stress management, sleep, and how to create a specific plan that works for you and your lifestyle. Since I've worked in the fitness resort world (totally different and very similar at the same time), I really appreciate the fact that there's an emphasis on total lifestyle change and support along the way. All of the guests are here for different reasons, and it's been beautiful to watch and participate in achieving our unique goals as a team.
5:15: Dinner! It's the beginning of Rosh Hashanah, and one of the guests explains the significance of the holiday as we enjoy apple dipped in honey.
For dinner, it's a huge piece of halibut with ginger sauce, along with spring rolls and almond butter dressing.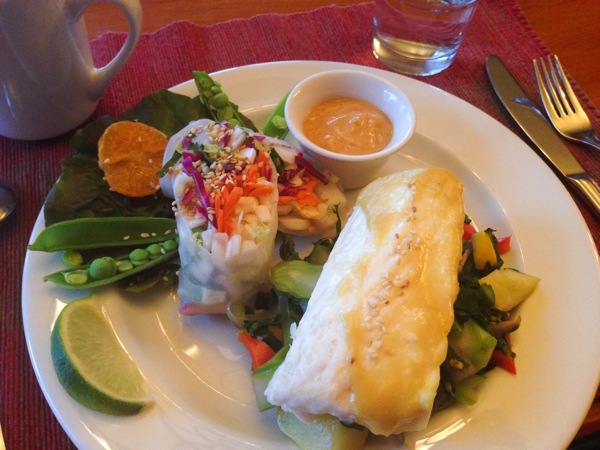 5:45: Celebration! It's one of the girls' birthdays, so we all sing "Happy Birthday" and enjoy a little sweet treat: coconut milk yogurt with cacao and cashews.
6:00 Fitness class. This one changes each night, and last night was a modified version of a CrossFit class, which was awesome. We did some warm-up moves and went into a 12-minute AMRAP including lunges, sit-ups, bicep curls and pushups). The other nightly classes have been ball fitness, core, strength and circuit training. Since I despise working out on a full stomach (and have been pretty tired after hiking), I've skipped some of the night classes.
7:00 Nighttime protein smoothie and detox time. There's a huge emphasis on detox nighttime routines, including massage, steam room, sauna, alternating between cold and hot dip, and visiting the local hot springs. I've enjoyed three glorious massages -more massages than I've had in the past year in a single week- and love the steam room. If I don't have a service booked, I'll grab a magazine and lounge in the lodge to chat with everyone.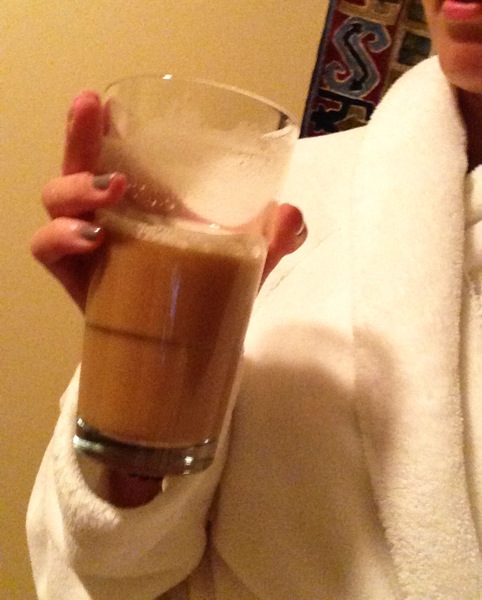 8:00 Skype time with the Pilot and Liv… and Caro 😉
9:00 Feet soak and chatting around the fire outside. One of the guides will build a fire, and we can hang out around the fireside or chill in our rooms. The nights have been pretty open to do what we'd like to do, and I've enjoyed the relaxation time.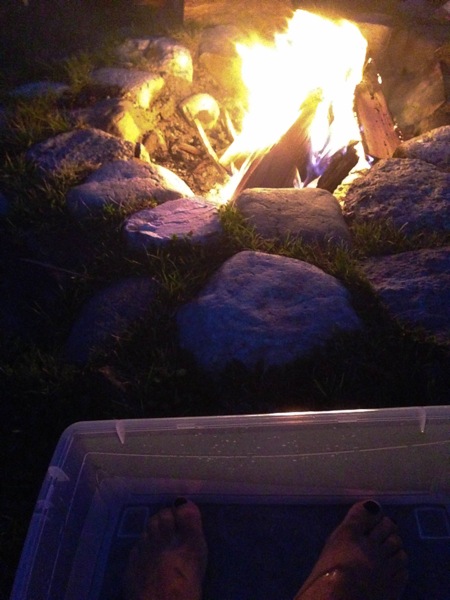 10:00 Bed!
Usually I'm a "bedtime by midnight" kind of person, unless I'm going through one of my "we HAVE to go to bed early" weeks, and 10 has been perfect. My new goal is to make 10 or 10:30 the magic number.
So there ya have it! A full day of adventures 🙂
What's something fun or random that you did today? All-time favorite breakfast?
Hope you have a great night and I'll see ya in the morning!
xoxo
Gina