Or life lessons: eventually you get to that point where you can't wear allthetrends.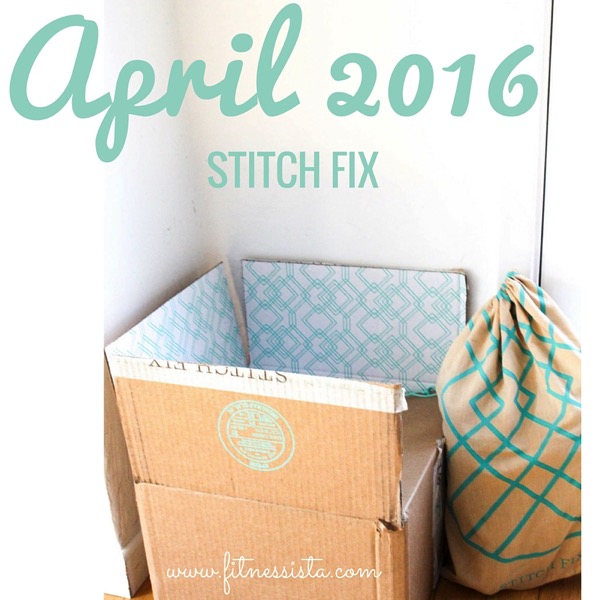 Hi friends! How was your day? Hope it was an amazing one. A highlight of mine: I got my first (and only, haha) tattoo. I'll share pics and more about the whole experience in Friday Faves.
For now, let's talk about an exciting development: Stitch Fix has shoes! A new beast has been unleashed and this adds a fun layer to the "stay or go" deliberation. If you're new to Stitch Fix, I've been a huge fan of the company for years now. You fill out an extensive style questionnaire, and a personal stylist selects clothing (and now shoes!) to suit your style preferences, in your size. You receive the box, pay for what you'd like to keep, and send the rest back.
Whenever I get a box, I cradle it a little and sing a sweet love song. It makes me so excited, especially since time to try on clothes, by myself, at a mall, is currently limited. I can try on everything at my own convenience (and ask for your advice via Snapchat!) and send back the pieces that won't work.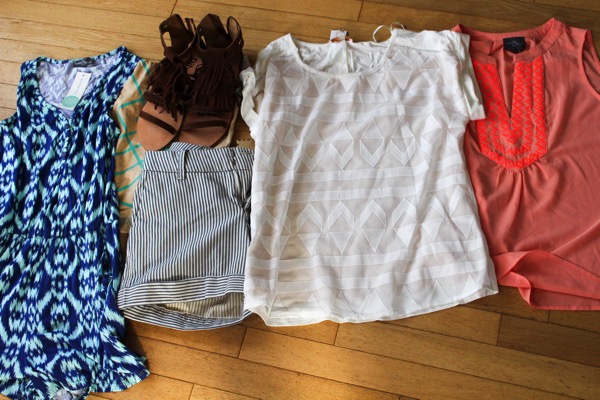 Here's what was in the latest fix:
Skies are Blue Strucker Mixed Material Top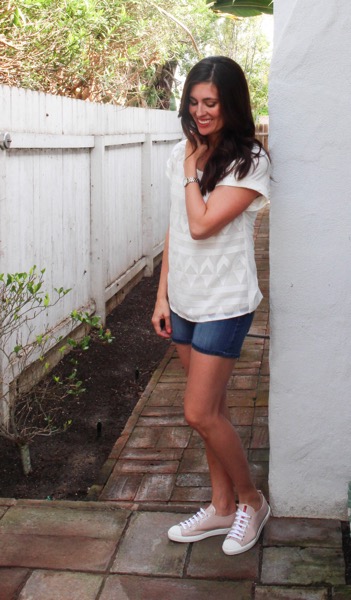 (with Joe's Jean shorts, Prada sneaks <— bought through MyHabit, and Marc by Marc Jacobs watch. Similar here on sale)
I knew right away that this was a keeper. It's kind of hard to tell from the photo, but the bottom fabric layer is a soft beige. I love how neutral it is, and that the material is really thick and nice quality. Verdict: KEEP
Market & Spruce Jenson Embroidery Detail Top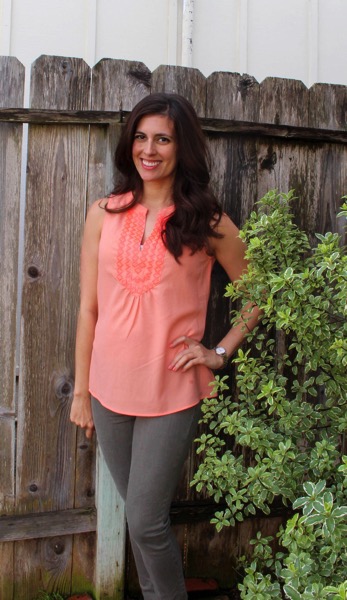 Coral is one of my favorite colors to wear. I thought the neckline was fun, and love light, casual tank tops. But, this one didn't feel *special* when I put it on. (I also think it was because I couldn't find my fave white jeans to pair with it.) It was just ok, so I figured I'll send it back. Verdict: RETURN
Dear John Finnegan Roll Cuff Chino Short
These shorts are amazing for spring/summer, and have a cute preppy vibe. I could see myself wearing them with baggy tank tops, my low-top sneaks, or with a white button-up. But when I put them on, they were too big and had an awkward fit.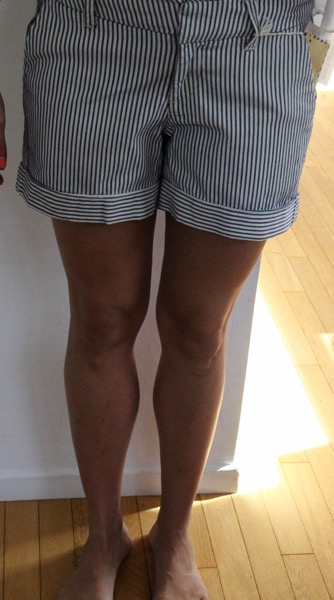 (Muscle atrophy: another post for another day. I'll be crushing those leg presses again soon.)
Verdict: RETURN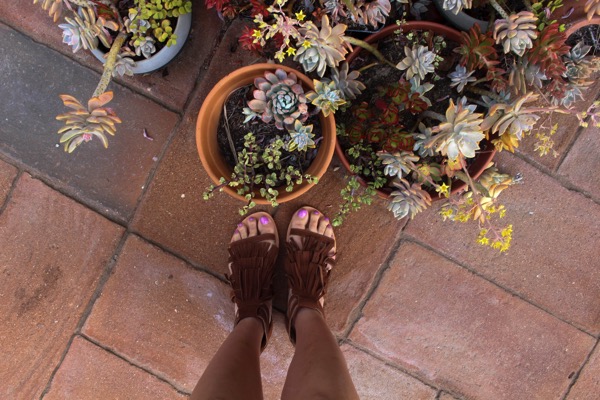 The fringe sandal. I opened these from the shoe bag and they felt like small creatures in my hand. My mom started laughing, and she said, "No." So I Snapchatted what she said, and my brother's girlfriend immediately texted my mom to say they were awesome. Sure enough, I googled fringe sandals and they're a thing.
I debated for a second, but they cut my legs off at a weird spot (short legs do not bode well in this situation)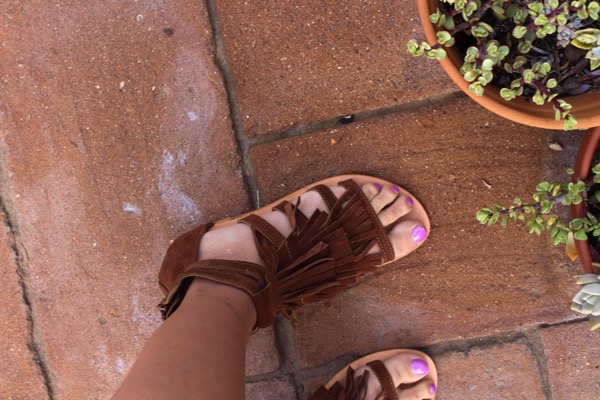 and I knew I wouldn't wear them enough to justify it.
Since I'm not tall, and am not going to Coachella,
the verdict: RETURN
Sometimes I know when I'm a little too old for a trend, but there are other times when I'll embrace something that seems a bit more junior because I genuinely love it. Case in point: the romper.
Market & Spruce Kesey Knit Romper
I knew right away that this was a keeper. I loved the bold print, and the fun colors. It also made me happy to see that rompers are back in style because I appreciate anything that is an entire outfit on its own. The waist doesn't hit at the ideal spot for me, but I was just like whatevs and knew I'll be wearing it a ton this summer, chasing around with the kids or over my swimsuit for quick beach tips. Verdict: KEEP. I wore it today 🙂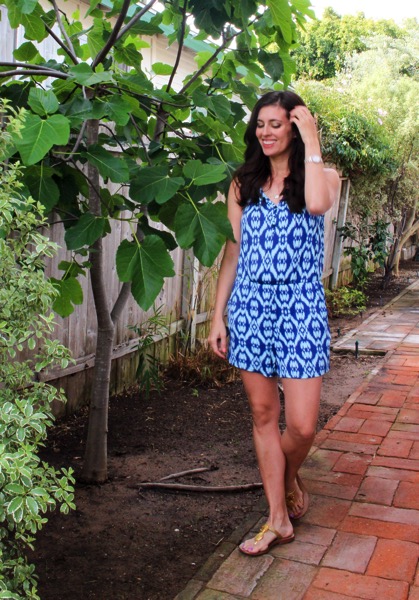 (with Lilly Pulitzer for Target sandals)
So tell me friends: what types of sandals are you loving this season? I definitely want to get a pair of gladiators and probably a new pair of Miller sandals since I wear them every day.
xoxox
G
In full transparency, I paid for the above items using Stitch Fix credit from referrals to the brand over the past couple of years. Thank you so much for your support! I'm thrilled that many of you have tried it and love it as much as I do <3
PS. If you're in the shopping mood, the Shopbop sale is happening now! 25% off with the code INTHEFAM 🙂 Some of my faves: this off shoulder dress, this pocket tee dress and this double layer crew dress.