The "what's next?" syndrome
Hi everyone! Hope you had a wonderful weekend 😀 I'm FINALLY here in Orlando and chillaxin after 24 hours of insanity.
Last night, I grabbed a cucaracha before taking off on a glorious 6.5 mile run.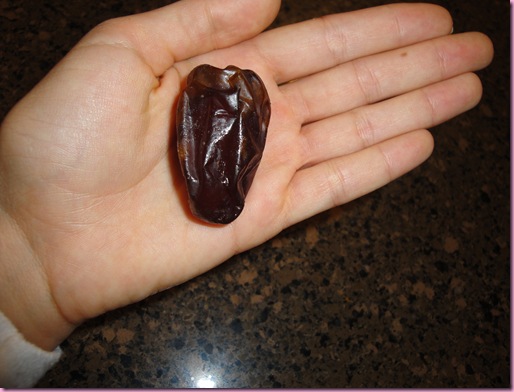 Not gonna lie, it's been really hard for me to get out and run lately, even though I have a half marathon coming up. For my last half marathon, I trained my booty off. I had goals to accomplish (run the entire time and beat 2 hrs) and I did it. The feeling is that since I've been there, done that, I'm not as motivated as before. It's more like, "ok, what can I challenge myself with now?". The obvious would be to try to make a faster time but I feel like it's more of an ability thing. I know I could run it faster if I wanted to… I'm just thinking that if I were training for a full marathon, or triathlon, or something I've never done before, I'd be working a lot harder. Strange, eh? Does this happen to anyone else or am I the only weirdo like this??
Anywhoo, I did 6.5 miles, went to the gym for a 20 minute weight sesh, and then got in my car to find it wouldn't go faster than 30 mph. No joke. Since I had plans to leave for Orlando early this morning after dropping the puppies off, I went into panic mode.
I drowned my sorrows in some butternut fries while the pilot and I made phone calls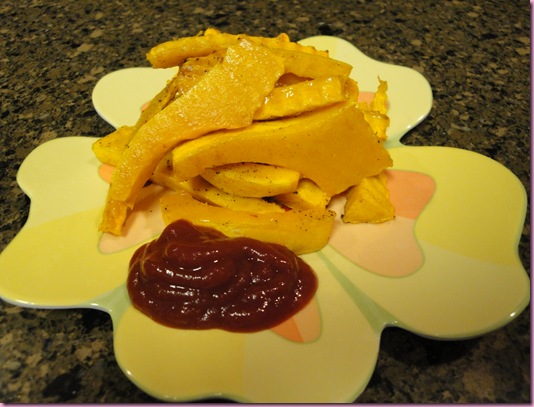 And some roasted veggies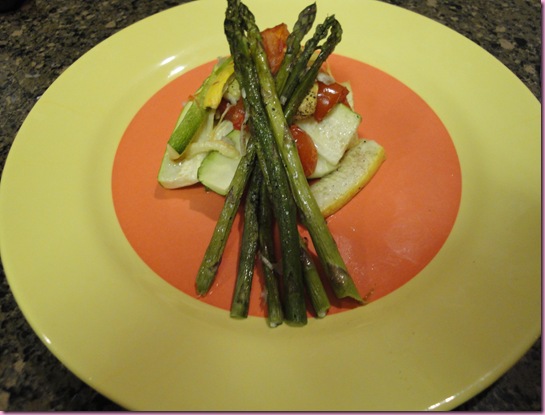 After pleading via Twitter that my car would miraculously drive like normal again (and receiving magical good vibes from Averie), I took the car out for a test drive last night to see what would happen and IT WORKED!!!!!!!! I could go to sleep happily and woke up bright and early to take the puppers to the kennel.
Grabbed my airplane snacks (Larabars, eggplant bacon, macaroons, fruit, zucchini chips)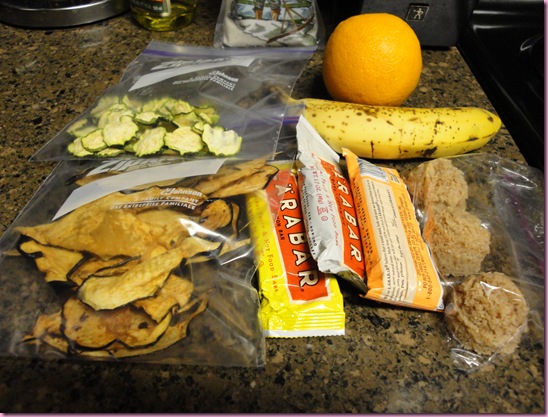 I dug into some of these while I drove: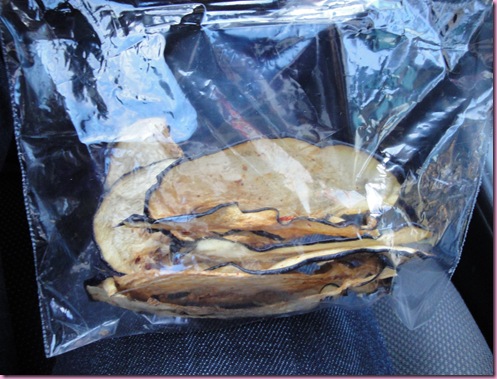 Eggplant bacon, how I love thee. (Recipe is in Everyday Raw by that awesome raw cheffer guy)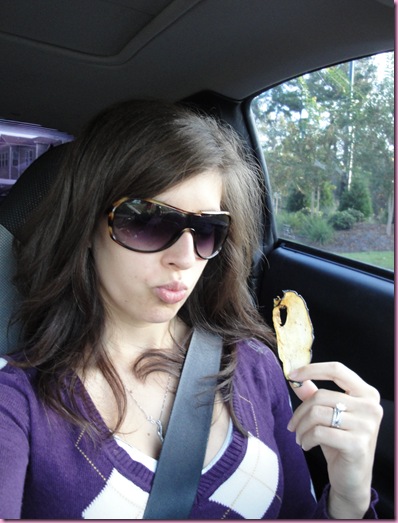 (Please excuse the hair, it was early and I apparently don't brush it until after noon, haha)
Entertainment: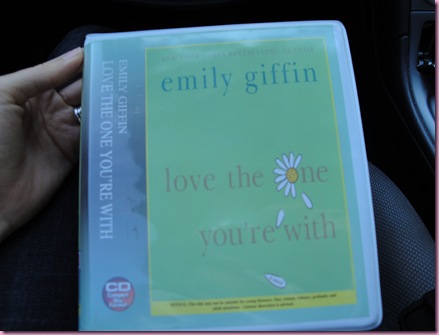 Larabar: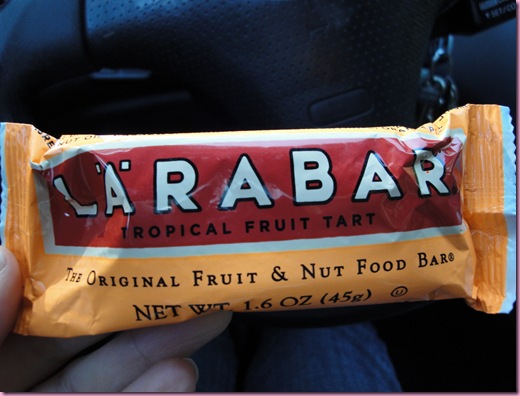 Apple: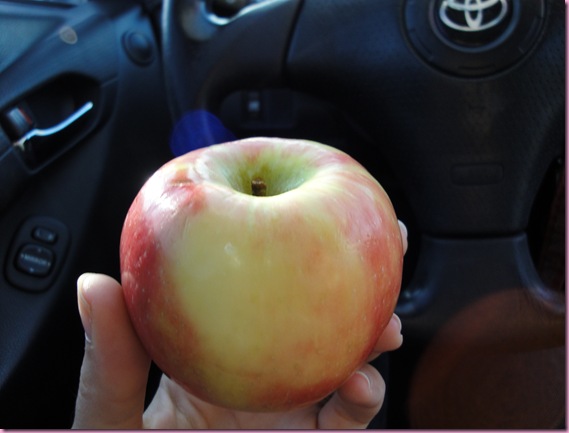 And I also had an unpictured nanner with almond butter when I got into town for pre-shopping fuel.
I was on a mission to find a dress to wear Tuesday night and was successful 😀 I blitzed through Florida Mall, Fashion Square mall and Targizzle for forgotten toiletries (how do I always manage to forget contact solution??) and then went to heaven on earth for dinnunch to bring back to the hotel.
An AWESOME New Orleans veggie soup with sweet potato, corn (I usually hate corn but it tasted lovely in this), black eyed peas, tomatoes and a spices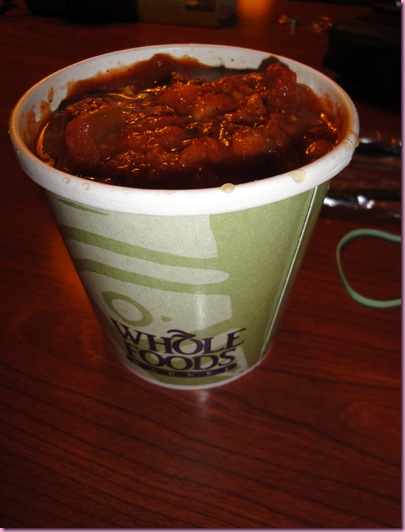 And a salad beast with romaine, hearts of palm, tomatoes, mushroom (mushroom, mushroom!), kalamata olives, bell pepper, hummus among us, and tabbouleh.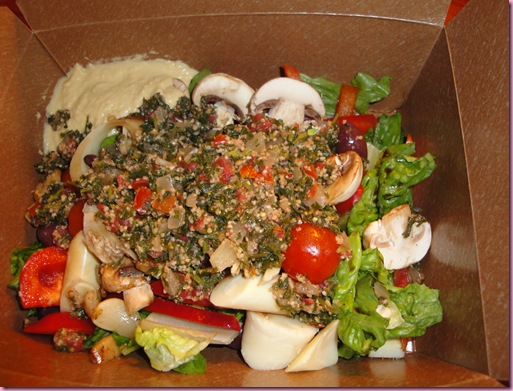 And a gigantic overpriced water (there is a taste difference, haha)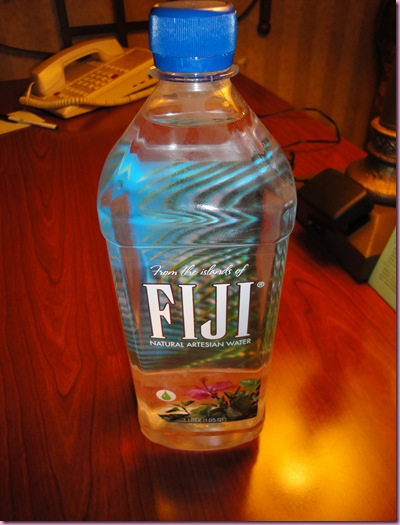 Dinnunch of champions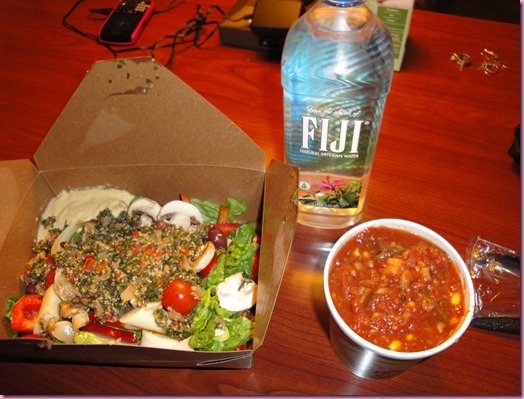 I then proceeded to put on my sleep mask and drift into a deep Whole Foods-induced food coma 😀
After all of that, I had to go back to the mall because the jokers at Express forgot to take a sensor off one of my sweaters, came back and hit up the elliptical for 40 minutes, and here I am.
I'm gonna call it an early night so I can wake up to pack and snag free bfast before my flight, but I have a very special guest post in the morning that I promise you won't want to miss. Let's just say I'm hosting a little party on the blog 😀
See you from CALI, baby!!!
xoxo,
G
San Diego bloggies: Make sure to tune into radio station 933 tomorrow!!! My favorite morning show ever (Johnjay and Rich who are originally based in Tucson, where I grew up, and are now broadcast in Portland and Colorado as well) is going to be starting in San Diego tomorrow and I promise they're hilarious. You can download their podcasts on iTunes and it has gotten me through many a cardio sesh (I was seriously laughing but trying not to while I was running and listening to them yesterday). Check it out yo 😀