I am an Invisalign® brand spokesperson and all opinions expressed are my own.
Hi friends!! Hope your day is going well. Today, I thought it would be fun to do more of a beauty type post since it's been a while.
In my teen years and early twenties, I was transfixed on trying whatever was new or trendy with beauty products. You have to learn somewhere, but it makes me chuckle to think of the days where everything I put on my face had glitter in it: glittery lips, shimmering bronzer, and sparkly eyeshadow. I didn't invest a lot in quality products, but would try something new and rotate here and there. I've realized over time that my routine has streamlined, and also how I've gone back to the classic beauty tips and necessities. Many of the strategies I currently follow don't have anything to do with what they sell at department stores (though, let's be real, you will lose me in Sephora).
While the convenience of a packaged product is nice, many of the things we can take care can either be through healthy eating/lifestyles, or making the conscious effort in various aspects of our routine.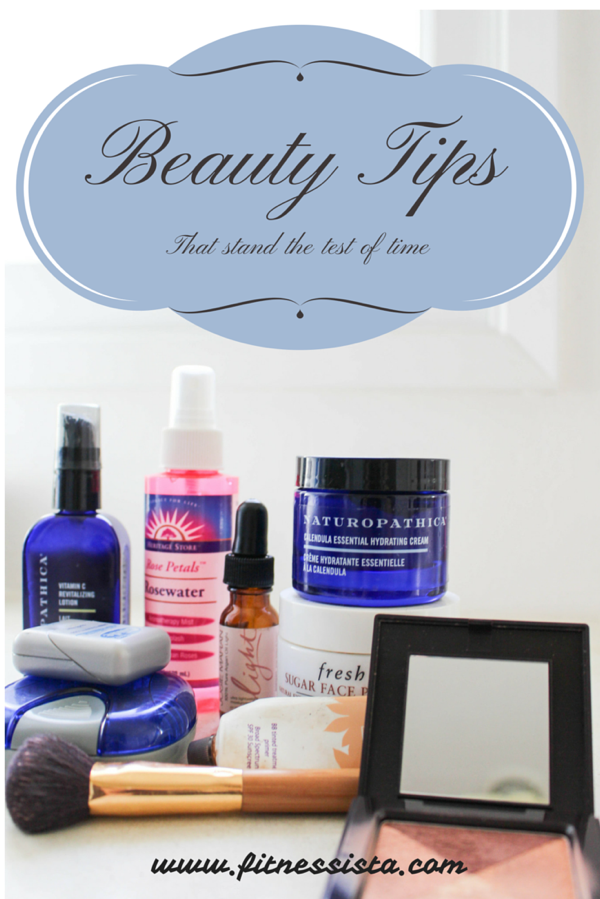 Here are some of my favorite beauty tips that stand the test of time, and many of them I learned from my nana. 🙂
1) Take care of your skin. I wash my face every single night, use a night cream or oil (current favorite is Argan oil), and SPF in the morning. I've found that getting a good night's sleep, managing stress, eating fresh foods, and drinking tons of water help the most with my skin's appearance. Exfoliation is huge, too. I used to rarely exfoliate, but now make it a regular part of my skincare ritual. I like homemade body scrubs for my body, and the Fresh brand scrub for my face.
2) Tame your mane. Even though my mom is a hairstylist, I always went months too long between appointments -I rarely left time in my schedule to actually book an appointment with her!- leaving my hair with shaggy ends. I've made a conscious effort to get haircuts more regularly, especially since my hair is finally the length I want it, to take care of split ends and avoid that not-so-pleasant scraggly look. I also use occasional hair masks, using ingredients from the kitchen, and deep conditioning treatments. I apply a hear protectant to my hair before styling, try to let it air dry whenever possible, and use a bit of Moroccan or Argan oil on the ends.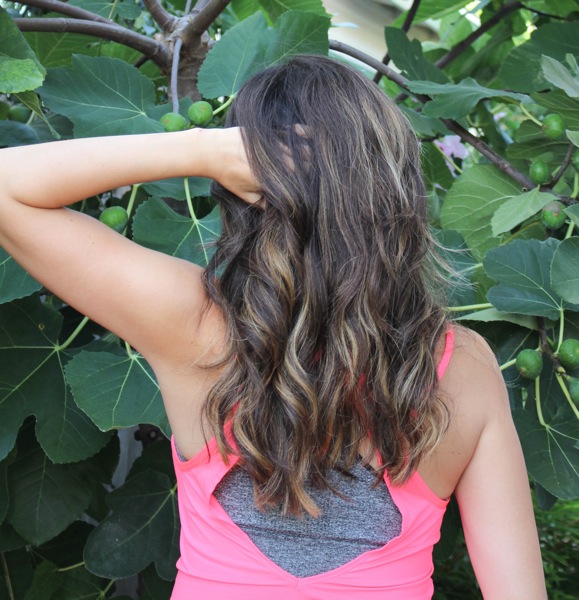 3) Eat healthy foods and exercise. This really has the biggest impact on my beauty routine. If I'm not taking the time to eat well, you can see it. This is usually when I get the "You look tired" comments from well-meaning acquaintances. I have a preschooler and I'm super pregnant. Tired is a part of life right now haha. As far as sleep goes, I heard a tip that sleeping on your face can give you wrinkles, so my goal is to try to stick with sleeping on my side or back once I have the ability to freely move again.
4) Maintain a healthy smile. When I was in high school, I had a horrible experience with a dentist, which caused me to stop going for a few years because I was so afraid. (They took 8 times to numb my mouth accurately for a cavity filling that he insisted on redoing, which I later learned might have been unnecessary.) I ended up with some receding gums and some gum sensitivity which took a while to heal and improve. With the crowding on my lower teeth, it could also become more subjective to plaque (it's harder to clean when the teeth are crowded), which is one of the many reasons I'm happy to be doing Invisalign treatment. My overbite was really bothering me, and I was slightly hesitant to flash a huge smile, especially facing profile in photos. I'm only a few months into my treatment, and teeth are already noticeably straighter. The clear aligners are so easy to use. I think a confident smile is one of the best beauty tricks a girl can have, and a vibrant, confident smile is usually the first thing I'll notice.
What are some of the classic beauty tips or advice that you follow? What's something you do every day in your routine?? Current product you're loving??
xoxo
Gina
I am an Invisalign brand spokesperson and I am filled with gratitude for this opportunity. All opinions expressed are my own. Full disclosure is here.
p.s. To find out if Invisalign clear aligners treatment is right for you, click here.