Hi guys! Happy Saturday, almost-Halloween and Julie's wedding day 🙂
When I got off work last night, I had no clue what I was going to do for dinner. Groceries were scarce, I had hot bar the night before, didn't know what I felt like having but knew I was a hungry monkey.
Somehow my aunt and I ended up here 😉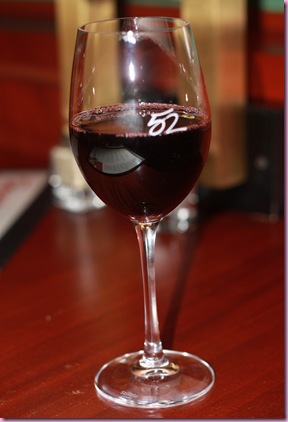 Seasons 52! I have a way of ending up there on Friday nights, haha.
I had a beautiful glass of Shiraz and my auntie and I shared the edamame with green tea sea salt: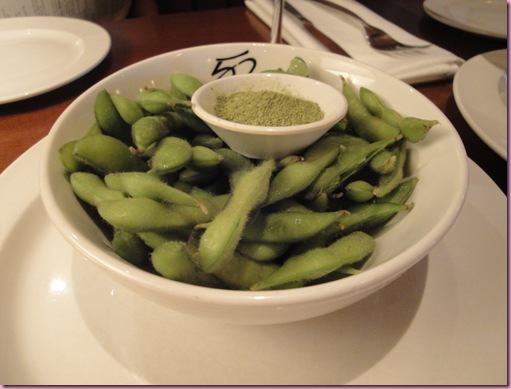 and for my entree, I was hankering for a piece of salmon the size of my head.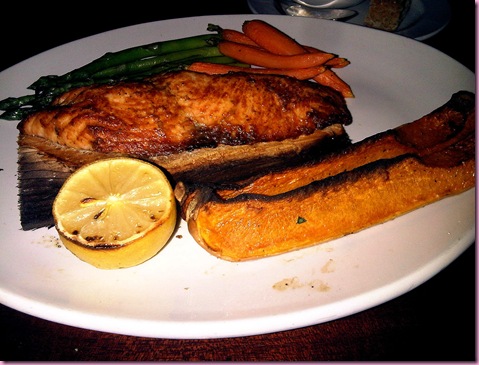 Ask and ye shall receive 😉
Cedar-planked salmon with asparagus, carrots and butternut squash instead of potatoes. It was so lovely- the salmon was seasoned and cooked perfectly, per usual, and the b-nut squash made my life 🙂
And then, the saddest dessert to ever be ordered in the history of Seasons 52: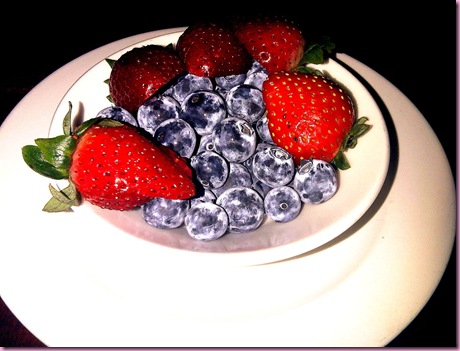 Berries.
Don't punch me.
I told you guys that I had a convo with my homeopathic doc yesterday- it was because they got my test results back (they did a saliva DNA test). He told me that I a) am intolerant to gluten and b) need to take it easy on sugar for a while. Apparently the hormone that helps process sugar needs to be in a range between 12 and 20 (I think that's what he said??), but mine was at a 3. (They've mailed me a copy of the results but it wont get here until Monday)
Also, my circadian rhythm is totally off. My body does what it needs to, but at the wrong times. For example, your hormones are supposed to be high in the morning and low at night, so you can go to sleep. Mine are the total opposite- low in the morning and high at night. So there's a REASON why I hate the morning and get my second wind at night 🙂
The plan is to take the supplements he's sent me (all plant-based!!! Wahoo!) and follow an eating plan that he's sending me, which will have more fish in my life, less sugar and more healthy fats. I really, really like this doctor- he's the first who has made me feel like he knows his stuff and has patience to answer all of my questions. My traditional doc and the homeopathic doc are working as a team to get the hormone imbalances where they need to be.
I told him that all bets are off Foodbuzz weekend, but for now, I'm listening to what he says. Seasons 52 fun killer. Haha.
Well, I'm off to walk the puppers 🙂
See ya tonight!
xoxo,
Gina
What are your Halloween plans?? Costumes? I'd love to hear the deets 😀