Hi guys! Hope you're having a happy Friday

Things have been a little crazy over here today (family emergency last night, phone appointment with my homeopathic doctor, work) but things are back to normal-ish now.
My aunt and I had a little bagel party before work this morning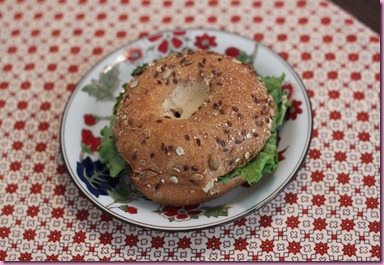 A good grains bagel with hummus, lettuce and tomato, orange juice and coffee. It was uhhhmazing.
I packed up lunch: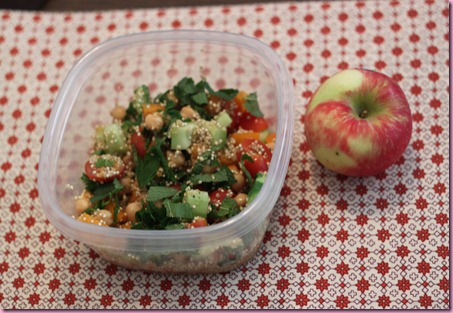 -cucumber
-bell pepper
-chickpeas
-quinoa (1/2 C)
-mint and parsley
-olive oil, balsamic, salt and pepper
-apple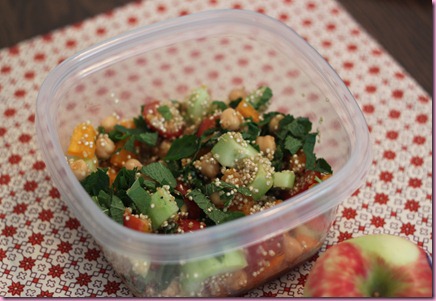 (also grabbed a Vega and a Larabar for snack- will eat whichever one I'm in the mood for *Vega ended up winning)
and headed to work.
I just wanted to say thank you to you guys for your intelligent and polite discussion this morning regarding last night's *triathlon*. Honestly, I knew it was going to spark some conversation when I did it last night and when I posted it. I don't have to defend myself to you guys because you know I love working out, and definitely need the extra endorphins because my love is away, but it isn't with any crazy intentions. I always try to promote balance on the bloggy and do what makes me happy. Sometimes it means eating a lot of vegan cookie dough, sometimes it's taking a nap (or two), sometimes my only cardio is shopping, sometimes it's taking advantages of extra fitness classes for fun

This morning, after reading the initial comment, I thought to myself "maybe I shouldn't work out today, since I did a lot last night", even though I was sitting in my spin clothes. I just had a rest day two days ago, but worried that someone would say something about working again after everything I did yesterday. I knew I felt great, I wanted to spin, so I went. And it was awesome.
This blog is about my life, not the way others want to see me live (ie work out a certain way, eat a certain way). Not everyone is going to agree with me 100% percent of the time, and I like that. Blogs are about conversation! Everyone is different. I always say to do yo thang, and just because a silly blogger is doing it doesn't mean you have to follow suit.
It's up to us to surround ourselves with things that makes us happy and positive (friends, family, hobbies we love, pets), but how we respond to things is our responsibility as well. I could find a way to be offended about everything if I wanted to… but if criticism or question comes from a good place, there's no reason to make it personal, ya know?
So thank you for being awesome

I'm off to one of my favorite places for dinner!
xoxo,
Gina