This post is sponsored by General Mills Big G cereals with a delicious and portable snack recipe.
Hi friends! Hope you're having a wonderful day. <3 Our mornings and afternoons have become a lot more hectic, and I always love the energy of fall and the excitement for the upcoming holiday season. Since we're always off to meet up with friends, taking Liv to music or ballet, and playing at the park before I teach fitness classes, I'm always on a mission for healthy and satisfying snacks that we can take with us on our many adventures.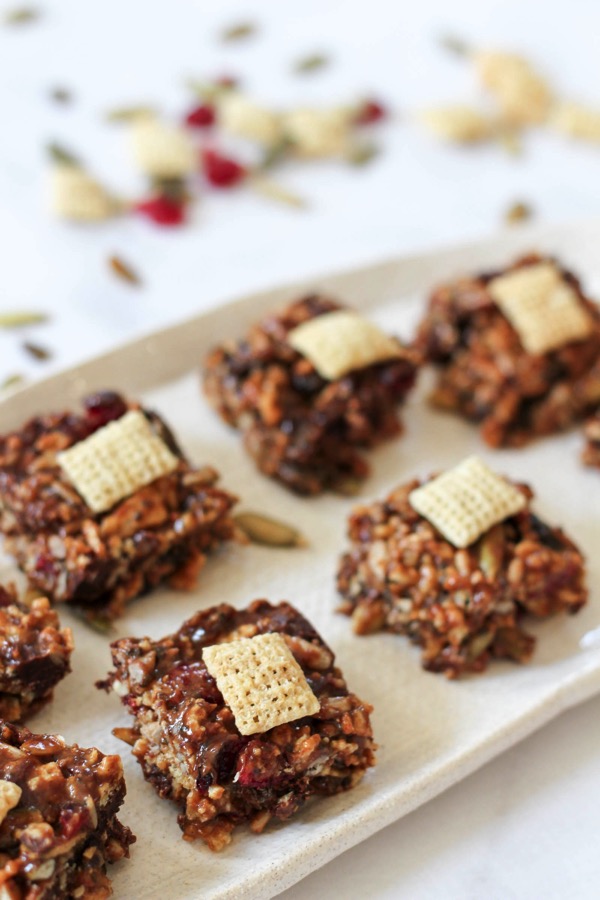 Here is a trail mix bite I created, with a sweet hint of honey, creamy peanut butter, and crunchy Rice Chex bits mixed throughout. Liv and I went crazy for them, and even though I'd originally made these bites to last as portable snack options for the week, I had to make another batch because they were gone before the week officially began. These are easy to customize according to dried fruits and seeds you enjoy, and you can easily make them nut-free if needed.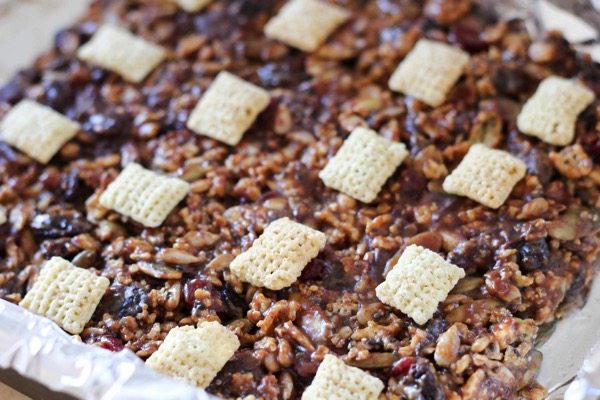 Here's the recipe if you'd like to give them a try!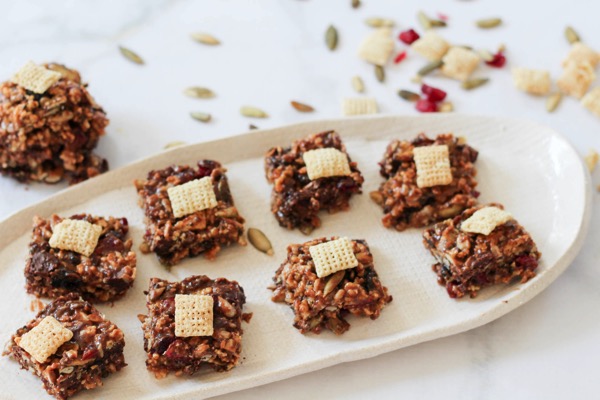 Trail Mix Chex Bites
A delicious and healthy portable snack option with satisfying whole grains and healthy fats
Prep Time:

10

Total Time:

10 minutes
1 1/2 cups

Rice Chex cereal, ground into small pieces

1/4 cup

raisins

1/4 cup

dried cranberries

1/4 cup

chocolate chips

1/4 cup

unsalted pumpkin seeds

1/4 cup

raw unsalted sunflower seeds

1 tablespoon

chia seeds

1 teaspoon

cinnamon

1/8 teaspoon

salt

1/3 cup

honey

3 tablespoons

creamy unsalted peanut butter (or nut/seed butter of choice)

1 teaspoon

vanilla

1/2 tablespoon

coconut oil
Instructions
Line an 8×8-inch baking dish with foil, and make sure the ends of the foil go over the top of the dish. (It makes it easier to lift up!)
In a large bowl, combine the ground Rice Chex, dried fruits, seeds, cinnamon, salt and chocolate chips.
In a small microwave-safe bowl, heat the peanut butter, honey, vanilla and coconut oil for about 20-30 seconds. Stir until creamy, and set aside to cool slightly.
Stir the wet mixture into the Chex mixture until combined. Spread the mixture into the baking dish in an even layer. Add extra whole Chex pieces on top.5. Allow to set in the fridge for at least 1 hour until hardened slightly. Lift up the foil to remove from the baking dish, and using a serrated knife, carefully cut into bite-sized squares. Store covered in the fridge.
Notes
These tend to soften at room temperature, so keep cool until you plan to eat.
I love that they're sweet and crunchy, but also packed with healthy fats, nutrients from dried fruits, and the filling power of whole grain. September is Whole Grain Month, and I usually have whole grains in the morning to give me sustained energy throughout the day. Whether it's a brown rice tortilla, bowl of oats, or little baked treats such as these to go along with my morning eggs, I find that I'm satisfied longer and have more energy in the morning when I include some smart grains in my diet.
I photographed the Chex bites on the beautiful Mud and Stone platter we received during our blogger trip to Winnipeg, Manitoba, to explore the oat farms and learn more about General Mills' supply chain.
A few pictures from our trip: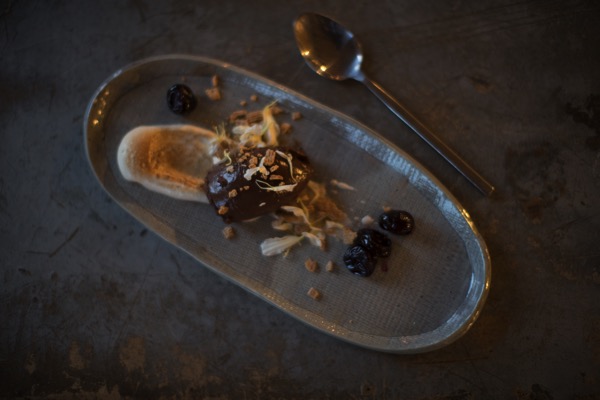 (I still dream about that s'more with chocolate mousse, marshmallow creme and graham cracker bits)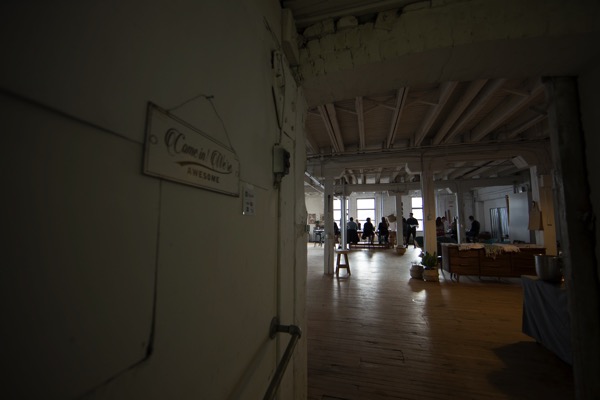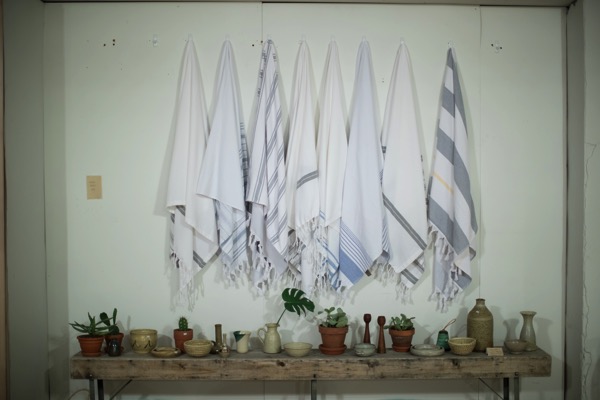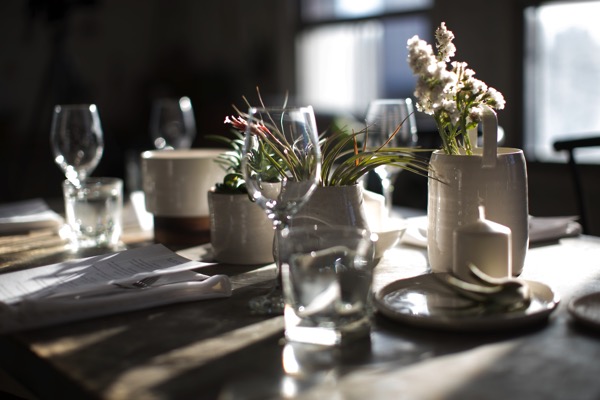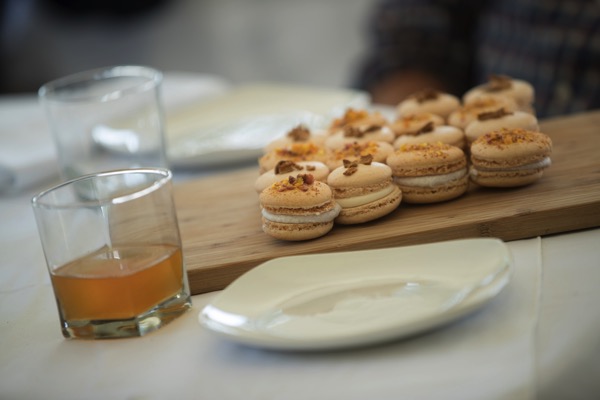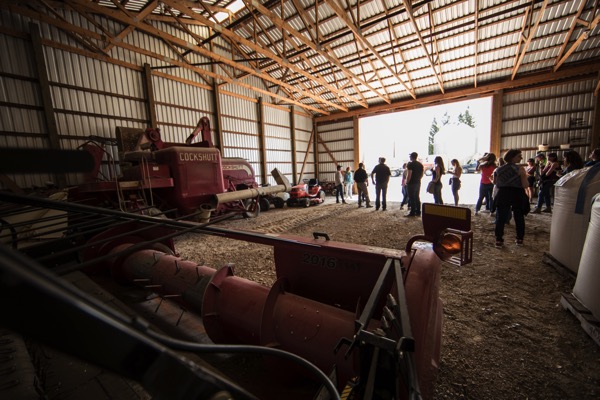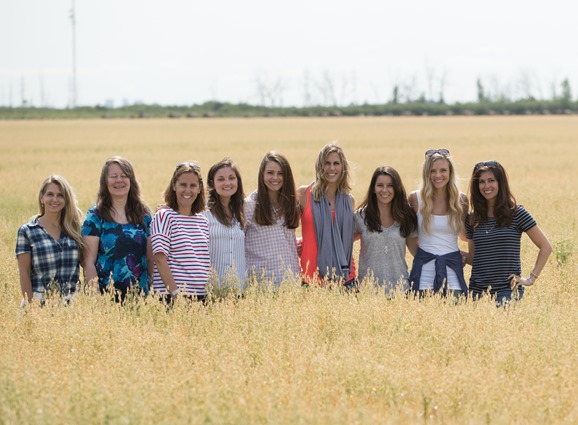 (with Amy, Donna, Kelsey, Brittany, Taralynn, Kristen, Tina, and Julie)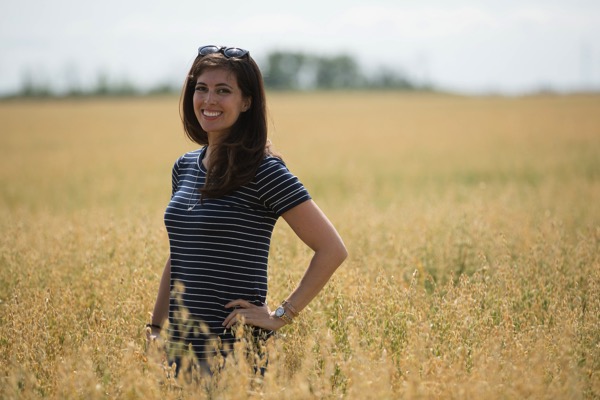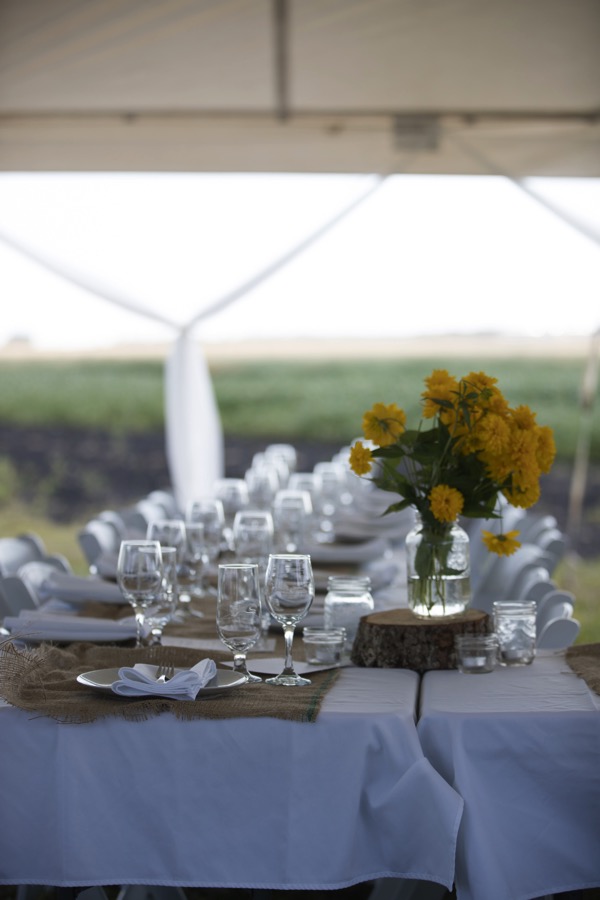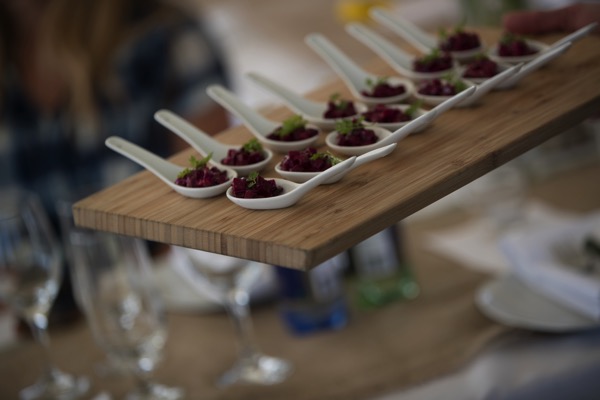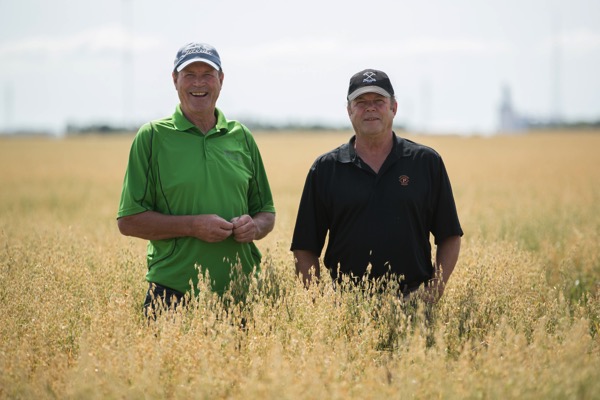 It was a blast to catch up with some of my closest blog friends, meet new ones, and reconnect with the awesome General Mills Big G team I met at my visit to headquarters (shortly after I found out we were expecting P!). We also ate some amazing food while we were there. 😉 I'm always interested to learn more about where our food comes from and how it is grown, and it was pretty incredible to see the faces behind the oats that make up their cereal brands, like Cheerios.
All General Mills Big G cereals have whole grain as the first ingredient, which means there is more whole grain than any other single ingredient.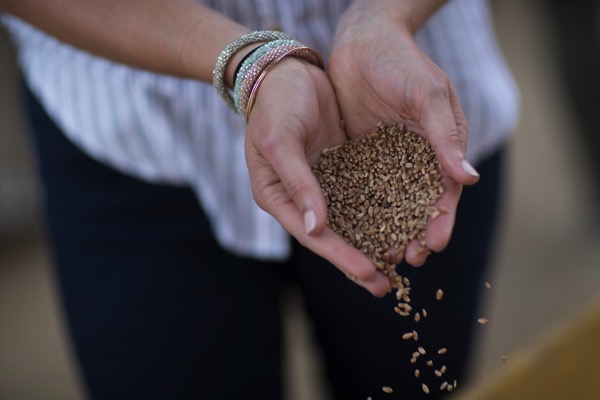 We were able to explore the oat fields, learn about planting, harvesting, and later, toured Paterson Grain, where the oats are stored an then shipped on to the General Mills gluten free flour mill in Fridley, Minnesota. One of the most interesting things to me was learning about cross-contamination of gluten, and how one tiny piece of wheat or barley can affect the entire batch. They scattered oat across a table, and we tried to pick out the wheat and barley seeds that they had added. It was extremely difficult to tell the difference. (Brittany was a ninja at it.)
We learned that once the oats arrive at the mill, General Mills cleans and sorts out grains of wheat, barley and rye, and then the oats are milled into whole grain oat flour to make Cheerios.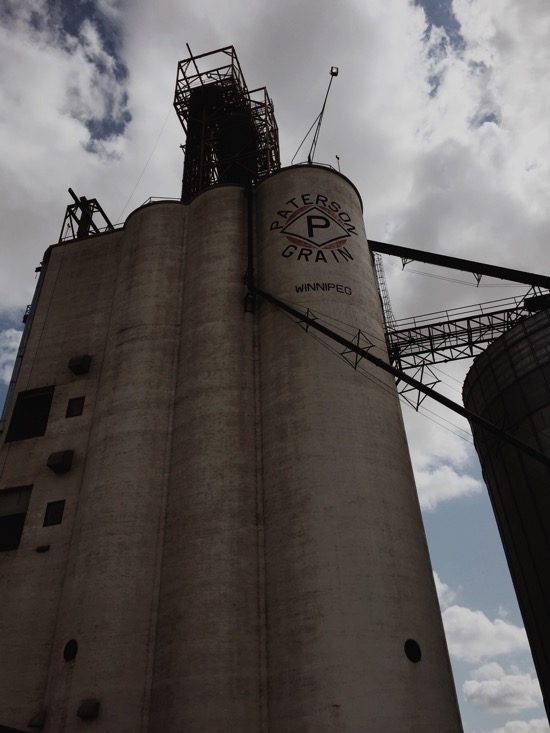 Here are the Lefleys, who kindly allowed us to explore their vast fields of oats, check out the farming equipment, and enjoy a beautiful lunch and dinner on their property.
And you'll never guess what their family's favorite cereal is….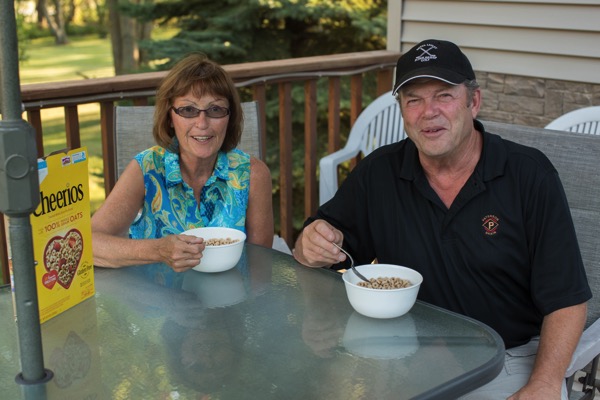 It was such an eye-opening and enjoying experience. Thank you again to the General Mills Big G cereals team for including me on the adventure.
So tell me friends, what's your favorite whole grain? Do you do any fun things with cereal? I like to use it in baking and snacks, but the most common occurrence is when I pour a mug to have as "dessert" before bed.
xoxo
Gina
This post is sponsored by General Mills Big G cereals. Thank you for your support of this blog and the sponsors who help to support our family. I genuinely appreciate it.