Hi friends! How are ya?
We're here safe and sound in Las Vegas, and already having a blasty 🙂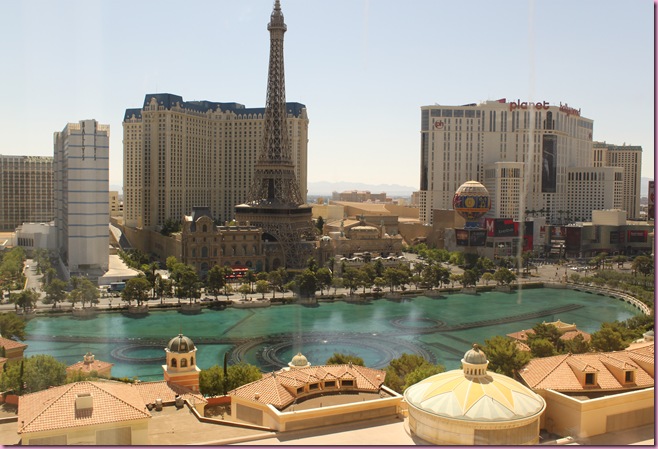 We decided that Vegas is like our Disneyland.. we get the same kind of excitement from being here that we did going to Disneyland as kids. It's shopping, eating, entertainment, party paradise 🙂
When we got to the airport, we took the shuttle to the hotel, which I totally recommend. It's only $12 each way (way less than getting a cab = more money to spend on fun stuff) and since I'm naturally nosy, I like to see where all the other shuttle-riders are staying 😉
Checked into the room, which is 100% lovely.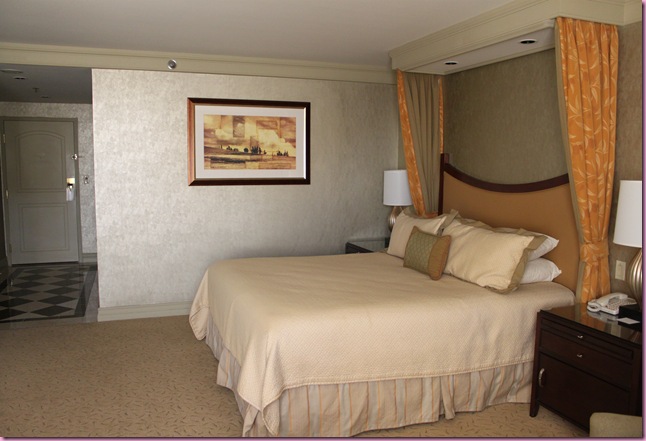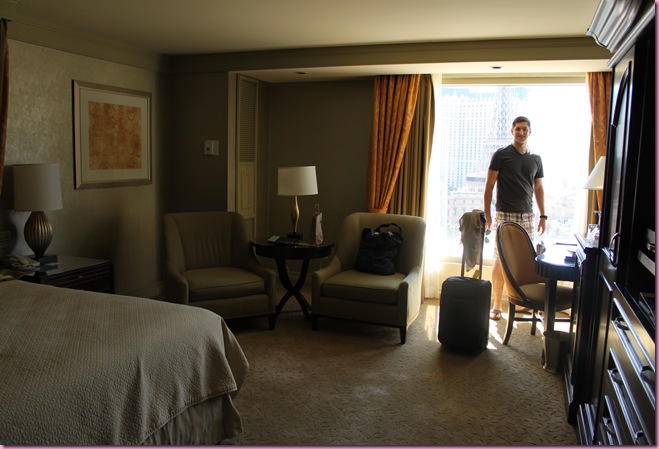 And after that, it was time for brunch 🙂
We knew exactly where we were going: Mon Ami Gabi in the Paris hotel.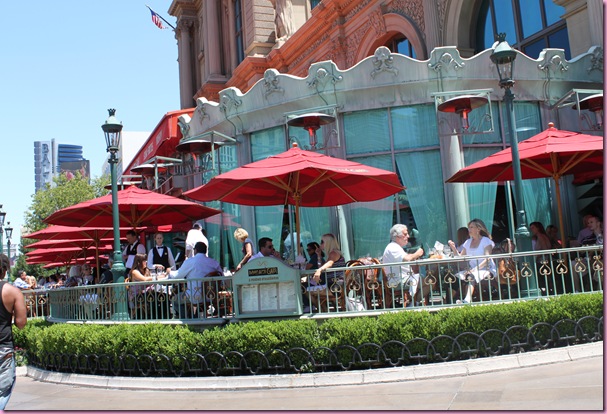 We ate at Mon Ami last time we were here (the Pilot pretty much ate an entire coffee cake.. it was legendary), and couldn't wait to go back. They have unbelievable breakfast, it's always packed, you have a view of the Bellagio fountains + they offer gluten-free options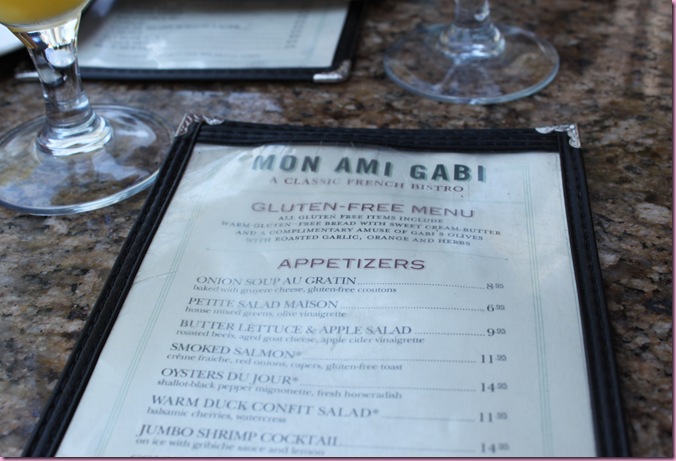 Drinkies while we waited for our table: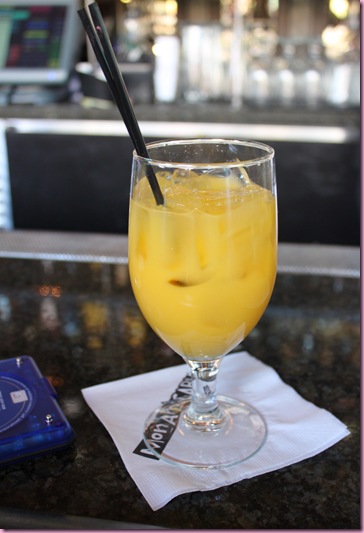 They brought out the most beautiful crispy gluten-free bread with warm olives, carrots, onions and garlic gloves, French baguette with butter for the Pilot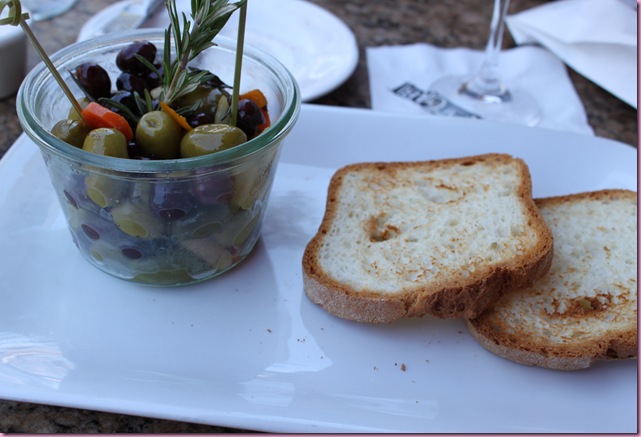 (I had a couple bites of bread since my entree was bread-y, but had quite a few olives. They were AMAZING)
For my entree, I rolled with the eggs Florentine on gluten-free bread. Potatoes were shared with the Pilot 🙂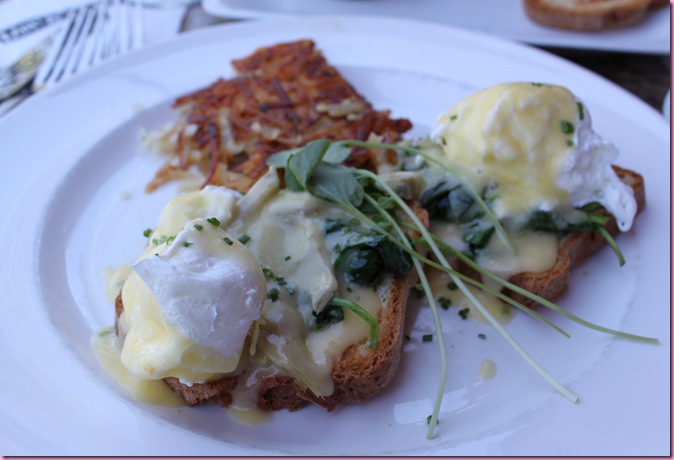 It was everything I could have wished for. I haven't had hollandaise sauce in FOREVER, so it was fun to try it again… and now, I'd like to swim in it.
The Pilot ordered the blueberry French toast, which he said was sweet and fluffy- almost like a cross between a pound cake and sourdough bread.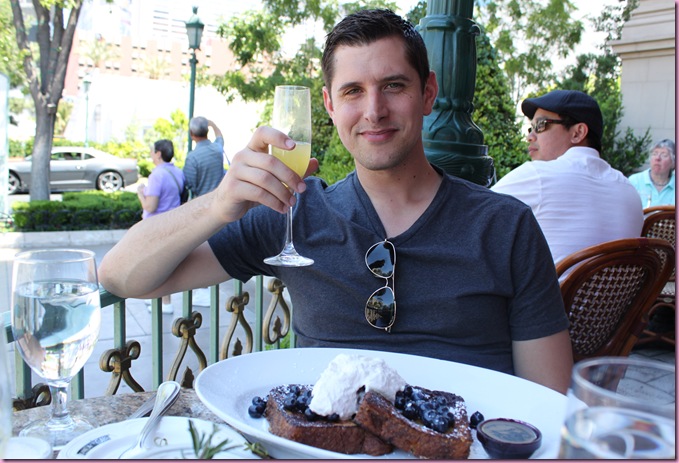 Two happy kids indeed 😀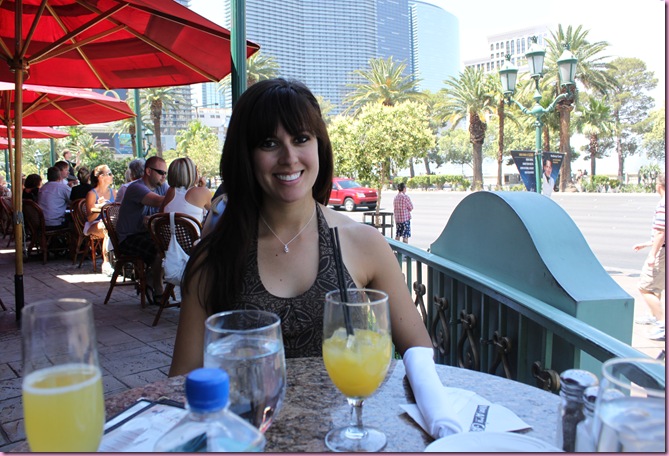 After brunch, we took our food babies to the mall –I'll post my purchases on the fashion page in a couple of minutes- and now we're back at the hotel. I'm going to wake the Pilot up from his nap so we can hit up the pool before dinner 🙂
Enjoy the rest of your day and I'll see ya in the morning with Summer Shape Up 2011 <3
xoxo
Gina
Something to talk about: Do you usually prefer sweet or savory in the morning? For me, it depends on what kind of mood I'm in, but usually prefer savory. I lurve me some eggs in the am 🙂