Where we ate and stayed in Disneyland
Since we've been home for two weeks, I was wondering if I should even write this post or if this ship has already sailed, but figured it may be worth it. Many of you might be planning upcoming Disney trips, and I always love hearing about other bloggers' experiences with dining and hotels. So even though it's a little belated, better late than never? 🙂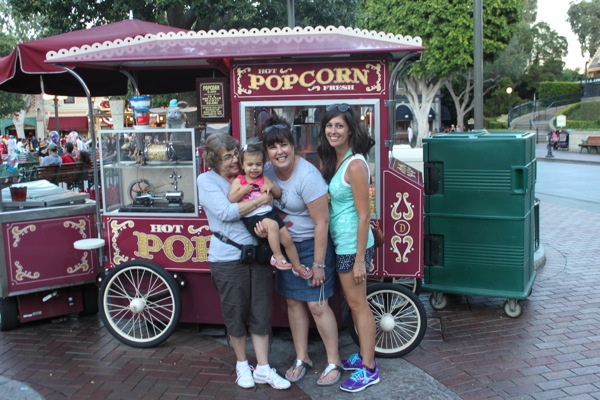 This trip to Disneyland was extra special for a few reasons: it was Liv's first time, and my mom and nana were with us (4 generations in one spot!). The Pilot was also able to enjoy the vacation with us, which is always a special treat since he schedule varies and he travels often. This vacation was exactly how we like to do it: low-key and relaxing. If we're going somewhere new, we'll have a couple of must-do spots in mind, but never a specific agenda. Save for Miss Liv, we'd all been to Disneyland before, so there wasn't anything we had to do. We just wanted to enjoy being there and spending time with each other.
Hotel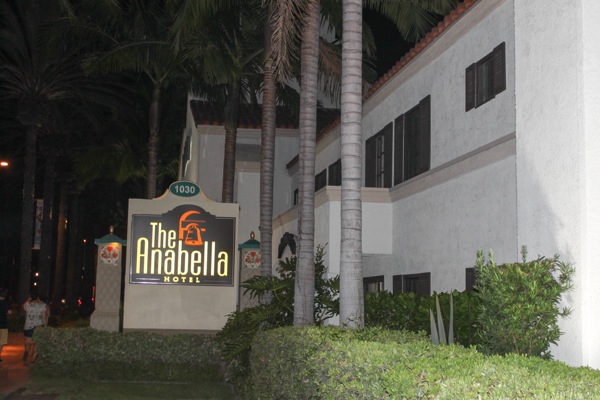 After checking out some reviews and asking for suggestions, we booked our rooms (one suite for us, and a double queen room for mom and nana) at The Anabella. It's a cute boutique hotel walking distance from the parks -it took about 15 minutes to get there, which wasn't bad at all!- but to be honest, we didn't have the best experience. When we travel with Liv, we usually get a small suite so she has her own closed room to sleep. If she sleeps in the room with us, she can see us and thinks it's party time alllll night long. Also, this way if she goes to bed early, we can still hang out, watch TV and order room service without disturbing her.
The "extra room" at the Anabella was like a large closet. No ventilation (fan or cooling system) and it was hot and stuffy when we checked in. The pack n' play fit in the room -it also had a small daybed and TV- but we left the door open to let air circulate, which kind of defeated the purpose of getting a suite. When I asked the front desk if they had a fan or something we could borrow, they just said "no, sorry" and didn't offer any ways to help. Mom and nana's room also had air problems– their unit shut off every time they left the room. When someone came to check it, they said it was working properly and left. No one told us, until we checked out, that in order to keep the air unit on in their room was to put your key in a hole by the door. Our room didn't have that capability, so it was less stuffy when we returned. While it was fairly clean and convenient, I don't think we'd stay there again.
Dining
Our meals were the best while we were over there: bags of fresh kettle corn, quick casual stops, and more upscale dining adventures.
Some of the highlights:
Breakfast at Tangerine Grill in the hotel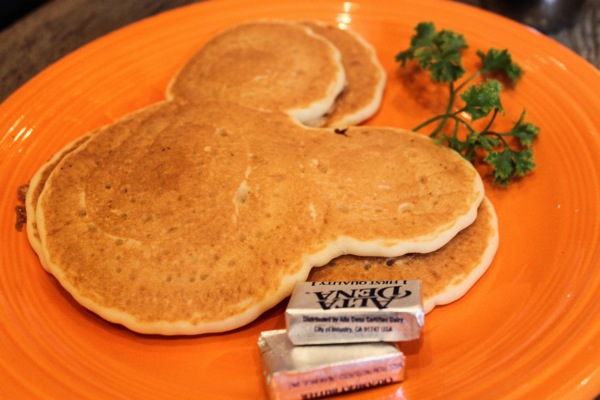 Not only was the service wicked fast, but the meals were fantastic. Also, maybe it's a California thing, but my omelet had HALF AN AVOCADO on it. In Tucson, if you ask for avocado, they charge you $5 for a few sad slivers. Nope. Everything was fresh and delicious.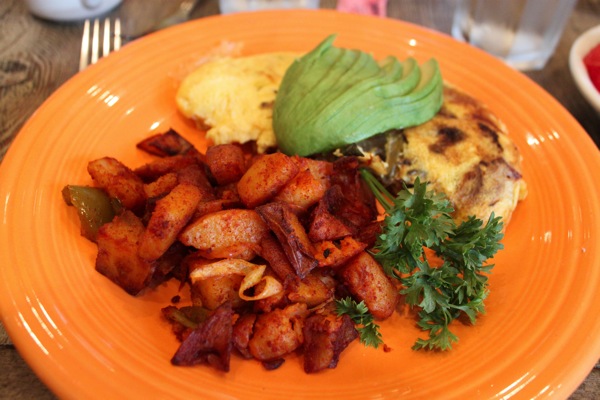 (Crunchy spicy potatoes. I love you.)
Jamba Juice
Let me crawl out from under my rock to say that Jamba has amazing breakfast. I had never tried their oats and they are SO good- like apple pie meets oatmeal. We had breakfast there twice since it was fast and satisfying. Smoothies, oats and breakfast wraps– we were all happy kids.
Character breakfast at the Plaza Inn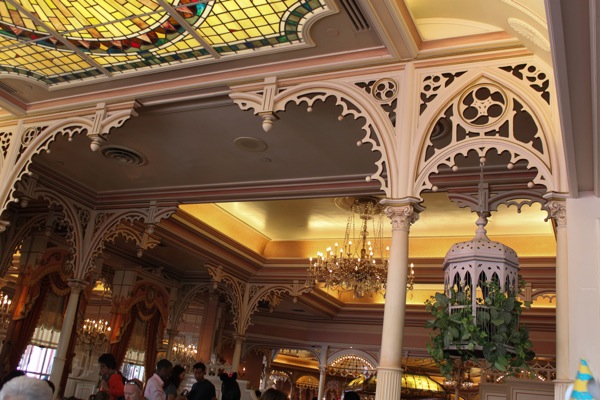 Second to the singing babies on "It's a Small World," Liv's favorite part about the trip was the chance to see her favorite characters, especially Minnie Mouse. (Even though once she got close to any characters she got starstruck and kind of weepy haha.) We thought it would be fun to book a character breakfast and decided on the Plaza Inn since Minnie hosts it along with at least 4 of her "friends" there at all times.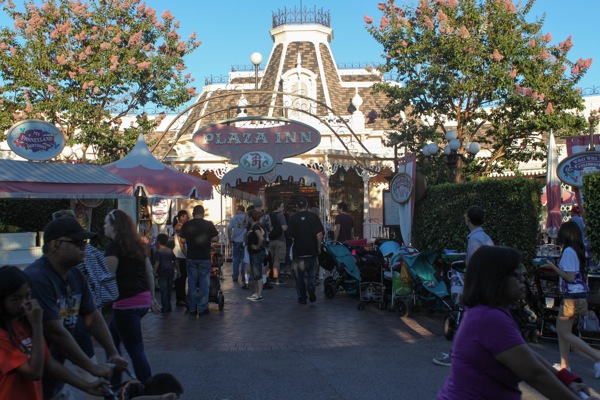 The food was wonderful -any breakfast dish you could wish for, buffet-style- and we all loved it.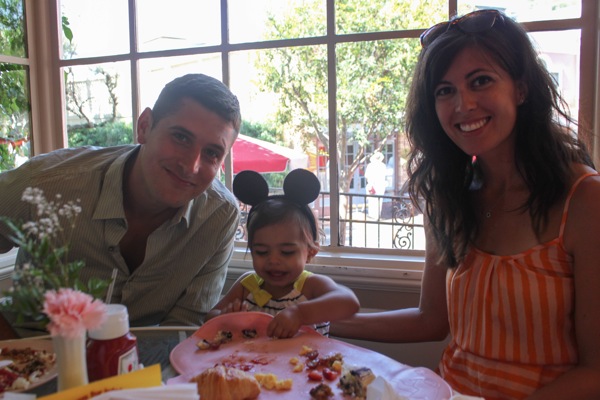 We ended up having lunch/dinner (aka "linner") after Liv's nap each day:
Naples in Downtown Disney (awesome salads and pizza)
Blue Bayou in Disneyland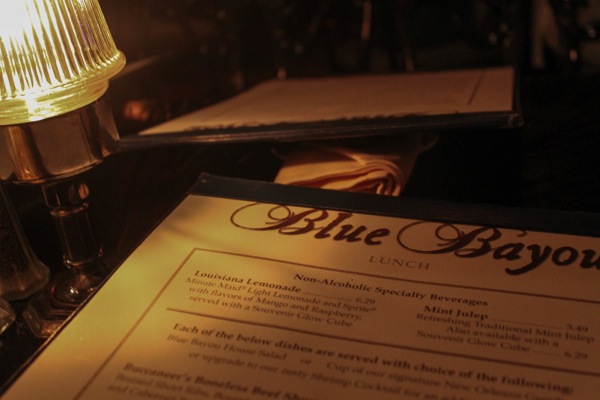 This restaurant is in the Pirates of the Caribbean ride and legendary for the ambience alone. If you want to dine here, make sure to get reservations in advance and still be prepared to wait a little. It's pricey (entrees around $30) but WORTH IT. Everything we had was flavorful, cooked to perfection, and I loved being able to eat somewhere fancy that was also very kid-friendly. Liv went crazy for the salmon and veggies.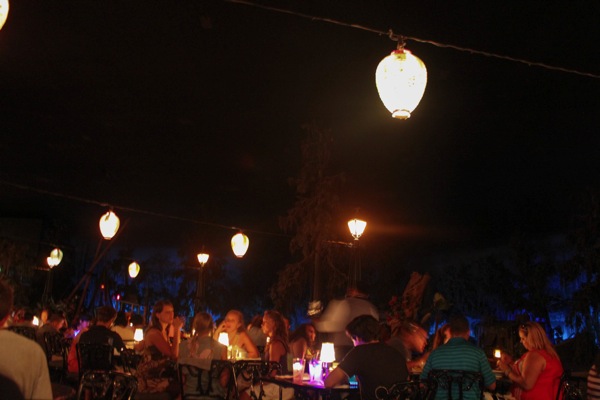 Tortilla Jo's at Downtown Disney
Usually when we travel, I hate getting Mexican food. I'm spoiled by our awesome choices here in Tucson and I feel like if I have the chance to try something different, I'd rather do that, since I have access to good Mexican food all the time. It was a late night, and this was one of the few dinner spots still open, so we decided to go for it. It was pretty amazing. Really good salsa,
pitchers of margaritas,
quick service -Disney definitely has it down to an art- and enchiladas that I inhaled like I'd never met an enchilada before.
Plus, they had someone making balloon animals, which Liv appreciated 😉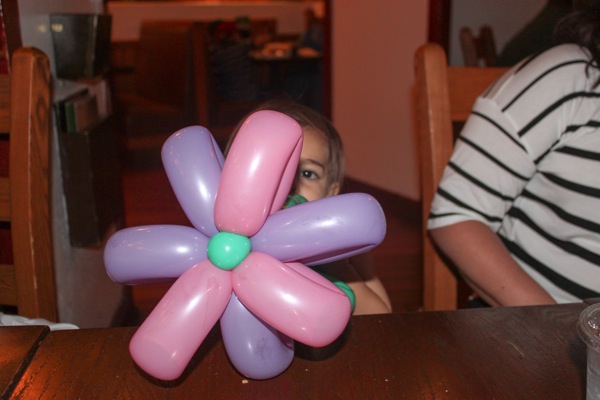 (Playing "hide and seek" in between salsa dips)
Catal Restaurant and Uva Bar
Two of the nights we were there, we went back to the hotel at the end of the night to give Livi her bath and put her to sleep. After she was crashed, mom and nana offered to hang out in our room while the Pilot and I went out for a drink and appetizers. It was nice to have a couple of vacation date nights! We walked to Downtown Disney and had drinks and appetizers at Catal Restaurant both nights, and while the drinks were ok -I had a lackluster Bloody Mary and the Pilot's margarita was "meh"- the ahi tuna tacos and guacamole were fantastic.
I think the quality of the Disneyland resort foods is pretty impressive when you consider the large quantities that are produced each day!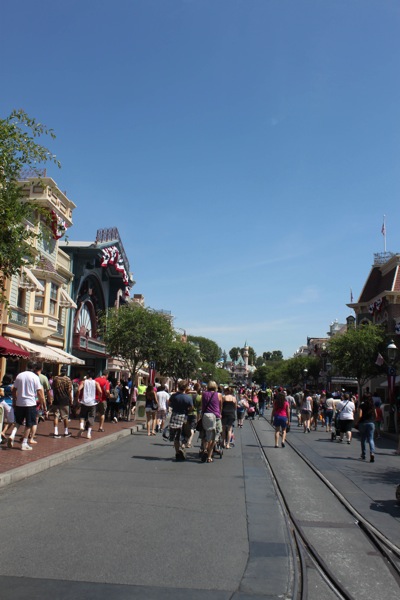 My only real tip for a successful trip:
Go with people you love… and eat some kettle corn 😉
Any favorite Disneyland restaurants or hidden tips/gems?
Where's your favorite vacation destination?
xoxo
Gina
More: Disneyland Adventures