Heyyyyyy 😀 Hope you're having a great day!
When the pilot comes to pick me up, I hope he brings one of these….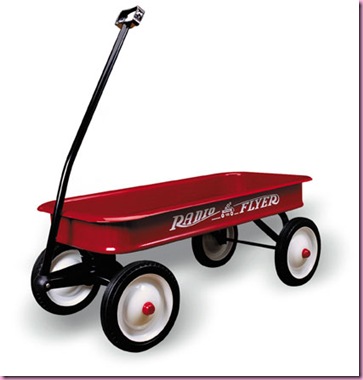 I may lose my walking ability by the end of the day- my legs are NOODLES!
Aaaaand I still have all day tomorrow (Sunday) of classes. Good thing I planned ahead and scheduled the yoga classes and nutrition lectures for Sunday 😀
The crazy thing is that even though I'm kind of exhausted, I can still do the workouts and am still having an amazing time. I'm not going to push myself to the point of injury or anything like that, but it goes to show that sometimes when you don't think you have anything left, you do. You just need to dig deep and find it 🙂
The morning started off with BodyJam, a Les Mills program which I was excited to try.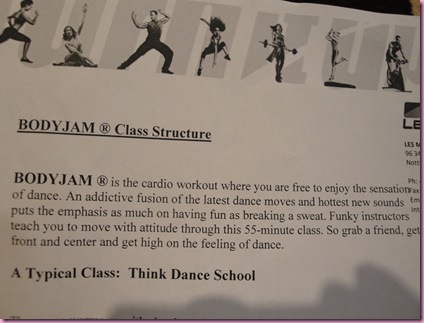 It was a lot of fun- very different than I expected.
We learned a dance moves and put them together into combinations. The moves for today were more modern-day disco type moves, but I had a blasty and would definitely take a BodyJam class in the future. Zumba reigns supreme though 😉
Next was Restore the Core power, using this Muscle Bar.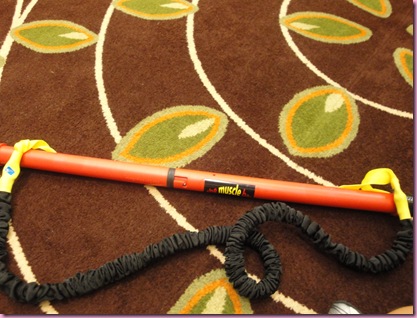 It's like a body bar with a resistance band inside– so you can twist it apart and use it unilaterally (one side at a time).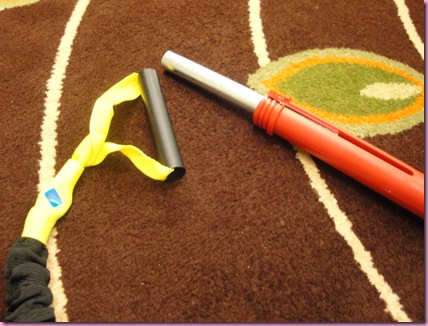 Each end of the Muscle Bar has a 2.5 lb weight inside, so it's nice and heavy.
This class was AWESOME. We used to muscle bar to warm up, tone and replicate a lot of reformer Pilates moves. My abbies were crying by the end – tears of happiness 🙂 I'll be sure to share some of the moves I learned this week—maybe it's time I bring Workout Move of the Week back?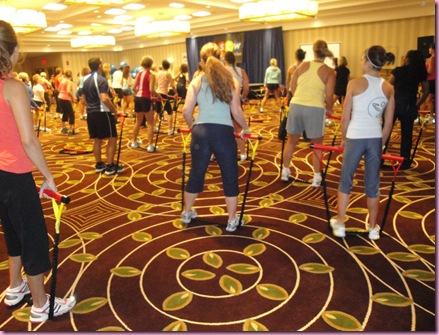 After Core, I took a Steptonic class.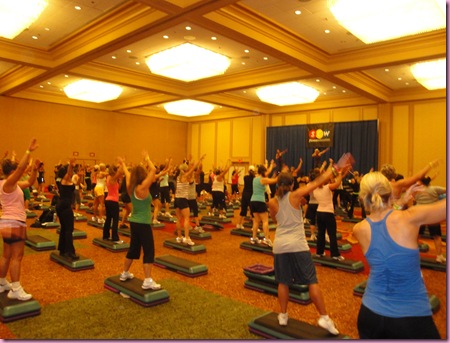 Steptonic was really cool because you don't do any traditional step moves. You use the step to dance and perform power movements (like lunges and burpees on the step) and still build on choreography. This is a good thing because step intimidates a lot of people– the first time I took a step class I wanted to cry because I didn't know any of the cue words or moves, and even though I had danced my entire life, it took a while for me to pick it up. Steptonic is something that ANYONE could take, and beginners and advanced students would both benefit from the class style.
Today's eats have been exactly the same as yesterday's, including the nice bun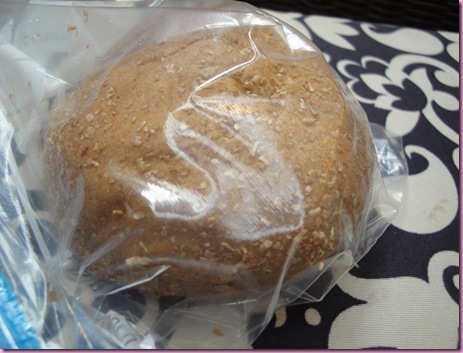 The only new thing for today is THIS.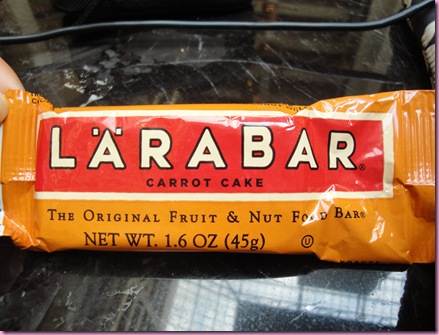 The pilot had grabbed some for me!
He was like "Weren't you freaking out about not being able to find the carrot cake flavor?"
Yes, that was me!!! 😀
It was the Larabar of my dreams…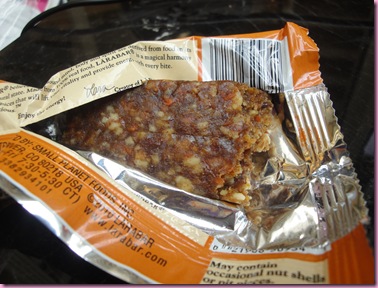 Love the carrot flecks- it kind of tastes like a Tropical Fruit Tart Larabar + carrots
The only bummer is that they kind of rob you on the size—in the above picture, the Larabar only goes up to the "A" in the label. They're very tiny for a 200 calorie bar, but the taste is excellent.
Well I'm off to grab a snack and change.. then Zumba Toning and Extreme Bootcamp Challenge (I changed out of Bikini Bootcamp since it was a water workout and I didn't bring a swimsuit).
See you sooooooon <3 Maybe from a wagon??
xoxo,
G
Something to talk about: What muscle group do you like to work the most? I LOVE working back and feel like you can see results really quickly- some goes with shoulders. Fave Larabar flavor?? I wouldn't kick any Larabar out of bed, but my favorite will always be the Coconut Cream Pie (aka Macaroon) flavor 🙂