Slow cooker rotisserie chicken
It's always hard to leave for work on Saturdays, when the Pilot and Oliv are home.
At the same time, it's pretty amazing that they get a daddy-daughter day each week.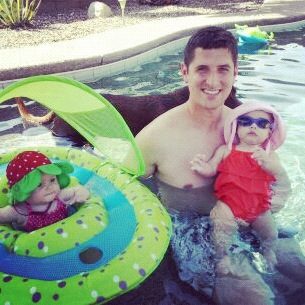 (Look at her face! "Yeah, just chillin' in the pool with my daddy. You know")
Yesterday, while I was Zumba-ing, they spent the afternoon at our friends' house. Their daughter and Livi are a week apart, so they're little besties. It was cute because Kelly was working, too, so the boys and the babies hung out together.
While I was Zumba-ing, this chicken was slow-cooking away to be ready for dinner: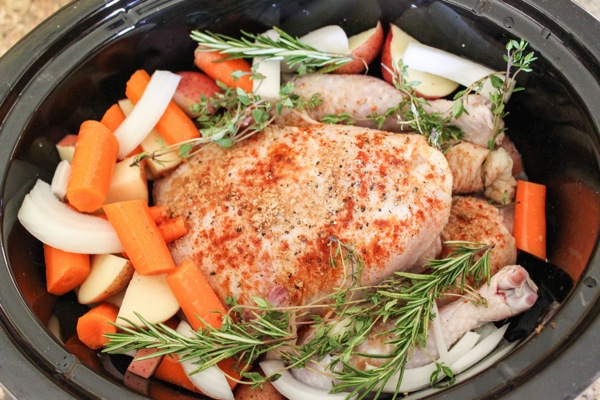 I put it together on my lunch break- here's what went into it (took less than 10 minutes)
-Sprayed the slow cooker with olive oil from the Misto
-Cleaned the chicken (removed the gross inner pack thing) and pat it dry
-Placed the chicken in the slow cooker and rubbed with melted butter, sea salt, paprika, garlic powder, and a little brown sugar (trick I learned from Pinterest)
-Added 1/2 chopped onion, 4 chopped carrots and 4 large, chopped red potatoes
-Lots of springs of fresh rosemary and thyme (also put a handful of each inside the chicken along with 1/2 lemon)
-Poured 2 C water around the sides, set it on high for 6 hours
Here's what it looked like at the end: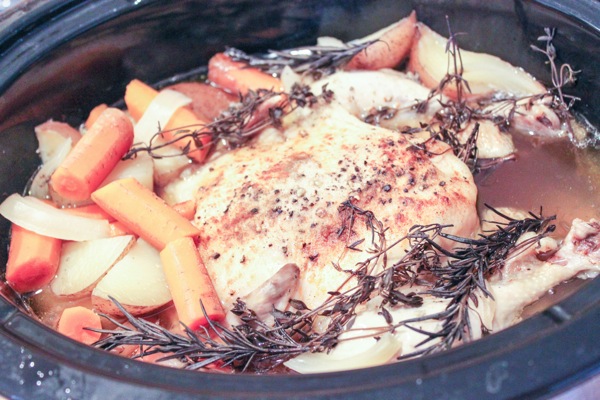 The Pilot called it a "man meal" (I felt like I owed it to him after a night of salmon and spa salad) and it ended up being the perfect amount of food for the two of us, plus a giant plate of chicken and veggies we took over to our neighbor.
The end of a chocolate bar: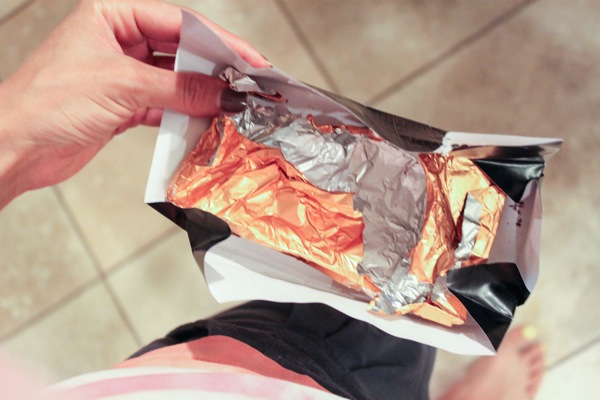 (breaking the last piece out of the wrapper)
Me: Oh my gooooooood. It's gone already!
Pilot: Wait, is that the chocolate bar from last week?!
Me: No, this is the chocolate bar from yesterday.
Pilot: Ok, I was worried there for a second.
Chocolate has a very short life in this household.
I happily ate the last of the chocolate while relaxing with the Pilot and watching a show on TV. It's been a very long time since I've gotten into anything and watch some shows for funsies every now and again (nothing substantial, and nothing that I ever feel like I missed out if I missed an episode, like "So You Think You Can Dance," Kardashians and "Giuliana and Bill"). The last show I watched consistently was Grey's Anatomy, when the Pilot and I first started dating (almost 7 years ago? Whooaaaa). I stopped watching it when the plot line fell down the drain and haven't really gotten into anything until recently. Thanks to my friend Whitney, I'm loving the show "Girls."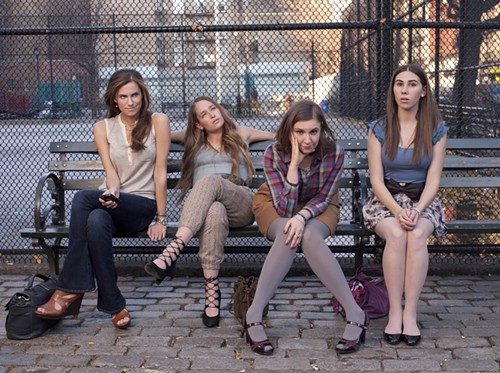 (Source)
It's gloriously awkward, quirky and HILARIOUS. Whit described it to me as a modern Sex and the City, with the current economic state and social media platforms. The bonus is that it's on HBO On Demand, so I can download and watch an episode whenever- I've only seen 4, but loved them all.
Time to get do the weekly meal plan/grocery run shebang over here, but I hope you have a very happy Sunday!
Don't forget- Schweaty July cardio workout will be up in the am <3 (Your July workout calendar is here)
xoxo
Gina
Something to talk about: Do you watch TV very often? When's the last time you were INTO a show? Any awesome summery slow cooker recipes? All of my faves are more comfort-style foods, which aren't quite as appetizing in the summer.