Hey everyone! Hope you're having a great morning 😀 Thank you so much for your awesome feedback on the breakfast cookie video and my OpenSky shop! Thursday AM we'll be running a special promotion on the foam rollers… stay tuned. I can't live without my foam roller- we have a deep and profound relationship 😉
Yesterday's lunch was pretty legendary.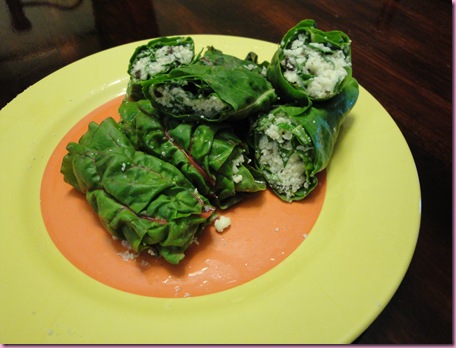 (Not my best presentation. The chard was slightly wilted but I was determined to eat it)
Raw "rice" with the usual recipe, using raisins instead of apricots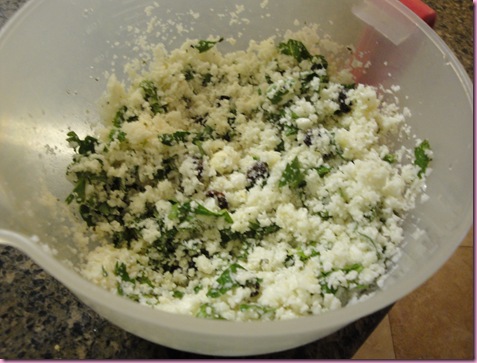 Wrapped up in the wilty chard "dolmas", it was quite scrumptious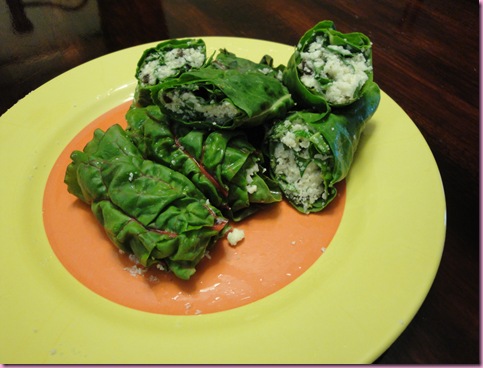 I have a container of rice left to top a salad with later this week 🙂
A couple of hours later, I busted into the leftover jalapeno goat cheddar cornbread from Sunday night's Soul Food fest.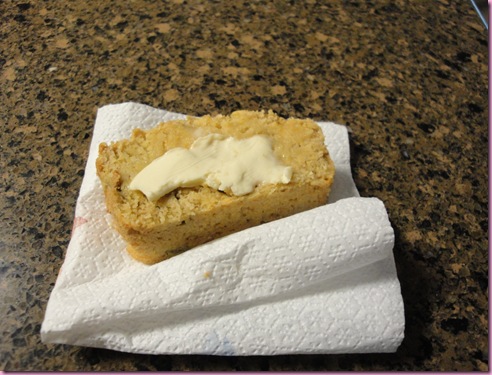 It tasted even better the next day, on a paper towel instead of a fancy plate 🙂
Pilates and Zumba were a blasty (I have a new Zumba video for ya'll – it will be up tomorrow!) and then I met the girls at Longhorn for dinner.
I took this pic on the Crackberry, and it was a giant failure.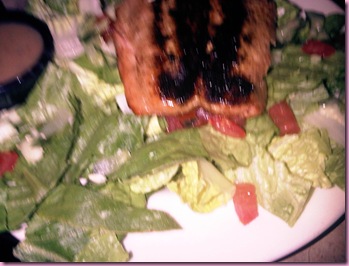 What happened with that one?! No one knows.
With the salmon salad beast, I also enjoyed a plain baked sweet potato, some wheaty bread, and some lovely company 🙂
I came home to my pilot who was having a date night with his girlfriend… the Air Force. He's been a working machine lately since he's going through an upgrade.
Well, it's time to get these puppies outta bed and head to the base trail for a morning walk.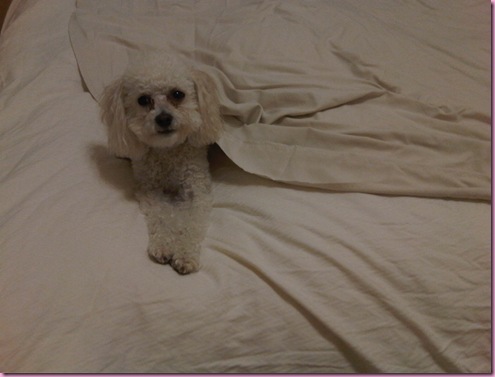 Have a lovely day!
Gina
Today's tip: Let others know what your fitness goals and plans are. For example, if I tell Jeni I'm going to the gym, next time I talk to her she'll ask me how the gym was. I don't want to be a sucka and say the DVR sucked me in and I stayed home, ya know?? So tell me: what's your workout schedule like for this week?? I always like to hear what other people are up to, and telling other people really is a great motivation tactic. (And no, I don't mean running into the office and screaming: "I'm running 8 miles today!!!" I mean casually mentioning it to a friend or hubby/boyfriend/cat/etc)