Winter Shape Up 2015 Intro Post
Hi friends! Happy Monday, and happy WSU!
Welcome to Winter Shape Up 2015: a perfect chance to revamp your fitness routine, thrive from healthy eats, and revitalize your love for healthy living. Whether you're looking to achieve a fitness, fat loss, lifestyle, or energy goal, hopefully this plan will provide you with steps, ideas and inspiration along the way.
For the friends who are new to Winter Shape Up, here's how it works:
– I've been doing the Shape Up plans on my blog for years as a way to share free fitness and meal plans with my readers. Last year, I asked Anne to join in the fun and share her expertise as a Registered Dietitian. I'm so happy that she's my WSU partner in crime, and we love being able to put together these plans for you all.
Each week, for the next 4 weeks, Anne and I will be posting free full workout schedules, meal plans, videos, printables and grocery lists.
While you can follow these exactly as suggested, remember that these are just suggestions; they can be always be adjusted or modified to suit your personal needs and schedule. If you have a class that you like to do each week at the gym, by all means keep it in, but just remember not to do the same type of workout on consecutive days. For example, I wouldn't take a hardcore bootcamp class the day after Workout 1, and avoid strength training the same muscle group two days in a row. If you need help shuffling things around, please hit me up in the comments or tweet me @fitnessista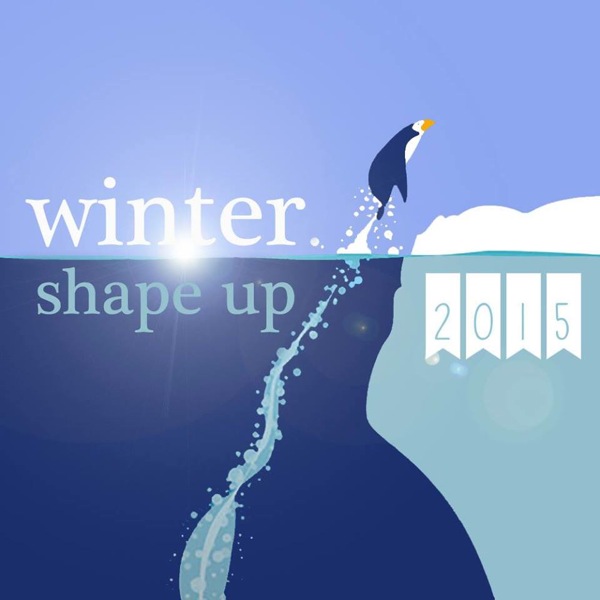 Your 4 week focus:
-Visualize a goal. What's your intention behind Winter Shape Up? Looking to shake up your routine? Burn fat? Get stronger? Write it down what you'd like to accomplish and remind yourself daily for the next 4 weeks. If you made an inspiration board, this is a great time to update it and check it regularly! If you're looking for fat loss/muscle gain, I highly recommend a body fat assessment towards the beginning of the Shape Up, or take some pics and measurements so you can gauge progress. Keep in mind: this isn't a weight loss plan. While weight loss may be the result of changing up your routine and implement new diet or fitness strategies, remember that weight is a poor indication of overall health and body composition. Focus on foods and habits that will encourage fat loss and encourage lean muscle retention/building if that's your overall goal. All in all, use strength, energy levels, and confidence as some mental success meters. <3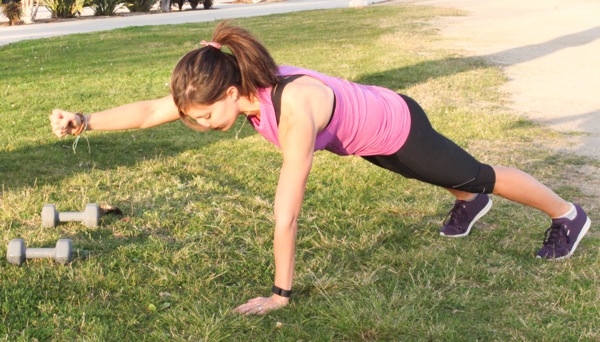 -Nutrition. Eat like a PRO: meaning you're going to emphasize PROtein and PROduce. Anne has a variety of delicious, healthy and satisfying recipes in the meal plan with vegan and gluten-free options.
-Consistency. The greatest way to achieve a new fitness or health goal is consistency. Stick with it and remember that the little things definitely add up! Be gentle with yourself throughout the challenge, and endeavor to be consistent in your actions to achieve your personal goal for the 4 weeks.
-Be a cheerleader for yourself and other Winter Shape Up participants. Make sure to check in each morning with your workout, pics of your healthy eats and to cheer each other on! The comments are a great option (which is how you'll enter the giveaways), or if you'd like to tweet/Instagram, use the hashtag #wintershapeup and tag us @fitnessista @fannetasticfood. We also have a private Facebook group with lovely supportive, active members. Check it out here!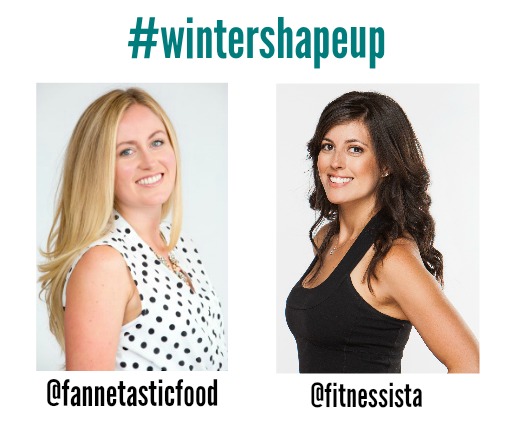 The Winter Shape Up will run from Monday, January 26 to Sunday, February 22, 2015. Here are links to all the content (this page will be updated as the new pages are published).
More details and FAQs are below!
Week 1 Meal plan and grocery lists

Week 2 Meal plan and grocery lists

Week 3 Meal plan and grocery lists

Week 4 Workouts

Week 4 Meal plan and grocery lists


Wild Blueberries / Cabot / Sabra / Sizzlefish / About Time / Fitfluential
How do I enter the giveaways?
We'll have two giveaways running each week. Check in on each weekly post for your chance to enter! (For week 1, you'll check in for your workouts on my week 1 page, and check in with your eats on Anne's week 1 page.)
How do I keep track of all of the deliverables and info? It seems like a lot!
This page that you're currently reading (the Intro post) will be your home base for ALL things Winter Shape Up-related. Each week's meal ideas and workouts, plus any giveaways will all be linked here. If you're joining in, keep this page in a safe place (bookmark it, Pin it, keep it in your pocket) so that you can easily access all of the info. I'll also add a widget to this page at the top of the blog (on the upper right side bar).
Here's a handy widget to add to your blog, too, if you'd like! Simply copy the code under the graphic and paste it into an html widget on your blog sidebar or into the source/html code section of your blog post and the graphic will appear.
Let's get this party started! Are you joining in the fun? Be sure to check out the Week 1 workout page and enter this week's giveaway from About Time here! xoxo Gina