Winter Shape Up 2013: Week 2 Workout
Blitzing right along, and you're all KILLING this challenge! Keep up the amazing work and let's bring week two in with a bang 🙂
If you're just joining in the Shape Up, check out the intro post. All of the info, workouts and meal ideas can easily be found in one spot. Bookmark it, share it, pin it- keep it in a spot where you can easily find it.
Here's a little Week 2 video, including some demos of the moves you'll see this week: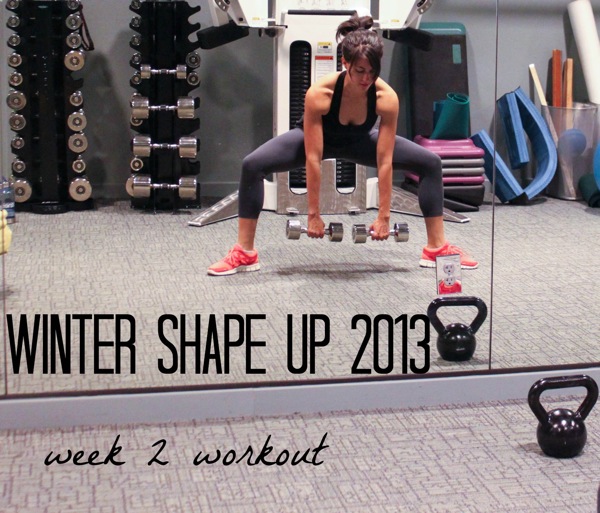 Here's how the workout goes:
-Warm-up (you can use the warm up video from last week, too!)
-Complete one set of each move in the circuit
-Repeat the entire circuit, start to finish, 1-2 more time for a max total of 3 times
-Follow with cardio as indicated in this week's calendar. The first time you do the Week 2 workout, the specified cardio is jump rope intervals, if you'd like. ("Like" is subjective, haha) 20 seconds on, 20 seconds off for 10-15 minutes. You can also do high knees or an
-Cool down and stretch
The circuit: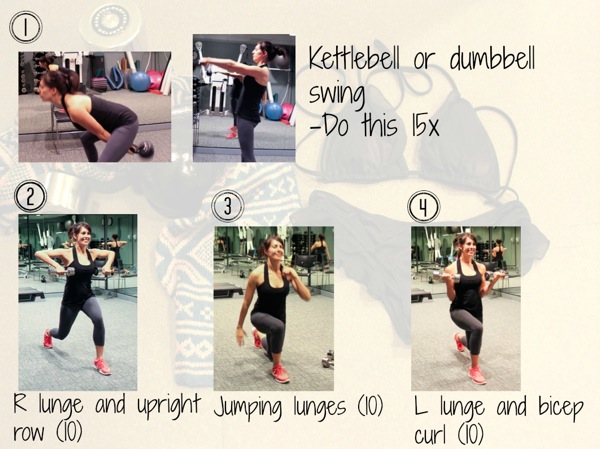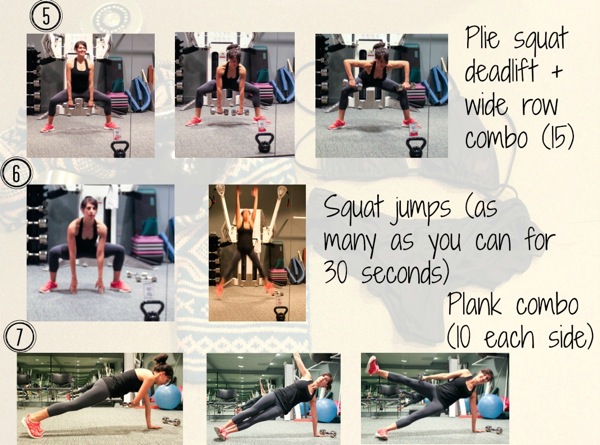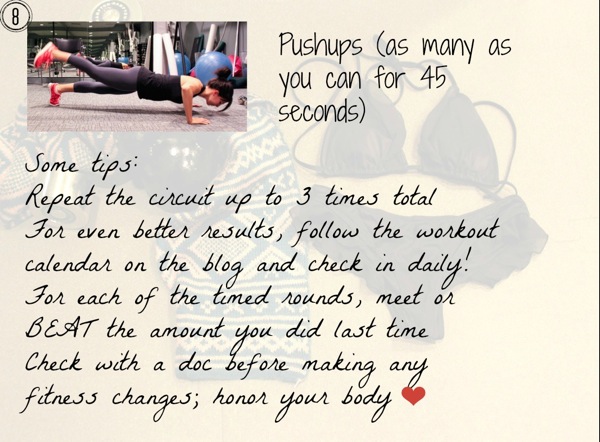 Form cues:
1) If you've never done a kettlebell swing and don't feel comfortable with it, just do weighted squats. It will help continue to warm up your leg muscles and get your heart rate up a little, which is what a swing does as well. Remember that the move is driven from your core, hips and booty- do not try to muscle up the weight using your arms. When you swing the weight and it reaches shoulder height, it should look like someone smacked you on the booty with a ruler. Check out this video for more help. Yes, you can also use a heavy dumbbell, but be sure to hold onto it for dear life.
2-4) Lunge and upright row (leading with your elbows), jumping lunges and then you'll do bicep curls with a lunge on the left. Watch your front knee and think about sinking straight down instead of forward. Keep your core tight, shoulders back and spine upright. Keep your feet hip-width apart.
5) Come into a wide plie squat position, endeavoring to get your thighs parallel to the floor. Hold your legs here, core tight as you hinge forward from the hips into a deadlift position. Your back is nice and flat (keep your shoulders back to avoid rounding) and perform your wide row. With your core still engaged, bring your torso back up to an upright position and repeat.
6) Plie squat jumps: touch the floor and spring up, reaching as high as you can. Land with a soft knee, and do as many as possible in 30 seconds. Remember this number, as you'll try to meet or beat it each time you go through the circuit.
7) Come into a plank position, holding a light weight in one hand. Using the weighted hand, reach across the midline of your body, twisting towards the opposite side. Open up to a side plank (stacking your hips) and exhale as you lift your top leg, reaching the dumbbell for your thigh. Complete all 10 reps on one side before switching to the other. *Check out the video above for modification options
8) As many pushups, (ANY variation) for 45 seconds. Keep track of this number and try to meet or beat it each time you go through the circuit.
Tomorrow morning, don't forget to meet me back here for check-in and giveaway details 🙂 I hope you love it!
Here's this week's workout calendar- feel free to shuffle and move things around as needed.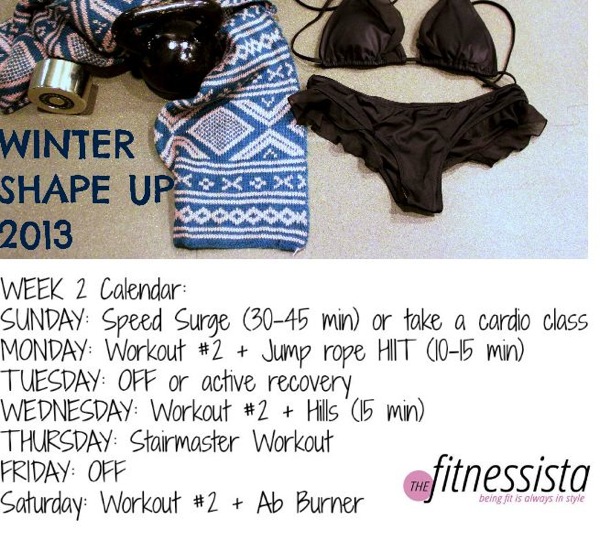 Happy planning, sweating and success to you, friends!
xoxo
Gina
CHECK IN! Did you do your speed surge today? How did it go? Leave a comment here, or tweet me a pic @fitnessista #wintershapeup
I also want to see your meal prep pics, if you'd like to share! #eatlikeaPRO