ZOOMA Cape Cod 10k Race Re-cap
If this isn't motivation to finish a race, I'm not sure what is….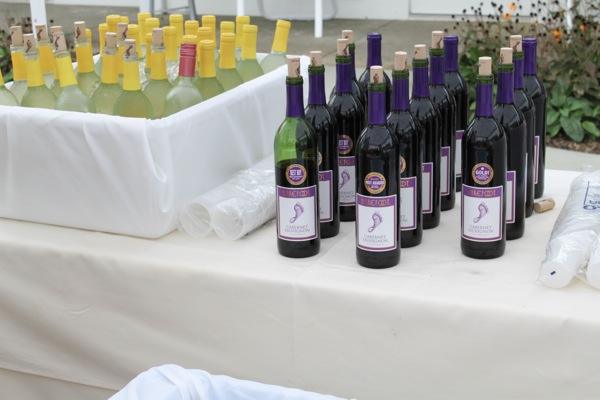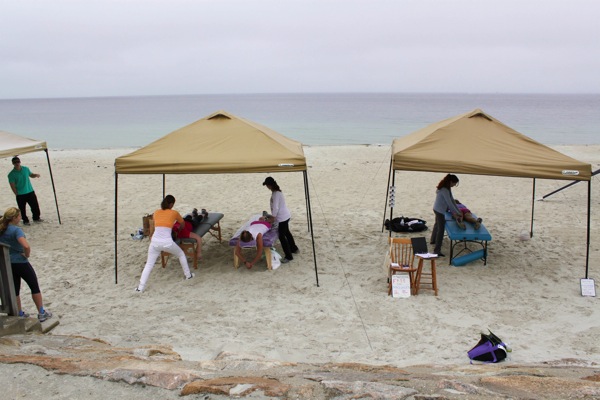 Wine and massages? I'll run for that 🙂
The morning started off nice and early (3:30 AM Tucson time!) and I quickly grabbed some food: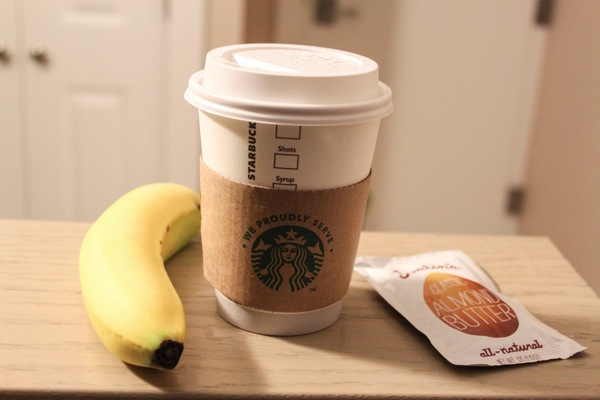 'Bucks, banana and almond butter.
I was SO hungry when I woke up, I really wanted to eat 4 of the bananas with almond butter.. it was so good. I had to remind myself that running on a full stomach (especially a lot of almond butter) feels awful, so I drank the coffee and some water, then had to face my usual dilemma:
long-sleeve or short sleeve?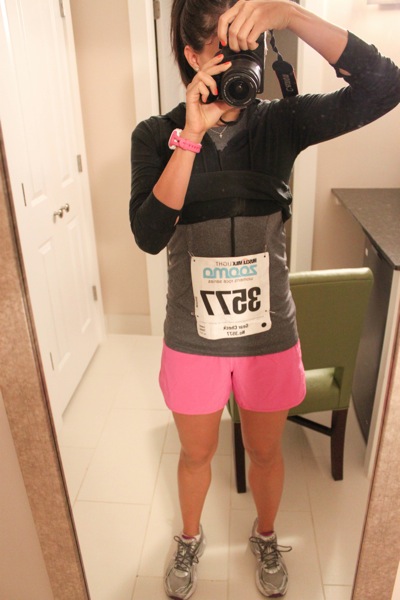 Whenever I run with a hoodie or long sleeves, I regret it around mile 2. I Googled around a little bit (this is an awesome guide for dressing for long runs in various temps) and decided I'd rather be cold for 10 minutes at the start than spend the rest of the race cursing myself and trying to get the hoodie off.
It was kind of a rough night. I slept horribly -every sound woke me up, guess the mom-radar is in high gear when you're away- and when I woke up, my eyes were neon red and my body was stiff from 12 hours of travel (including 3 hours of driving yesterday).
Instead of thinking about all of the odds I had against me, I focused on what was in my favor, especially the gorgeous weather. It was a PERECT day for racing.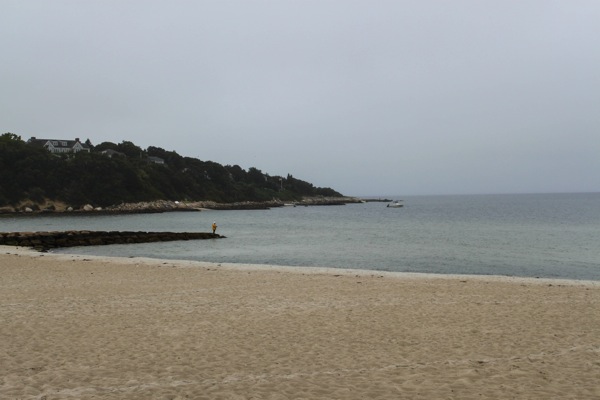 Cloudy, cool (60*) and a light autumn drizzle before we were off.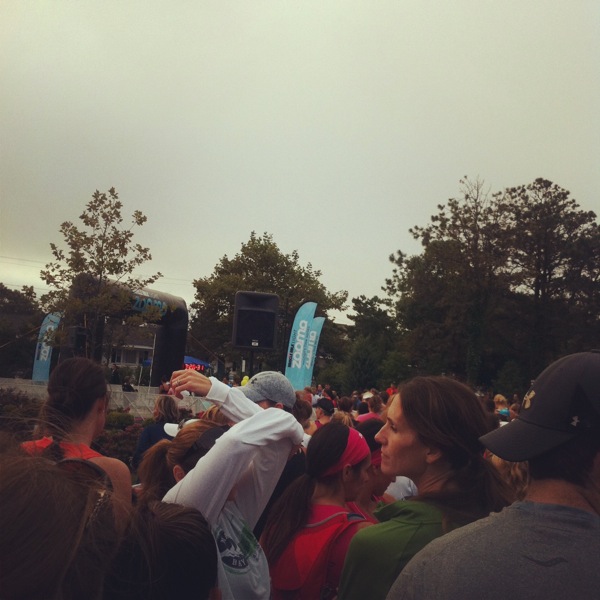 And then.. it began. Something that I had been thinking about for the past few months was finally here.
Here's how the mile breakdown went:
Mile 1: This one is always a little stressful for me. There's so much congestion, you try to pass people or break away and there isn't room, so you're either weaving around or stuck. I did a mixture of both. It's also a good way to gauge how the rest of the race will go. Often, I make the mistake of starting out way too fast and burning out, so I made a point to keep a solid pace. When I saw my time for the first mile, I knew I could pick it up a little. 9:36
Mile 2: For this mile, I focused on the beautiful scenery. We ran around beautiful historic neighborhoods and along the coastline- it was truly breathtaking. Good scenery is always a great distraction, and whenever I'm in a new area, I especially love checking out the houses since they're so different from what I'm used to (lots of stucco, Spanish-style homes and brick in AZ). I figured if I could keep it around this pace, I'd feel pretty good for the rest of the race. 8:49
Mile 3: This mile was pretty hilly (so much for thinking the course was a pancake!) so I slowed down a little going up, and sped up going down. I loooooove decline, but had to remind myself to keep it under wraps because I was still less than halfway there. I still had a lot of energy, so I yelled "great job!" to the girls passing me on their way back. 8:53
Mile 4: "Ok. I feel challenged. I had fun looking around in a new environment, I'm done now." This mile hurt.. mostly my heart and hips. Even though I told myself before the race that I was going to have fun and not focus on being away from Liv, it started to get to me. I think it was the fact that my fatigue started to kick in from yesterday, and at the cheering stations there were little girls with their moms. My heart ached, especially knowing she wouldn't be at the finish line. I reminded myself of the example I want to set for her and trudged along. 9:05
Mile 5: I had to give myself a pep talk, because I really wanted to stop and walk for a little while, but knew it was my mind and not my body. Running, for me, is 99% mental and if I can convince myself to keep going, I will. My major goals for the race were to finish and not be picked up by the slow truck. My secondary goals were to finish under an hour and run the entire thing. I knew if I stopped to walk, it might not happen, so I kept going. 8:54
Mile 6: A mile and some change left. I always tell my students that you can do anything for 30 seconds, 1 minute, whatever I'm making them do. I was thinking to myself "you can do anything for 1 mile!" but now that I'm typing it, I'm realizing it doesn't really make sense, even though I could technically be crawling, Zumba-ing or run/walking to make it to the mile mark. It worked though 😉 For the second part of the race, I had been about 20 ft behind a woman wearing a running skirt- it was time to pass her. It feels nice to pass people in cute outfits 8:29 <– fastest mile!
When I got to the finish line, I made the goober mistake of walking after I hit the first timing pad. Apparently I still had a little way to go! Next time, I'll run until they hand me my medal, or in this case, a really cute necklace.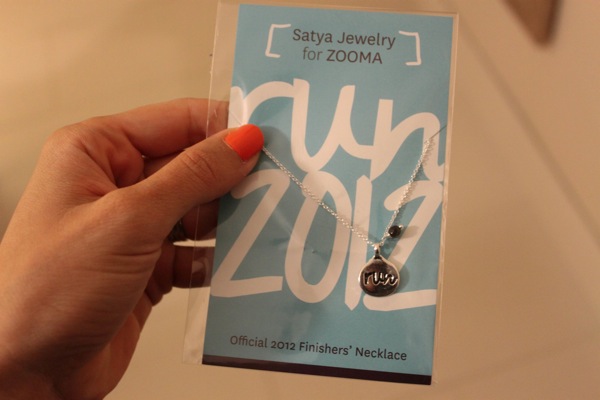 Garmin time: 55:18 10k
Official time: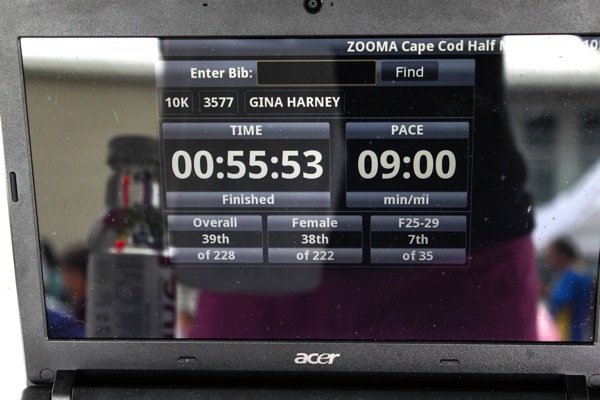 Why the discrepancy?
I think the course may have been a little long. After first I thought it was because of my weaving in the first mile, but later found that when I was running in a group, all of our Garmins would beep a significant distance before the mile marker. Either way, I'm pretty happy with my time considering my lackluster training in the Tucson heat.
I couldn't help but think of my original thoughts when I first agreed to be a ZOOMA Ambassador and on the advisory panel — I felt like I didn't deserve to do it.
"I'm not a real runner."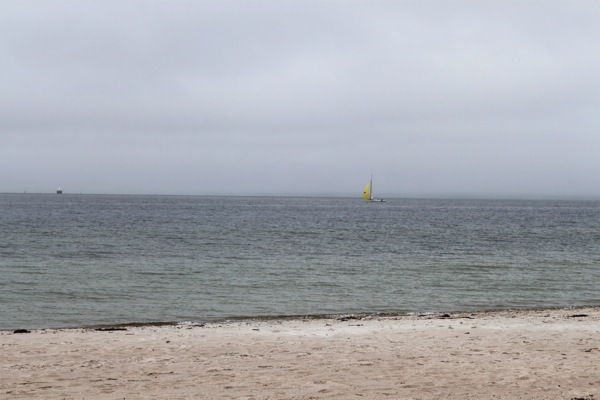 I teach Zumba, I usually run sprints when I get the chance to make it to the gym, and I don't set my clothes and gear out early for Saturday morning long runs. I don't do ice baths anymore, haven't bought energy gels since before I went into labor (they make great labor fuel), and if I get out for a longer run, it's more casual, with my little lovebug in the jogging stroller. And I think that gives me a lot in common with many of the woman who run races, no matter where our abilities lie on the speed spectrum.
We all have lives and other things going on, but still manage to get out there when we get the chance. Many runners are moms with full-time jobs, husbands who are deployed, in college, lots of tasks and things on their plate. Running doesn't define them, and it doesn't have to define me to enjoy it as a small part of my life. I don't want anyone reading to be afraid to sign up for a race because you don't consider yourself a runner, or because you don't think you'd be "good" at it. Get out there and have fun, sign up with some girlfriends,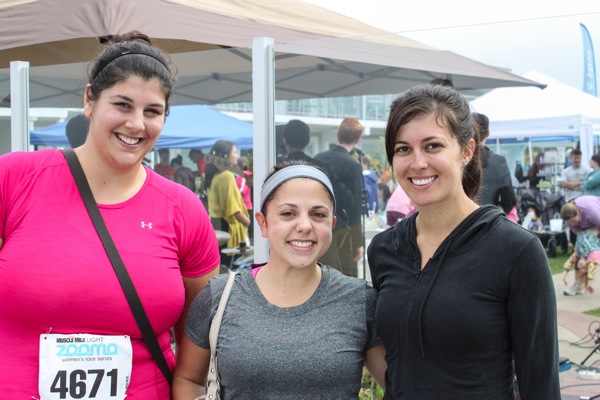 (thanks again for saying hi, Jill and Lauren!!)
and if you hate it, maybe they'll at least have an awesome expo like this one: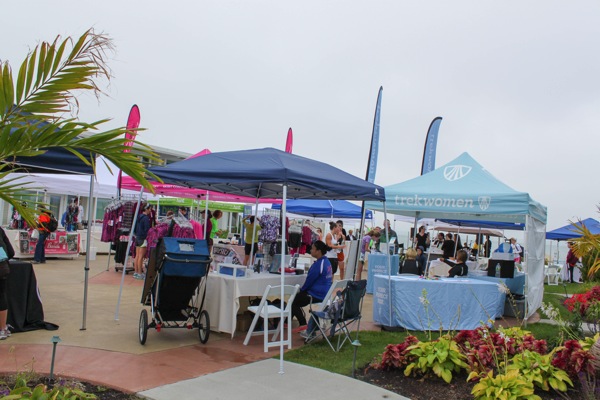 Tons of clothing vendors, race vendors, food, beverages, wine, free massages, facials and lunch: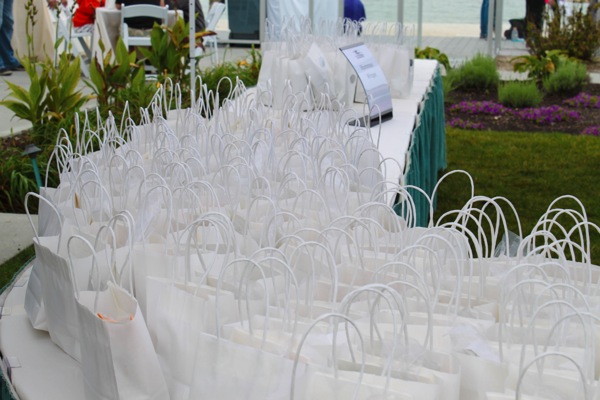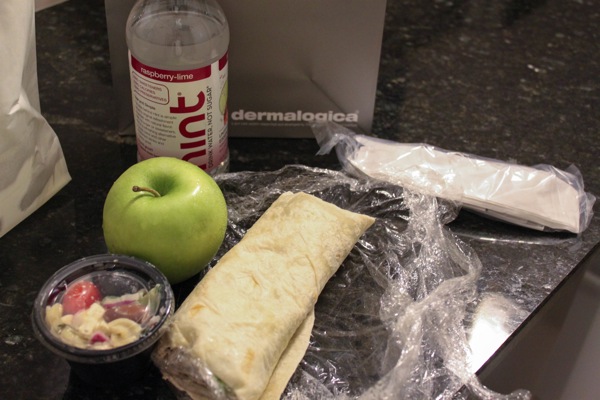 (chicken salad wrap -I ate the filling- apple and greek pasta salad + Hint, which I adore)
I loved every second of being here, and am so thankful to the ZOOMA team (Tricia, Brae and Brooke) for the opportunity to come out and enjoy the race.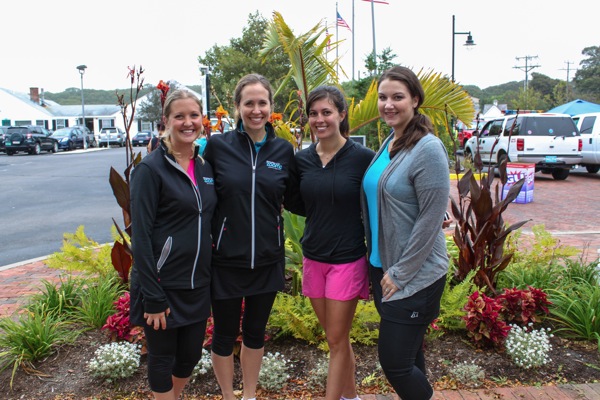 And now, it's time to pack up, pick up some food and get on the road for part 2 of my east coast adventures- I'll see ya in NY!
xoxo
Gina
Something to talk about: What's your favorite race? Anyone hit any PRs lately? If you have never done a race, is it something you'd try?
Something to think: