I think the little humpday holiday made the weekend arrive so much faster. Chocolate and a quick weekend- hey, I can get on board with that. Anything fun going on over the next few days? Please let me know if you'd like a November workout calendar and I'll have it up by Sunday morning (Sunday will be a rest/active recovery day).
Here are some faves from the week:
Getting to wear one of the Pilot's old flight suits, aka his work jammies, to teach on Halloween. Even though the booty part hung down looooow (he's quite a bit taller), I loved wearing it to teach a treadmill class and assist stretch. My friend asked if I was going to teach Zumba in it, which I considered for about 2 seconds before saying no way. We did do a Thriller dance (mostly based on this one) and it was a blast.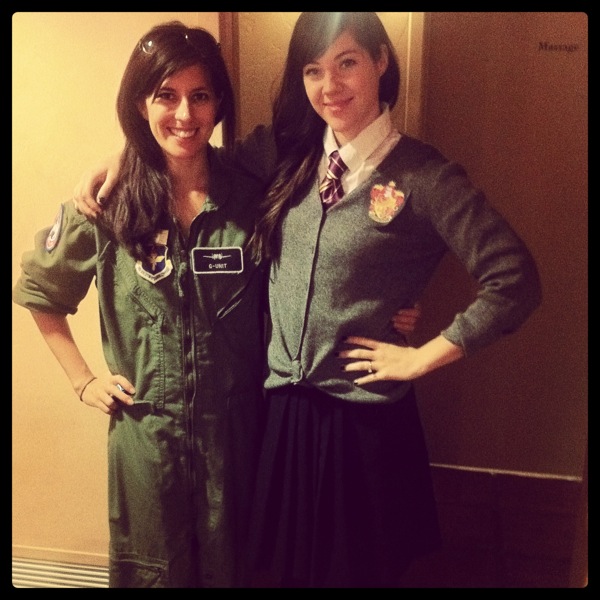 (With Meggie)
Some delicious eats:
Festive fall salads for the Pilot and myself: pan-seared and baked salmon (with garlic, sea salt, olive oil and pepper), greens, chopped green apple, dried cranberries and a lemon vinaigrette (lemon juice, lemon zest, olive oil, Dijon, and a little honey). It was outta.this.world. Will certainly be making this again… like next week.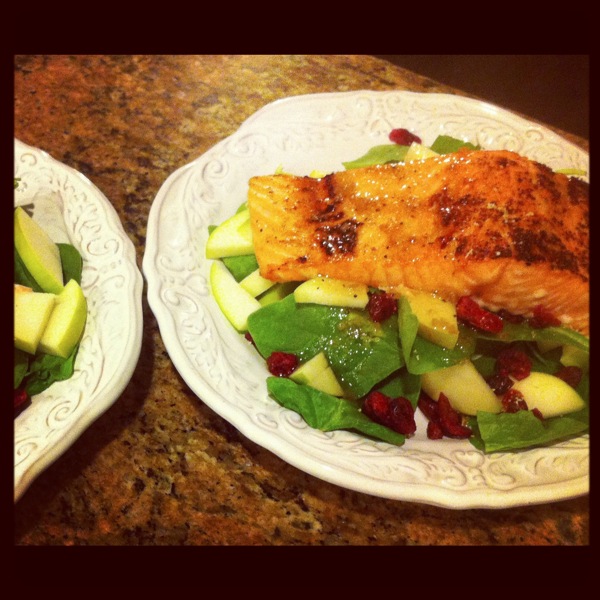 An enormous batch of veggie soup, using some of the veggies from our farm box. I made it mostly for Oliv -little miss loves herself some soup- so I kept everything plain and let it slow-cook in veggie broth while we went on Halloween adventures. When we got home, I plopped in the immersion blender and whirred away to creamy soup glory, stored and froze some for Liv, and then seasoned the rest with sea salt, pepper and a pinch of sugar.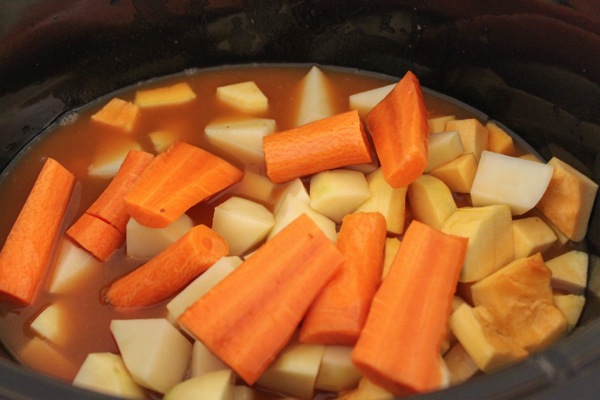 Cute baby butternuts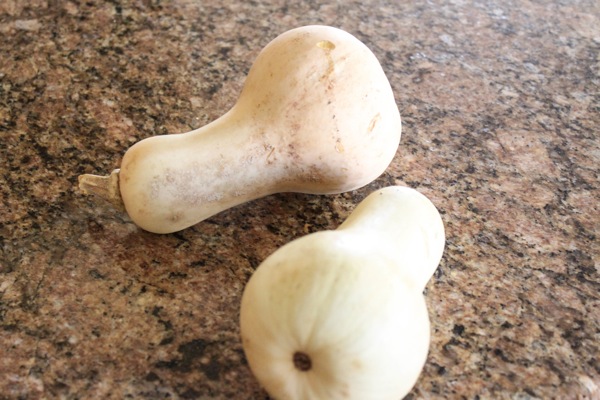 carrots and potatoes.
This is totally random (and not a fave) but this is what happened to my left hand after touching the peeled potatoes: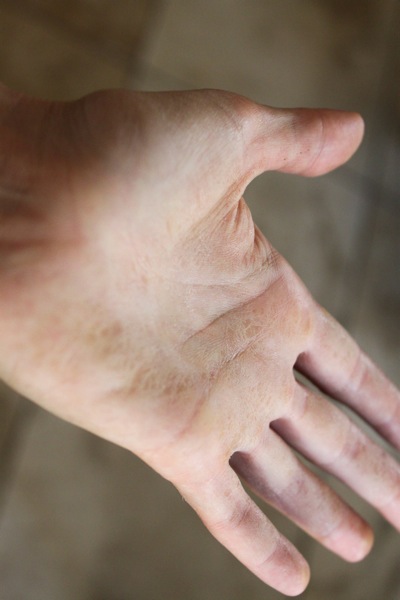 The pic was taken after washing my hands 4 times. I grew scales!! WTH is that about? It was super itchy and dry, like an allergic reaction. At least the soup was worth the  dino hand.
I packed up some to take to work the next day, along with a salad (greens, tomatoes, mint, cucumber and goat cheese- all but the last from our farm box) and the rest of my work snacks.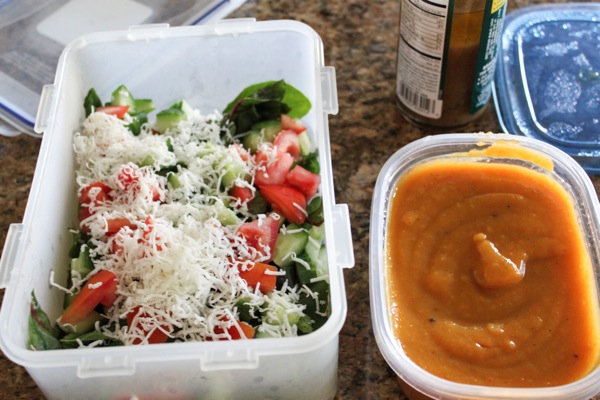 Fresh juices all around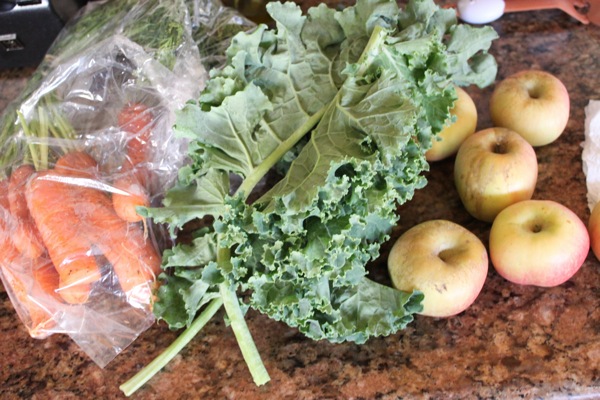 to wash down the Halloween candy minis 😉
I loved seeing everyone's pics this week! Thank you so much for checking in and letting me know what you're up to food and fitness-wise.
Here are some of the recipe highlights:
@scaspelich made the Sweet Potato Chocolate Chunk cookies
@abbstars made the quinoa trail mix muffins, which are sadly long gone in our house. Definitely going to make another batch as prep for next week.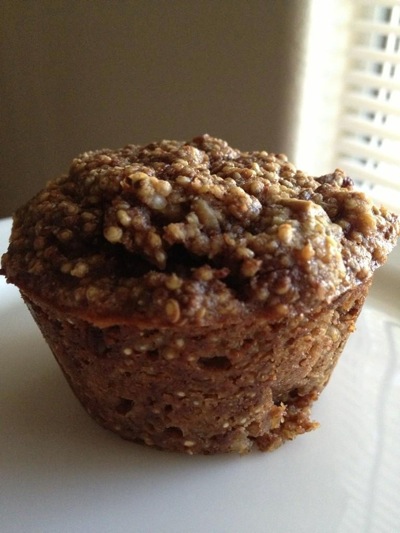 LOTS of candy corn popcorn floating around the blog world this week, too.
Here's @runprincipessa 's: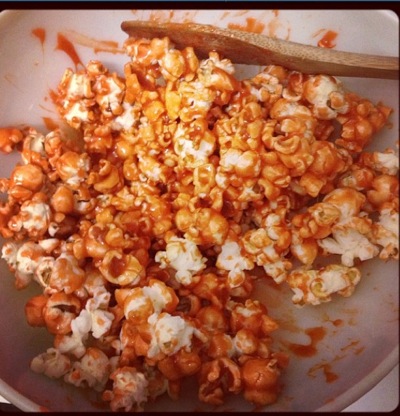 @vegvacious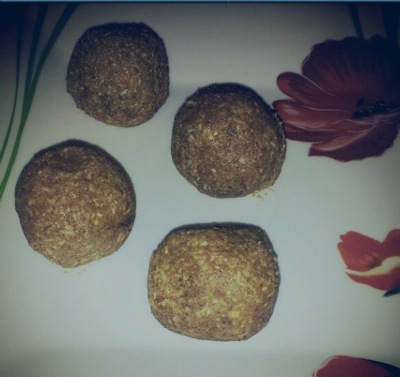 @jolenebojanTIU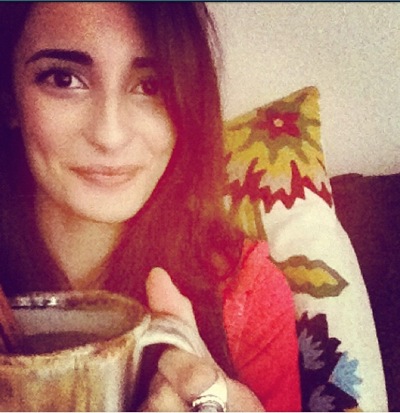 and @studiocuisine made pumpkin amazeballs!
–Namaste November. Can we just talk about this for a sec? I am BLOWN AWAY by your awesome enthusiasm for the November challenge! So many of you have signed up and checked in already- I can already tell it's going to be so much fun, and a great way to add some calmness to the craziness. I have a yoga practice planned for tonight and I can't wait. If you're just now learning about the challenge, it's not too late and we'd love to have you! Check out all the details here. It's totally free and if you don't have an iPhone to download the app, leaving a comment via the website is a breeze. 
Have a very happy Friday! <3
See ya later on the Family page with our DIY costume how-to.
xoxo
Gina
New on the Fashion page: Make your own gorgeous pop of color necklace
Taking suggestions: I'm hoping to plan some type of group philanthropic event for the holiday season. The original idea was another Luon for a Cause, but I feel like we could do bigger (and better) than that. If you have any ideas, please don't hesitate to send them my way! fitnessista at gmail dot com, tweet or Facebook