As we all try to squeeze in quick, effective workouts this holiday season, here's a little gift from me to you:
a new Tabata workout!
Just 4-minutes to a sweaty, cardio extravaganza that will enable you to burn more calories throughout the day, even during holiday festivities. 
Some things to keep in mind:
-Honor your body and injuries. Modify as you need to and always talk with a doc before making any fitness changes
-Tabata training is an advanced style of interval training. If you're getting started in fitness, start with steady state cardio (gradually increasing the amount of time) and when you're ready, gentle speed or hill intervals. Fitness is a process and there's no need to try and jump from point "A" to point "D"- it's just an invitation for injury.
-Always properly warm up before doing any type of interval training. I usually prefer some jump roping or 5-7 minutes on a cardio machine of choice
-Tabata training: 8 rounds of 20 seconds HARD, 10 seconds easy/recovery = 4 minutes. You can choose any move you like for this style of training, but it needs to be one that will blast your heart rate UP (bicep curls need not apply). You can repeat the video up to 3 times throughout the day.
-Remember that your heart is a muscle (your most important one!) and needs rest, too. Make sure to alternate cardio intensities and avoid working your heart to its maximum capacity every.single.day. Always do interval training on non-consecutive days, 2-3x max per week. For more info on Tabata training, check out this post, and here's a post with the best research-based High Intensity Interval Training methods if you're looking for ways to switch up your cardio.
Enjoy! <3
Your challenge: take 4 minutes out of your day to try out this workout, or any of the pervious Tabata Thursday routines. For extra credit, combine with an ab burner and leg burner!
Happy training 🙂
xoxo
Gina
Text version: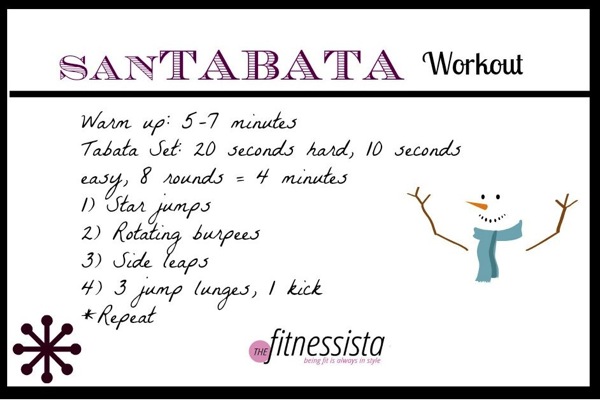 How'd it go? I'm always grateful for your thoughts and feedback.
What's on your workout plan for the day??