15 minutes, 15 moves, total body workout
Good morning <3 How's the day treating ya so far? Last night, we went over to Kyle and Meg's new house to watch the b-ball game and celebrate Meg's mom's bday.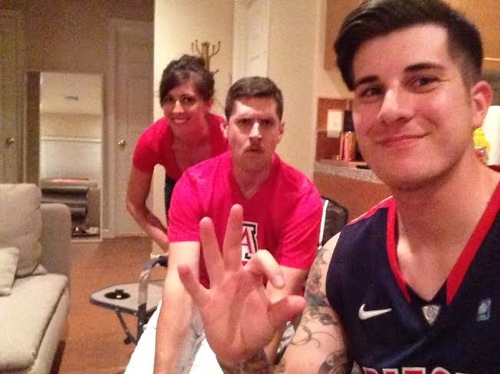 Kyle grilled burgers, and served them with waffle sweet potato fries, fresh veggies and avocado, and we brought a giant salad to share: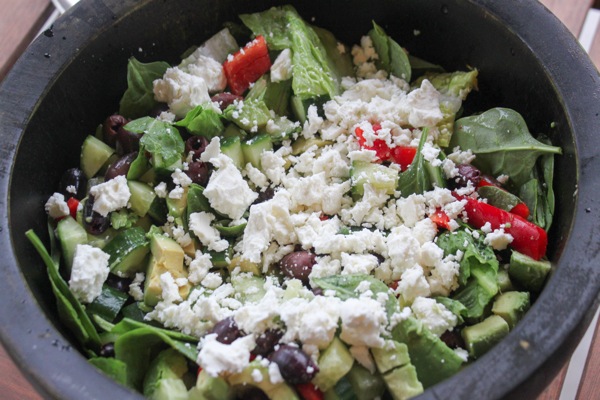 (Romaine, spinach, bell pepper, avocado, lemon juice, kalamata olives, cucumber and feta, with balsamic on the side)
It's kind of nice to hang out at friends' and family's houses since ours is in bits and pieces for now. In addition to getting ready for everything to be packed, we're also getting rid of, selling, and storing a bunch of stuff. There's no point to move things we don't use or need, and it feels nice to streamline a little. One of the many bonuses about being a military family: there's no room for clutter. Then again, it's surprising to see how much stuff we've accumulated over time, especially with a little one. 
Today, I'm off with Meg on a fun surprise adventure. I'll be back with lots of pics! 🙂
In the meantime, how 'bout a workout?
This is a quick and killer one you can do anywhere with a pair of dumbbells, and it only takes 15 minutes. It's very similar to the workout I did yesterday, and I love that it keeps your heart rate elevated while working all of the major muscle groups.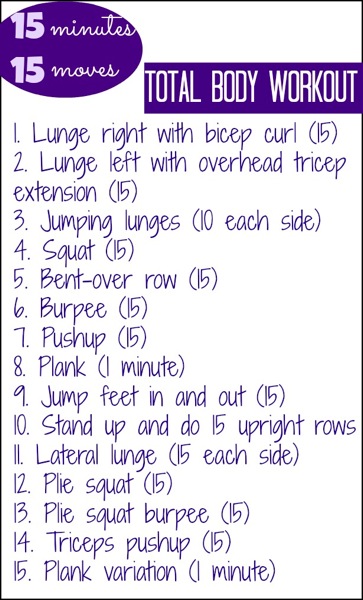 Here's the workout:
1. Lunge right with bicep curl (15). Watch your front knee to make sure that it isn't shooting past your front toe. Focus on sinking DOWN, instead of forward. If it's too much to try and do the bicep curl on the way up from the movement, do the lunges first and then the bicep curls.
2. Lunge left with overhead tricep extension (15). Lunge on the opposite side, holding the dumbbells overhead to perform a triceps extension on the way up. Frame your face with your elbows, making sure to keep them from shooting out.
3. Jumping lunges (10 each side). Be mindful of how you land for this movement; land softly, and watch those front knees. Too much? Try walking lunges instead. Want a challenge? Add a front kick of hip extension for every two jumping lunges.
4. Squat (15). As low as you can safely go! Bored? Hold a flat weight against your chest, or add a squat jump for every full squat (it burns just to type that).
5. Bent-over row (15). Keep your back nice and flat and your core pulled in. Squeeze your shoulder blades together on the exertion of the movement. Don't be afraid to lift a little heavier on this one if you don't have any back or health considerations; your back is a strong muscle!
6. Burpee (15). Any variation you like! You can always try the "wild burpee" from WSU 4 😉
7. Pushup (15). Decline, against a wall, one-hand pushups (can anyone out there do that??) any variation you choose. 
8. Plank (1 minute). If you'd like, add some variations into the plank. Be sure to make form #1 with a flat back and a straight line from your head to whatever is touching the floor (your knees or toes). Try to do as much of one minute as you can, even if you need to drop to your knees or modify.
9. Jump feet in and out (15). Keep your core engaged and inhale as you bring both feet in towards your hands. Exhale as you jump or walk back to plank.
10. Stand up and do 15 upright rows. Lead with your elbows for this one.
11. Lateral lunge (15 each side). Make sure to lead with the heel of the lunge leg. Sink your hips low and back as you lunge.
12. Plie squat (15). Toes turned out, sit straight down and keep your chest lifted. 
13. Plie squat burpee (15). 
14. Triceps pushup (15). Same as a regular pushup, but elbows stay glued in towards your body.
15. Plank variation (1 minute)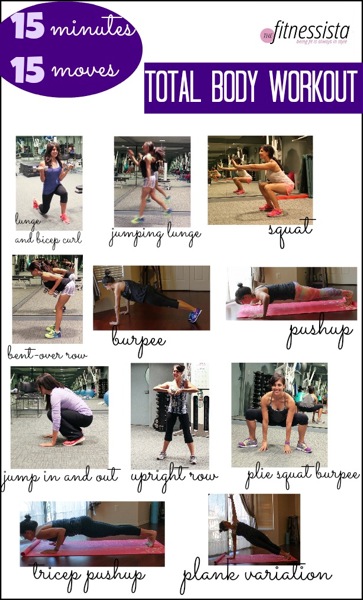 For a 30-minute workout: rest for 1 minute and repeat through one more time.  
Some tips:
-As always, check with a doc before making any fitness changes. Honor your body and modify as needed. 
-Make sure to warm up for at least 5 minutes of moderate intensity before getting started.
-Go for quality over quantity, always. If you feel like you can't complete the suggest amount of reps, do whatever is challenging for you! You may surprise yourself though 😉
I love circuits like this because they keep me guessing the entire time, and before I know it, the workout is over and I feel awesome. Let me know if you give it a try!
See ya later today <3
xoxo
Gina
Need ideas?
10 Ways to plank
Are you a spring cleaner?? What are your favorite spring cleaning or organizing tips?
Who are you cheering for in the Sweet 16?! 😉 (We can still be friends if you don't say Wildcats)