2016 Holiday Gift Guide: for your fitness-loving friends
(or yourself!)
Hi friends! Hope you're having a wonderful morning. The holiday Gift Guide fun continues! Here are the ones I've posted so far this year:
Gift Guide for Holiday Hostesses
This is my favorite one to put together each year, for obvious reasons. I love fitness gear, and LOVE sharing awesome picks with others. I always love to hear what you're enjoying, too! Here are some ideas if you're shopping for your favorite yoga friend, Orangetheory buddy, or personal trainer. These are also fantastic ideas if your family members are still asking what they should get you this year. Just send this handy link along. 🙂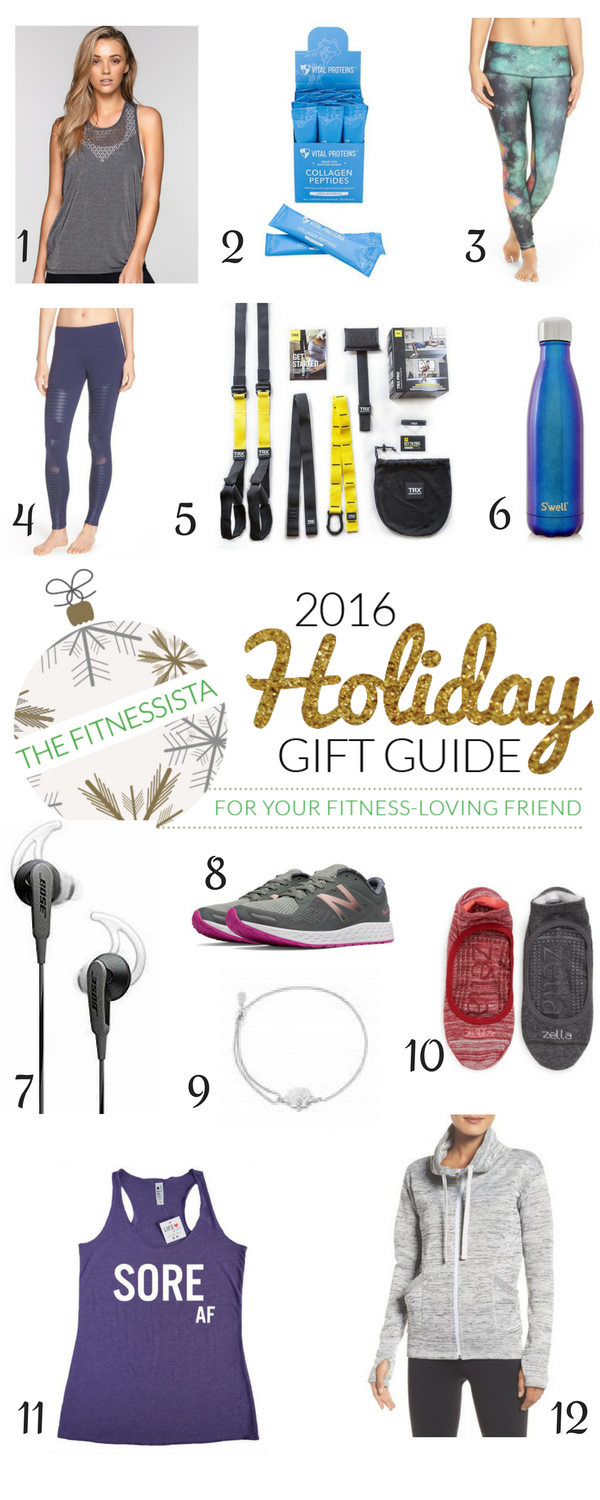 1 // 2 // 3 // 4 // 5 // 6 // 7 // 8 // 9 // 10 // 11 // 12
2016 Fitness Gifts for the Holidays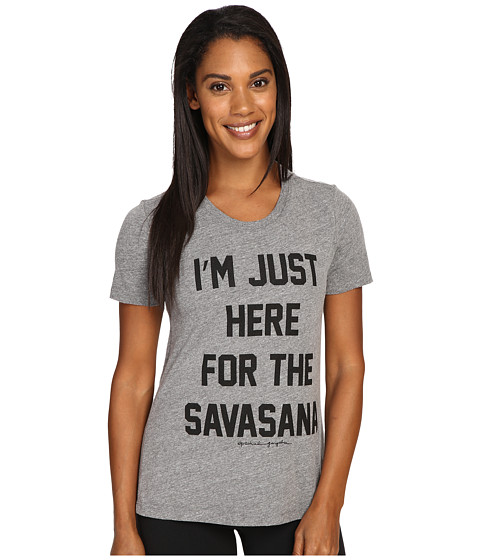 For the yoga lover:
A new yoga mat. This is the one I use the most, and it's on super sale right now. I also love my La Vie Boheme mat, and always get tons of compliments on the gorgeous design.
Teeki pants. They have so many fun, unique prints, and they fit extremely well.
Spiritual Gangster apparel. I'm obsessed with this hamsa pullover, this celestial yin yang tank, and this tee.
Mala beads. These ones are stunning.
Lotus jewelry. Alex & Ani has some gorgeous pieces, like this bracelet, and from today until the 15th, 20% of proceeds are going to support the Tennessee wildfires.
Pura Vida bracelets are hand-made in Costa Rica, and support 190 charities worldwide. The bracelets are beautiful, very inexpensive (the code HOLIDAY20 will get you 20% off), and help to provide income for artisans in Costa Rica.
For the Orangetheory and circuit-training fanatic: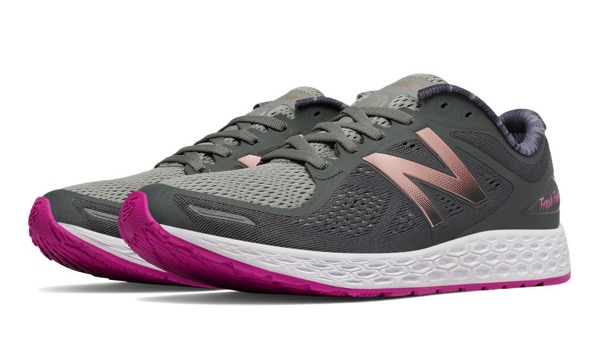 New Balance sneakers. The Fresh Foam Zantes are super comfortable, supportive enough for shorter runs, and lightweight for circuit training. They're my current everything shoe.
Lightweight tank top. These are perfect for super sweaty workouts.
Supportive and comfortable crops.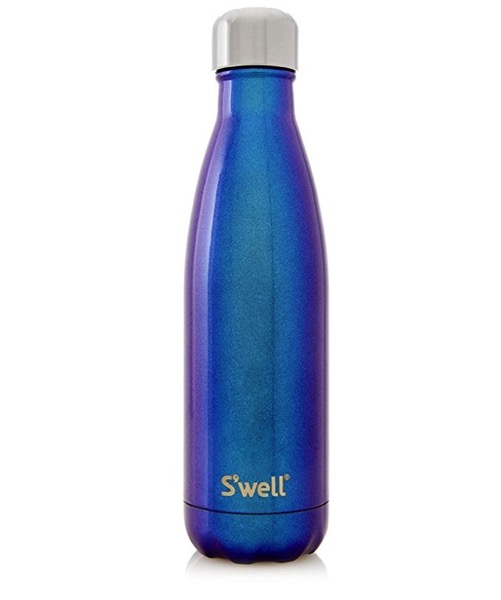 For the gym rat:
A TRX. Pretty much everyone I know who works out at the gym wants their own TRX. They are AWESOME to have at home, and extremely versatile. ($50 off right now, too!)
Fitness watch or heart rate monitor. I have a TomTom3 on the way, and can't wait to try it out!
Wireless headphones. These are my fave. 🙂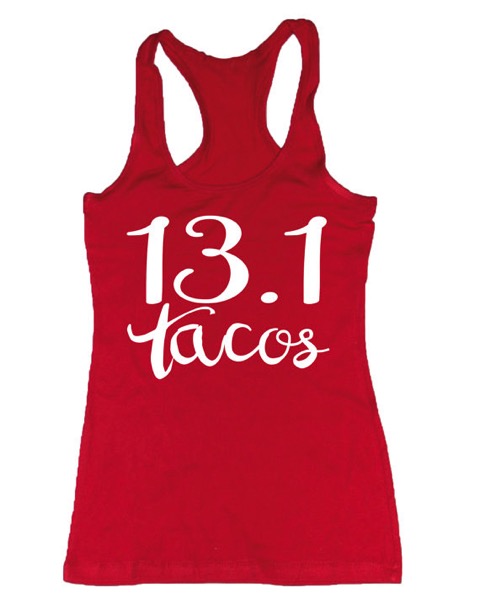 For the runner:
Funny running tank. The best part is watching people read these tanks and snicker to themselves.
Cover the entry fee to a race they've been scoping out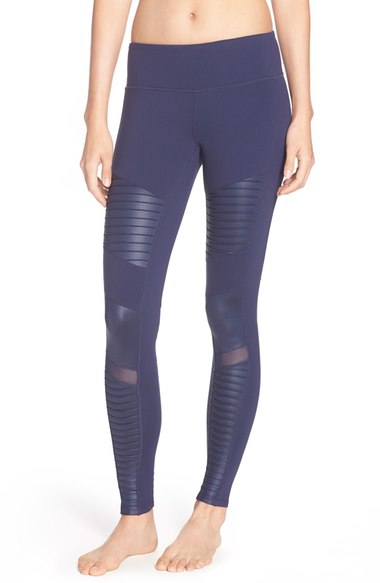 For barre and Pilates friends:
Sassy leggings (<— gahhhh these are amazing.) You can never have too many.
Barre tank (so many good ones here!)
Hoodie or jacket to wear to and from the studio. This grey one is perfect for heading to work out, or for weekends and errands.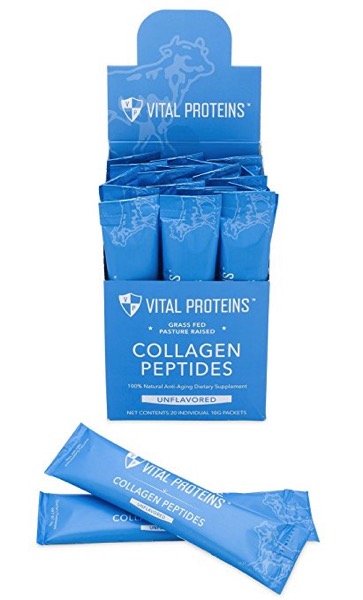 Fitness stocking stuffers:
A class pass to their favorite studio, or a fitness date to a new fitness activity you've been wanting to try together
A massage or spa treatment
Athletic socks (we love Balega and Bombas)
Favorite bars, energy gels, and protein powders
Single-serve collagen. I've been having this every day for months now, and have noticed a huge difference in my skin and hair. You can read more about it here.
Hair ties
Dry shampoo and mini essentials for their gym bag, like shampoo, conditioner, smoothing cream, and deodorant
So tell me friends: what's on your fitness wish list?
Leave a comment below and I'll pick a lucky winner (and announce in this week's Friday Faves) to pick any of the tops from this post as their prize.
xoxo
Gina
Companies are not able to sponsor spots on my gift guides, and all products are curated by yours truly. This giveaway is sponsored by Liv and Penelope, who always support fitness-related buying decisions. Affiliate links are included, which do not impact purchase price. Thank you so much for being here!