6/22: SSU Faves from the week
Weekend: nice to see ya again 🙂
Anything fun going on?
We have absolutely nothing on the agenda, except teaching tomorrow. I love it.
Congrats to the Summer Shape Up team for rocking out another amazing week- you're halfway there! I hope you're already seeing results from your hard work, and thank you again to those of you who have checked in with each workout, and have emailed and tweeted pictures to me. 
Here are some of the gems from this past week:
@MsRachel_Batson: "Kissing the guns after workout 1 of @fitnessista's #summershapeup #betterlatethannever"
@survivorrunner: WEEK 2- Sweatin' for sure!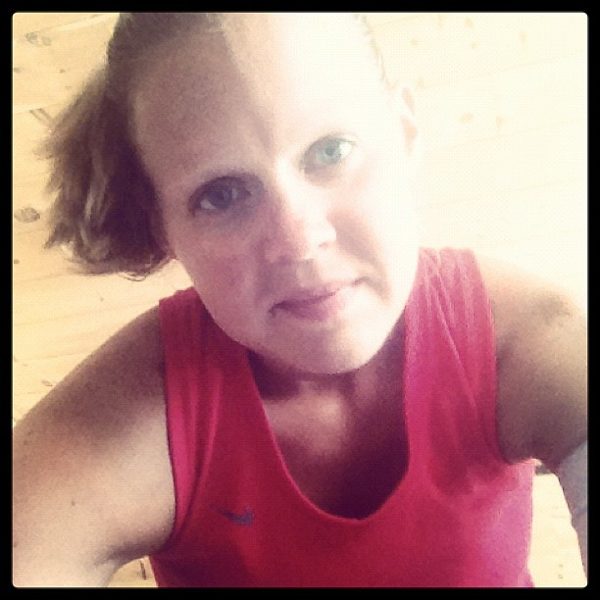 @laurenpeters: Loved this week's #summershapeup workout! Sweaty fun strength #fitblog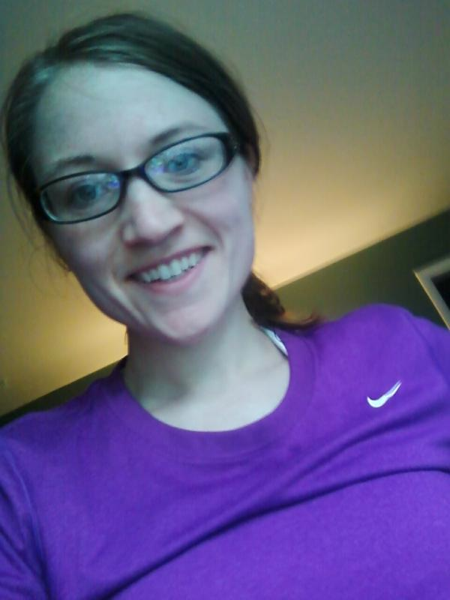 @litgirl84: Pretty sure my cat thinks I'm dead. Happy #tabatathursday!
 @pluvk: Tabata Thurs KILLED me! Even the pup got involved in @fitnessista 's #summershapeup today!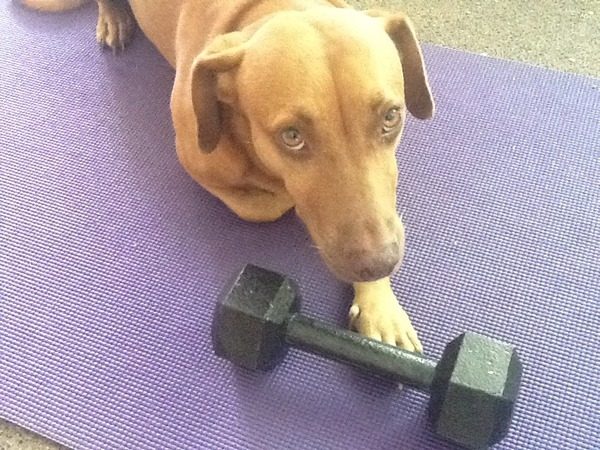 Leah O's salad beast with greens, eggs, bell pepper, shrooms, cucumber, hot sauce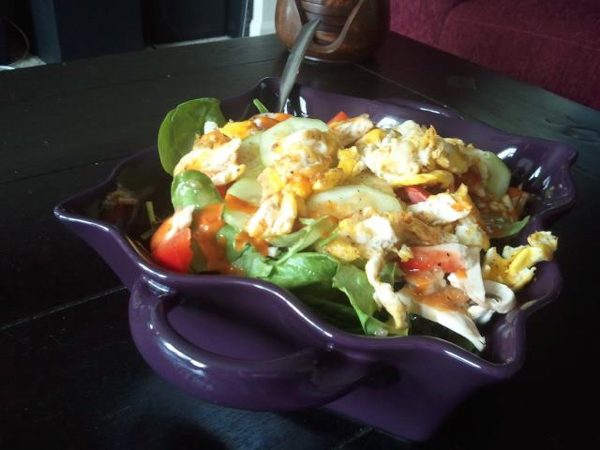 Rachel: a picture of me from right after my first Week 1 Summer Shape Up workout…yup, that's two shades of green on that shirt. 🙂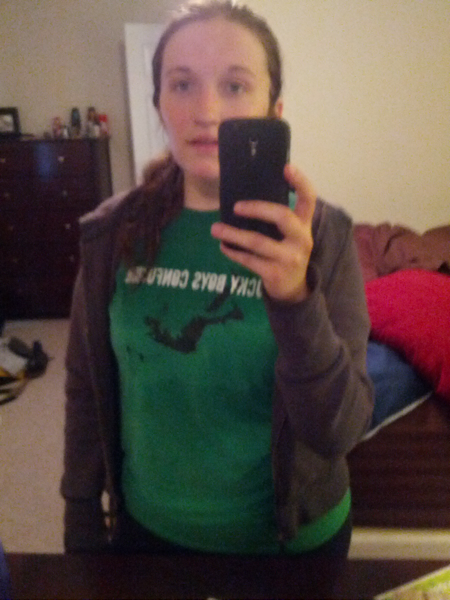 I also did workout 2 this week! SO fun.. and sweaty.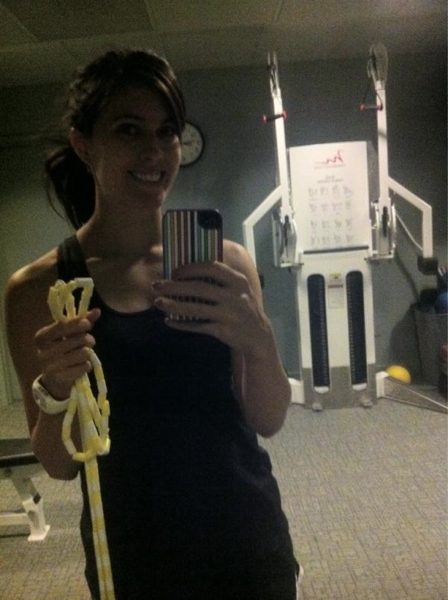 Keep the pics coming, friends! I love seeing them 🙂
It's definitely fun to have a group of people cheering each other on. It makes it easier to succeed and hold yourself accountable. Workout buddies (virtual and real-life) can make a positive impact on our fitness goals, and it's also helpful when friends and family enjoy the same healthy eats that you do. 
Meg came over for lunch during her work break the other day, and I made salad beasts for two.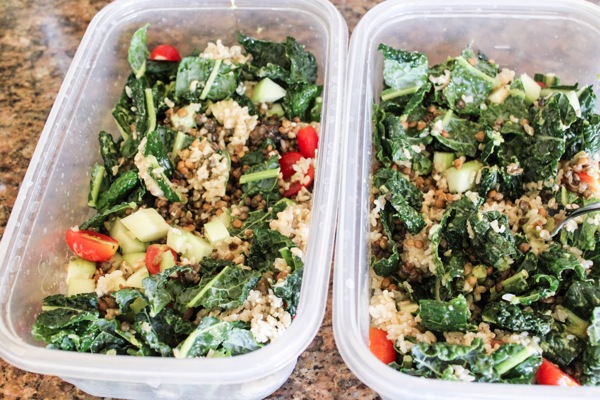 Massaged kale with lemon, avocado, olive oil, sea salt and pepper, with brown rice, lentils, tomatoes, cucumber and Goddess dressing. They were aaaaaaaamazing. Thank you Trader Joe's for finally getting organic kale! Now if they would only take the ribs out of the kale…. but I'm not about to look a kale horse in the mouth.
Work snacks: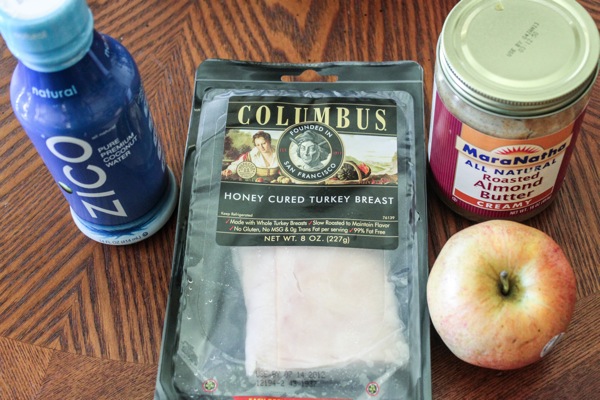 _______________________________________________________________________________________
This morning, I decided to be a good puppy mom and take Bell on a walk with Liv and myself before it got too hot. I had Liv in the BabyHawk and Bell on the leash, and were halfway through the walk when I heard a rustle in the desert to the side of us (we were walking through the neighborhood -on the sidewalk- but in Tucson, there's "desert" pretty much everywhere). I saw a coyote jumping up a tree, surrounded by three of his friends. My depth perception is awful, but I'd guess they were about 25 yards away. They didn't see us, but I quickly grabbed Bell (who yelped, I think I scared her) and started to walk quickly back to the house. It was really scary, and all I had with me were my keys and cell phone. Any ideas on how I could be safer with our walk next time?
I'm lucky that our neighbors are always home and I could call if I need anything, but in the moment, what are you supposed to do? It's even scarier because one of our family dogs was snatched by coyotes while she was in the backyard. Dad ran outside and saved her, but she was still injured. 
Never a boring moment….
Well I hope everyone has a wonderful Friday. We're just taking it easy this morning and meeting some friends for lunch.
See you this afternoon with a healthy snack post + giveaway.
xoxo
Gina
Something to do:
Be sure to leave a comment and check in here when you've finished your Week 2 workout and easy cardio for the day! Can't wait to hear how it goes. Week 3 grocery list will be up Sunday morning and the Week 3 workout will post Sunday night.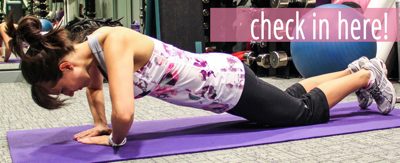 Not doing the Shape Up? I'd love to hear what was on your fitness plan and menu for the day!