*Or Tabata Wednesday and a half, but I wanted to have this up tonight for the Thursday morning early gym-goers (even though you can totally do it at home!)
It was a clumsy day over here.
You know, the kinda day where anything you touch seems to spontaneously erupt into flames and crumble into a pile of ash on the floor.
That was me… I knew it would turn out like that when I put Livi down for her morning nap, came downstairs to make coffee and get ready for work. I dropped my mug and spilled coffee everywhere, including that space along the side of the fridge. It was fun trying to clean up the coffee lake.
I also dropped my shirt into the toilet at work but that's an entirely different story. Thank goodness I had a backup :/
During pool class, I prayed for rain.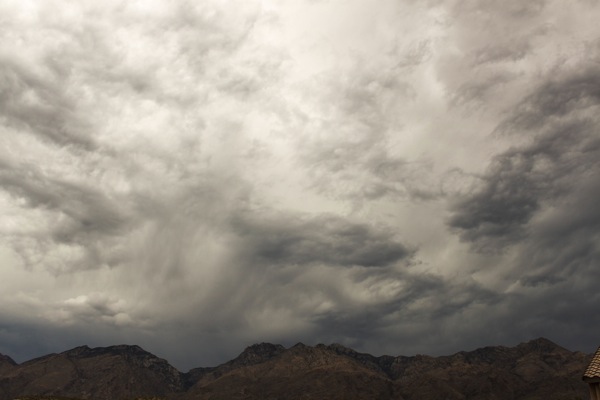 Even though the storm clouds came, the class went on, and just like all of my other pool classes, it was totally fine. I dread pool every single time -even though class is always fun and I try to give them an awesome workout, it's just way out of my comfort zone and makes me super nervous- and the hardest part, like anything else, is the anticipation. As soon as I'm done, I'm always like, "Hmmm. That really wasn't so bad"
Some eats:
A salad beast with quinoa, lentils, greens, turkey and tahini sauce (from Trader Joe's)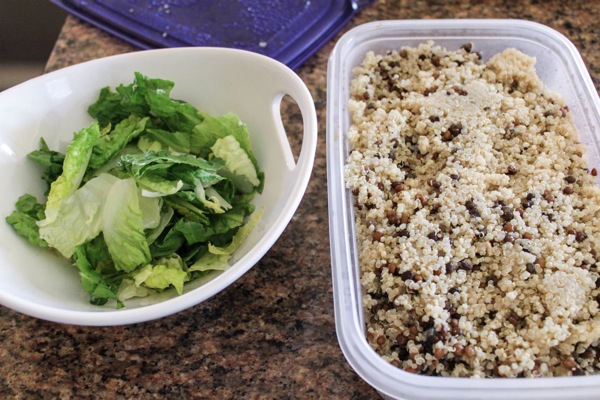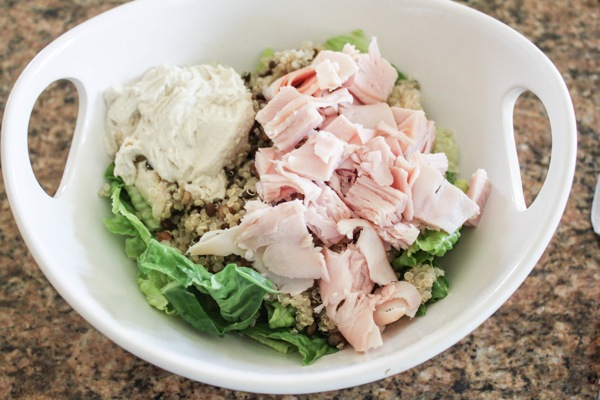 I've been LOVING the tahini sauce lately- it's especially amazing on salads and stir fries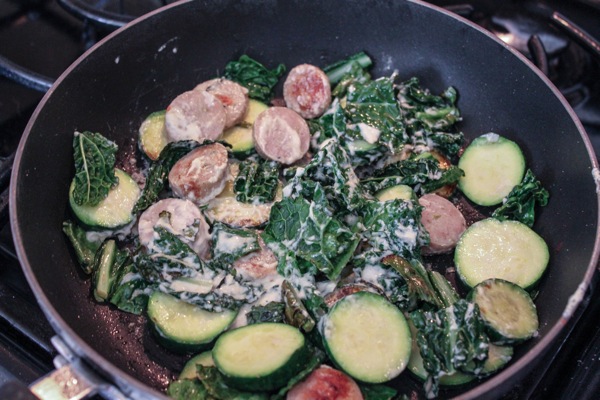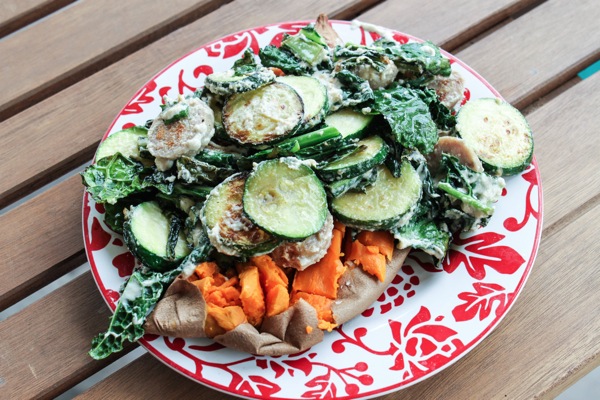 amazeballs at work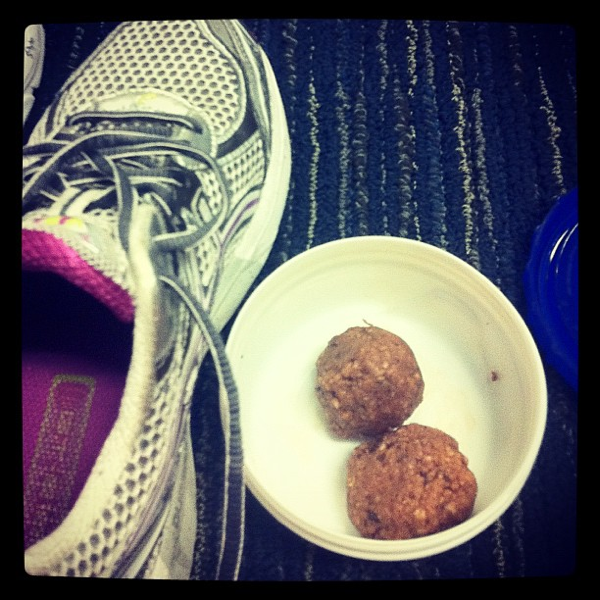 and a fancy appetizer I made while waiting for the Pilot to get home.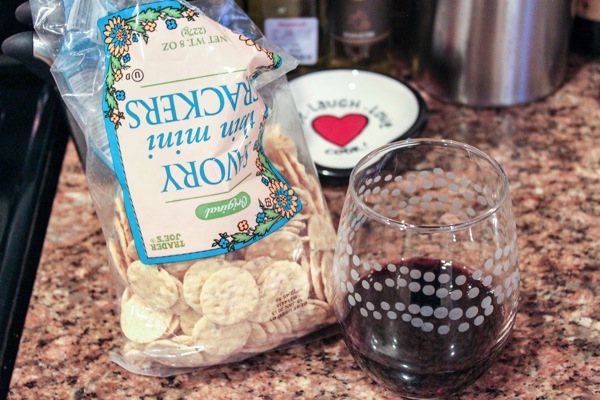 Crackers and vino FTW.
__________________________________________________________________________
Tabata Thursday is here again!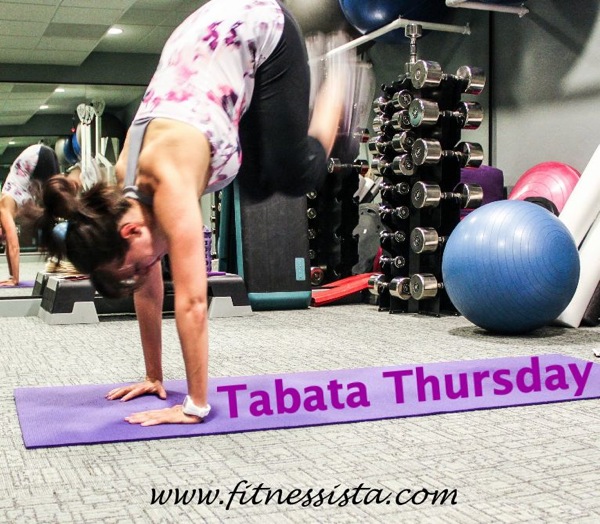 Thank you so much to those of you who rocked out the workout last week and let me know how it went! Glad I wasn't the only one shaking afterwards 😉
This week is a similar setup with different moves.
Some things to remember:
-Tabata training is INTENSE – not the best choice for new exercisers. If you're just getting started, try building up to interval training by adding some power surges in your workouts (more speed, more resistance or a combo of the two). A great place to start is 2 minutes easy, 1 minute challenging. Shorten the challenging intervals and decrease the rest gradually over time as you get stronger.
-Just like your biceps, triceps, everything else, your heart is a muscle- it needs rest, too. High intensity intervals of any sort should NOT be completed on consecutive days. Alternate interval training with rest days or steady state so your ticker can get some recovery time.
-Always warm up, cool down, and talk with a doc before making any fitness changes. If you have any injuries, be mindful of those, exercise wisely and modify as necessary.
–Tabata in a nutshell:  20 seconds HARD, 10 seconds easy, 8 rounds = 4 minutes. (For more info on Tabata, check out this Focus On post.)
That's it! 4 minutes to a sweaty, awesome, fat-torching workout. Complete this workout up to 3 times in one day, with a decent amount of rest in between rounds (at least a couple of minutes so your heart rate can come down)
-Feel free to listen to the moves and form cues, and then add your own music (around 2:30) if you'd like to rock out while you finish the workout. I'd love to hear what song you chose! I actually ended up having to make the video 3 times, since YouTube banned my video in 214 countries for trying to add music to the workout song. Maybe I'll have to make and record my own music next time? [I think that's something we all don't want, haha]
The video:
The moves:
-High knees
-Sumo jumps
-Side jumps (different than last week)
-Mountain climbers (any variation you prefer)
Each move is repeated twice.
So, how'd it go?!?
Leave a comment to check in when you finish it, how many rounds you did and how you feel!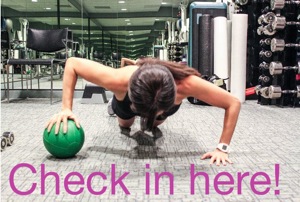 I think we all have 4 minutes to spare 😉 GIT IT!
#tabatathursday= attractive faces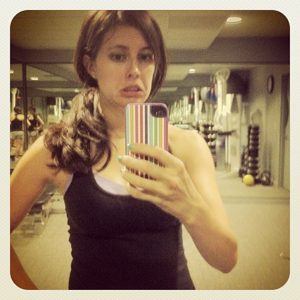 Happy jumping! <3
xoxo
Gina
New on the Family page: Calming my fears
Fashion: Meg's eyeliner how-to
Something to think:
RIP Nora Ephron <3
("I Remember Nothing" is a fantastic read, if you're looking for something light and witty)