I am a bit of a cranky pants today.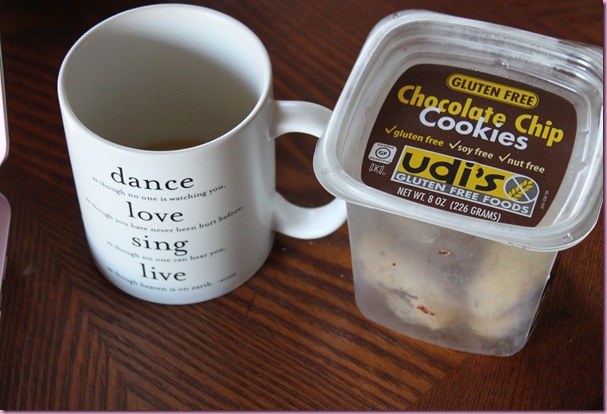 Two nights ago, I hardly slept at all, and last night, I woke up twice and then again when the Pilot woke up. He always gets up an hour before me (5:45 and I'll get up around 6:45), so usually I sleep until he leaves for work. I guess it's good practice for later, but lack of sleep = cranky pants. I have no idea how I survived on 4-5 hours max in college. Oh yeah, lots and lots of Red Bull and coffee….
Since sleep wasn't happening,
I came downstairs,
lit my favorite candles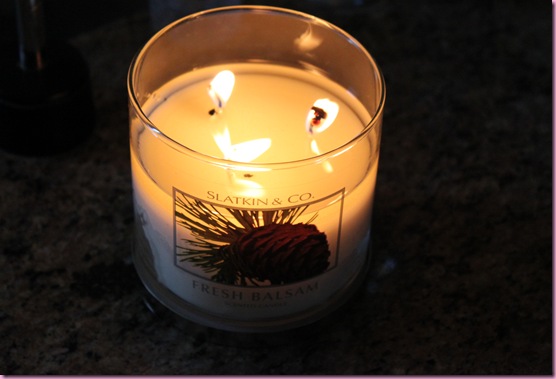 [our entire house smells like Christmas already]
ate a couple of Udi's cookies from the freezer (if you haven't tried these, they're AWESOME. Like Chewy Chips Ahoy)
drank tea
and caught up on blogs.
Here are some of my favorite posts I read this morning:
1) Maria's birth story. It's crazy because she's stationed in Fayetteville, NC, where we were first stationed- I love reading her blog
2) How to use up your canned pumpkin 
4) Thoughts from Tuesday (it's my favorite Snack-friend's birthday today, too!)
5) Five for Friday (mostly because if I still lived in Orlando, I'd ask Katy to braid my hair)
Since the cookies put me in a chocolaty mood, I made some oats for bfast, with Sun Warrior added in and thinned out with dark chocolate almond milk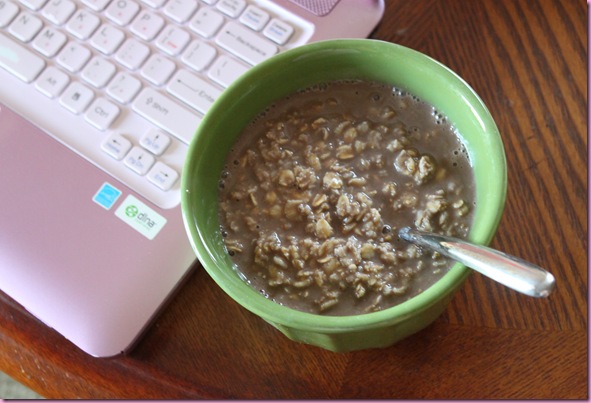 Anyone else a little cranky today? What are you looking forward to in order to get out of the funk? I know that some workout endorphins are just what I need. I have a feeling I'll feel less like a zombie after a get a workout in and start the Friday errand-stravaganza <3
On the agenda for the weekend:
-Mail out thank-you notes and packages to friends
-Finish the master bedroom and nursery [will post some pics when they're finished!]
-Start working on the disaster that is our office
I'm off to a doc appt, but I'll be back later with a Family post.
Enjoy your Friday, friends!
xoxo
Gina
Something to talk about: Did you hear that Tae Bo is coming back? I had no idea, and then the Pilot and I were talking about it last night. Billy Blanks has a new system he developed using resistance bands, in addition to the usual martial arts/kickboxing combo. The infomercials for Tae Bo were super cheesy, but the workouts are pretty amazing –I remember doing them with my mom when I was in 5th grade- and he was one of the pioneers for fusion-style workouts. Would you try the new PT24 program? Who used to rock out the Tae Bo workouts in their living room?