This post is dedicated to the existence of the slow cooker.
Without you, we'd get takeout a lot more often.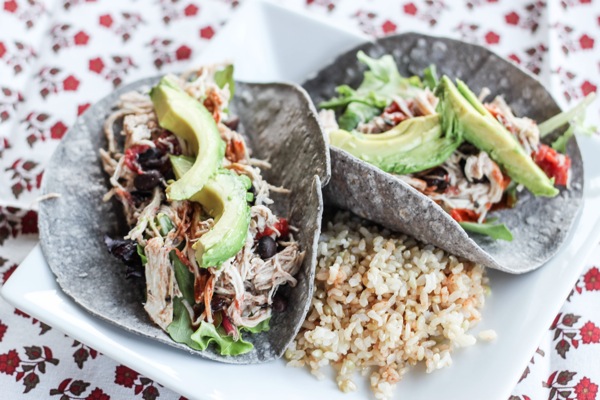 Leaving for work this morning was a little on the hectic side. I ended up getting my first class covered so we could take Liv to the pediatrician -her eye was looking a little funky but they think it's just allergies- made it in time to work for Zumba, came home for lunch: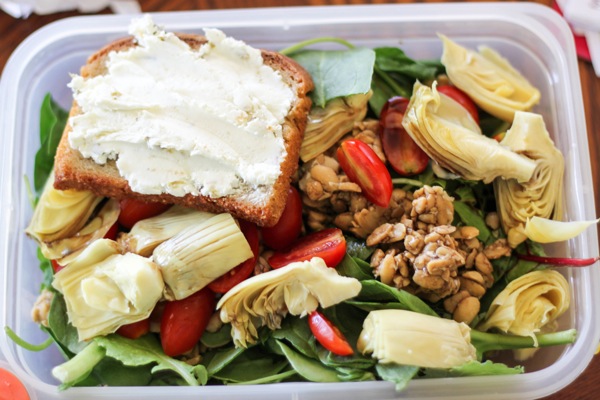 (greens, tomatoes, artichokes, tempeh, lemon and olive oil dressing, toast with green chili goat cream cheese)
put dinner in the slow cooker: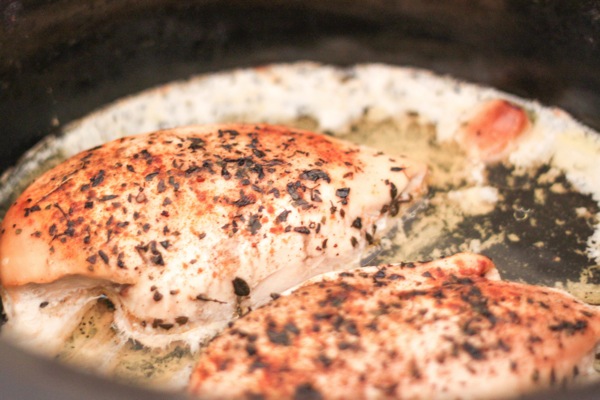 and headed back to work. Some friends and I decided that we're going to record some Zumba dances and put them up on YouTube- I'm pretty excited about it!
When I got back home, the chicken was ready for shredding: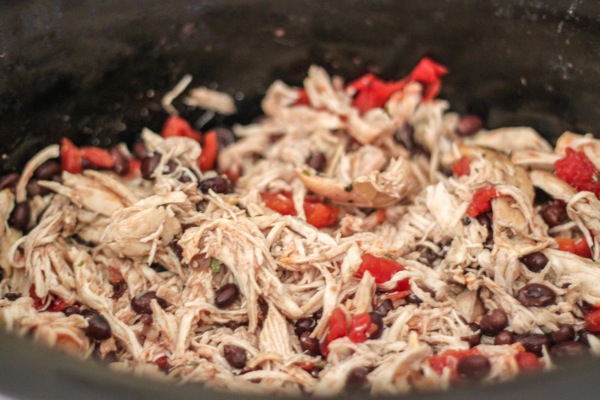 Liv and I ate an early dinner since we knew the Pilot would be getting home as I put her to bed- he flew later today. She spit out and gagged at the carrots I made her, and was ALL OVER the avocado. I couldn't give it to her fast enough. Definitely our child 😉
I had a weight room shift as my last hour, and while it used to not be my fave -it was tiring standing and cleaning treadmills with a super preg belly- I don't mind it at all now. I get the chance to chat with guests, who often amaze me with their stories, and it's good, quiet, thinking time as I walk around and clean. Since there were personal training sessions going on, I found myself thinking about past clients I've trained: the ones who became lifelong friends (especially Lisa aka Tinkerbell- I miss that lady so much), the ones who didn't quite work out (literally?) and the ones I had to break up with.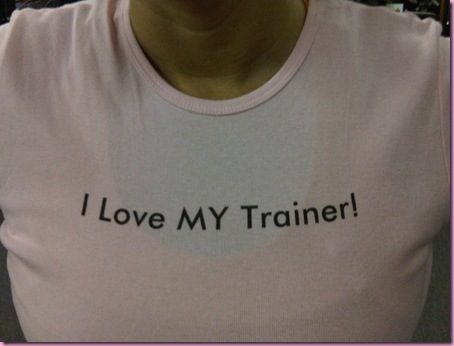 I've written about breaking up with your personal trainer before, but sometimes it goes the other way, too. There can be little things like personality/training differences, or what I've dealt with a few times in the past: people want to change, but think it will happen by writing a check instead of going to their appointments and putting in the effort. This was hard for me because I hate to see people waste their money and it also wasted my time when I'd go to the gym and wait for them to not show up. I'd train them for a while, and after consistent no-shows and scary food journals, I kindly told them that I didn't feel right accepting their money when we weren't training together and maybe it would be better to wait until they're able to commit to regular training schedule and cleaning up eats.
This is a huge reason why I won't preach to others about about working out and eating well: if they want to do it, like REALLY want to make it happen, they'll do it. What I say has no difference at all, and while I'm happy to be the one to encourage them along the way and help develop strategies to encourage their success, my words won't be their firework that sets the ball into motion. Their inner desire and motivation to achieve their goals are what will make them succeed.
Fellow trainers, have you had to deal with something similar in the past?
Non-training friends, what was the firework that made you decide to change something, or has health always been important to you?
Hope you're having a great day so far <3
xoxo
Gina