Hey everyone! Happy Sunday!!! Hope you're rested and refreshed 😀
Yesterday was a crazy and productive day! I managed to get everything on the to-do list done… except for yoga 🙁 I can't believe I didn't practice at all last week- I miss it!
We spent a few hours at Bizzle (aka Starbucks) getting some work done.
I snacked on a Larabar: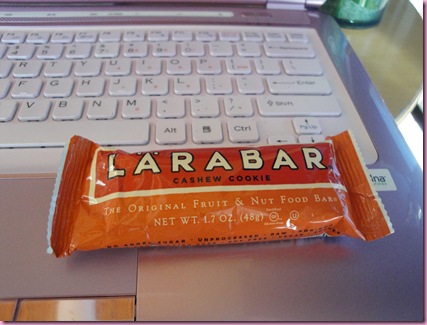 And sipped on some green ginger tea while I typed my face off.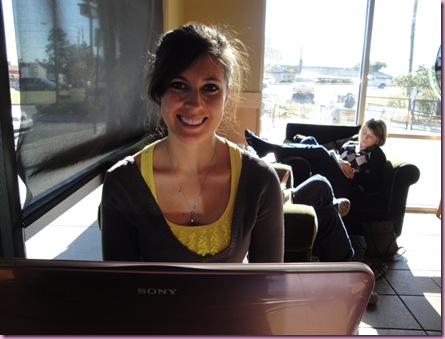 Please excuse the hair, even though it is clearly the hair of productivity 😉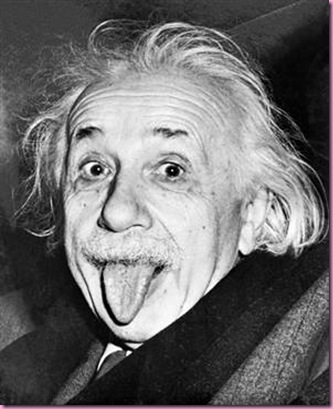 (Source)
😉
We stopped at Publix to get some sushi to munch on the way to our neighbors 60th wedding anniversary party, and picked up some squid salad to share.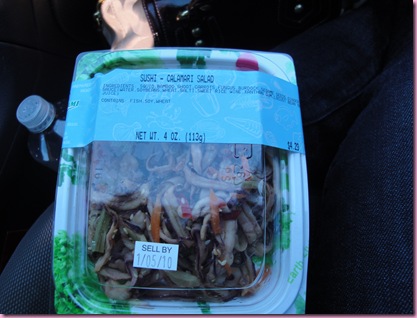 And I got the brown rice spicy smoked salmon roll.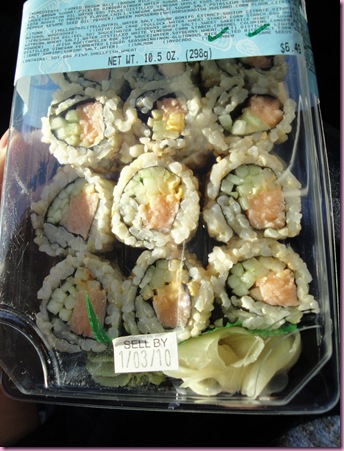 When I took a bite of the calamari, something tasted off. I moved the squid around to see that the center was entirely frozen. Good thing we were still in the parking lot –the pilot was putting the address into the GPS while I was opening our food- and I ran back inside to get a refund. That should have been a clue. I ate the salmon roll –all of it- because I was starving and was left with a horrible taste in my mouth when I was finished. I didn't get sick or anything, but I'm won't be eating their sushi for a long time after that one. Blech!
The anniversary party was adorable –all of the men wanted to talk planes and wars with the pilot- and then we came home to take down the tree 🙁
We bubble-wrapped all of the ornaments…. we have a ton!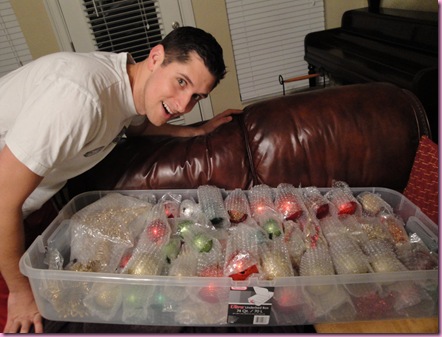 (The pilot = seksi)
A nekkid tree: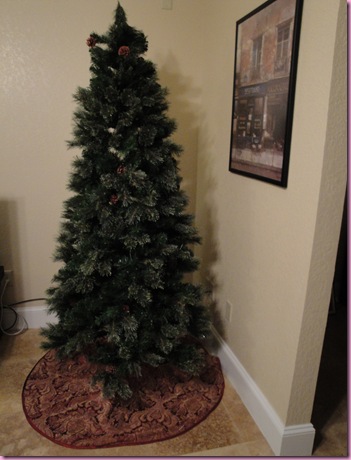 It was so sad to see it without ornaments, and we decided that the space in the wall needed a little sumthin' sumthin' when everything was put away.
A new 9ft decorative tree, perhaps??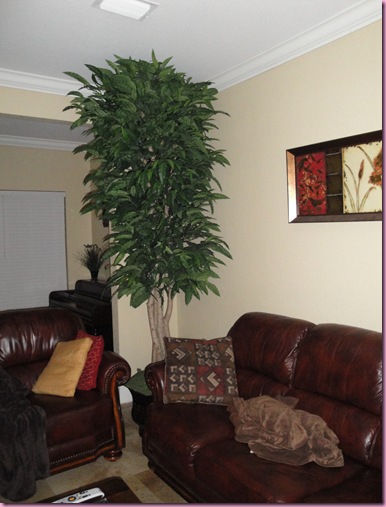 That's its new home after switching it with another decorative tree we have. Our house is like a jungle 😉
I made some chili cheese raw vegan crackers last night and put them into the dehydrator: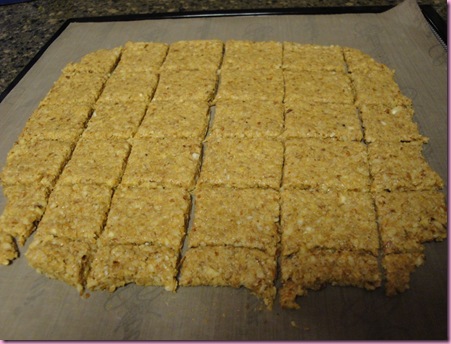 I can't wait to test them out today! If they come out like I think they will, I'll post the recipe tomorrow 😀
We're off to get the pilot new running shoes and go on an 8-miler. See ya tonight!
xoxo,
G
Something to do: Get those vision boards ready! I would love to see a pic of what you'd like to accomplish in the New Year 😀 I'll post mine tomorrow!