Since my long run didn't end up happening yesterday morning, I was determined to get in some mileage and hit up the dreadmill for a pm run sesh. Even though I do enjoy cardio alone -it's a great time to zone out and blast my favorite music- I love taking and teaching classes even more. Since there are some days where a daytime workout doesn't fit in my schedule, I'll go for a pm weights or cardio sesh.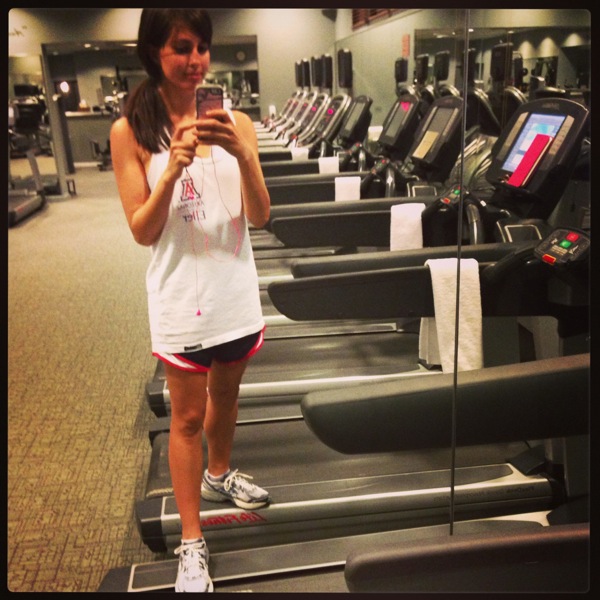 While it can be harder to find the energy at night, the hardest part is putting on my gym clothes. Once I'm there, I can (usually) do it.

Here are some of my favorite tips for making a solo cardio sesh fly by:
-Have a plan. It's so easy, and kinda boring, to plop a magazine on the machine and pray for it to be over. Have a little notecard, a pin from your phone, or an idea of what you want to do.
-Play a game. If you haven't set up a solid plan for cardio, make a game out of it. Try to go as fast as you can for 30 seconds. Recover for about a minute, then repeat, trying to meet or BEAT your last speed drill. Another one of my favorites is musical cardio. Do what the music tells you to do! If it's a fast-paced chorus, sprint each time you hear it. If the vocalist keeps saying the same word or phrase in the song, add in resistance or speed each time you hear that word or phrase.
My current fave: "This girl is on fire" <– every time I hear Alicia sing those words, I crank the resistance, which leads to this.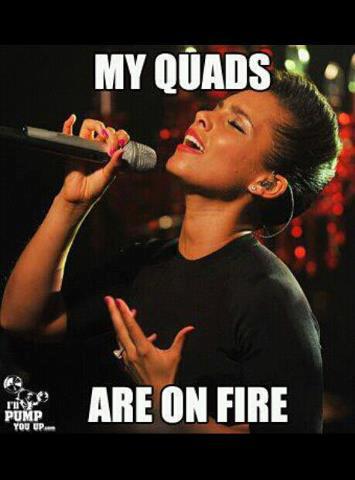 -Try to use the machine in a different way. Add in some strength to your treadmill routine (LOVE these treadmill strength moves), pedal backwards on the elliptical, or (if you're coordinated and experienced enough to try it) skip every other step on the StairMaster.
-Take it outside. I find it so rejuvenating to run outside, or do strength/cardio drills on an outdoor track. If you have a safe route or outdoor space you love, take it outside with your awesome playlist.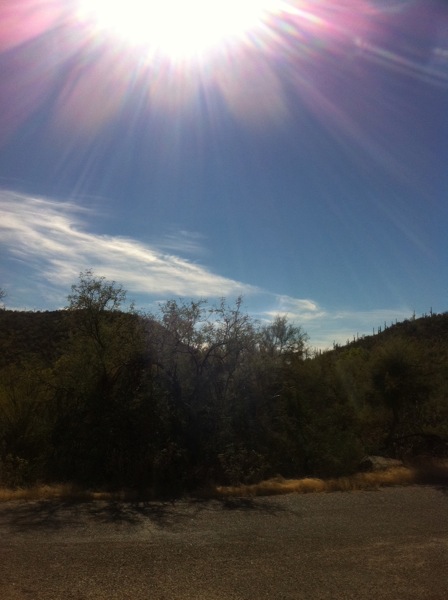 -Speaking of playlists, try to avoid solo cardio workouts with stale tunes. Update your playlist every week or so, making sure to add in your current power song. Mine right now is definitely the new Fallout Boy- I can't get enough.
-Use a bodyweight circuit. Just because you're doing cardio doesn't mean you have to be stuck on a machine. Try alternating jump roping with your favorite (that's a subjective term haha) bodyweight exercises to get your heart rate up. Jump squats, high knees, butt kicks, step ups, and burpees work very nicely 😉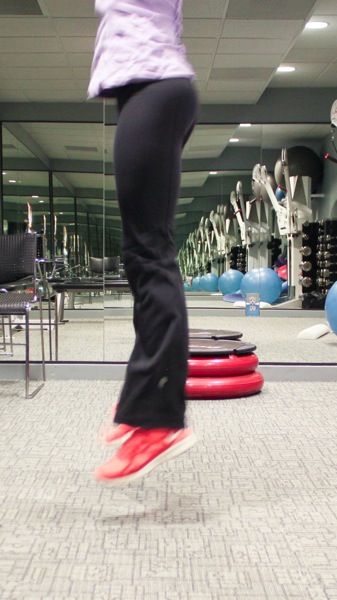 -An obvious, yet important to note, way to make cardio go by faster is to make it a shorter, more effective session. Go for some HIIT intervals and you'll be in and out of there in less than 30 minutes!
Do you prefer solo cardio, or would you rather take a group class? Any favorite tips or tricks to make cardio go by quickly?
Some more of my favorite cardio posts:
–Get more bang from your cardio buck
Hope you're having a great day!
xoxo
Gina