Hi friends <3 Thank you so much for the wonderful comments on our family photos. Hope that those of you who celebrated yesterday enjoyed a lovely Christmas!
Per usual, ours was filled with family, food, relaxing and shenanigans. <— Everything I could ever want from a Tucson holiday, surrounded by my favorite people.
The adventures started off with Christmas Eve dinner at my dad's house.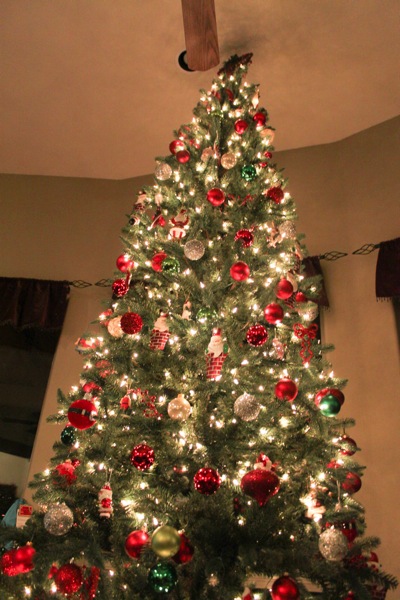 We had an amazing feast (tamales, beans, enchiladas, salad, taquitos… )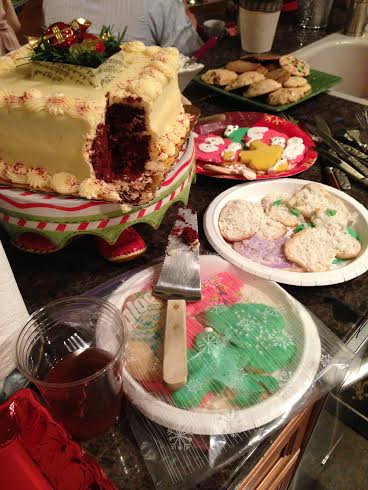 (a peek at some of the desserts)
and the cousins always have a little dinnertime prank. We've walked into the dining room wearing tuxedo shirts, all plaid, bibs, and this year: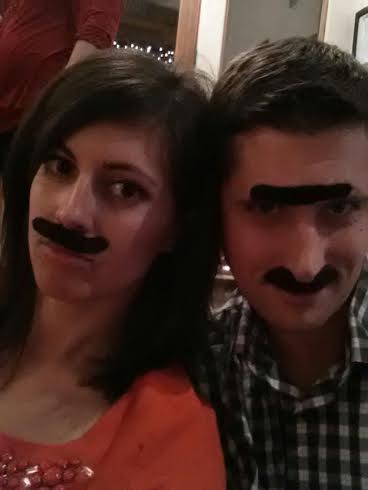 I mustache you how sexy you think the Pilot's unibrow is. 😉
Livi had a blast with the family, and was kind of in gift shock. It was adorable to watch her try and comprehend that the packages were for her and how to open to them.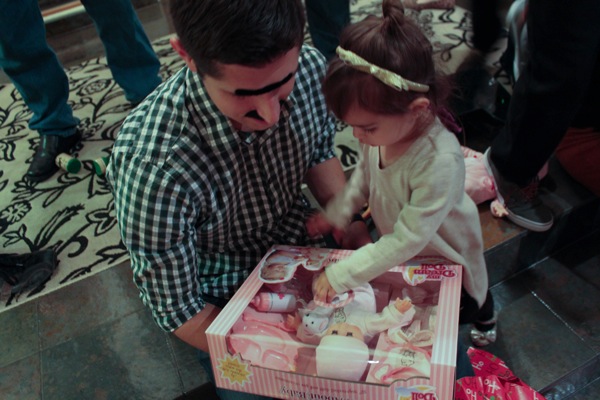 After we came back to our house, Livi went to sleep, and we were up late getting things ready for Christmas brunch, last-minute wrapping and assembling.
And then: Santa came!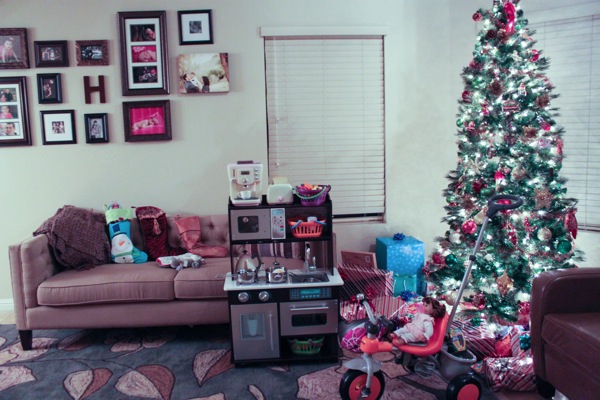 (the kitchen is Kid Kraft and the trike is a Joovy)
Walking down with Livi on Christmas morning is one of my all-time favorite things. She was in her crib singing "Hot Potato" and when we went to tell her Santa came, she was so shocked and excited.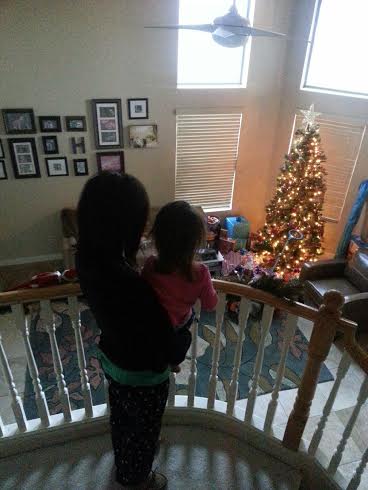 We almost didn't get her in on the annual family tripod photo,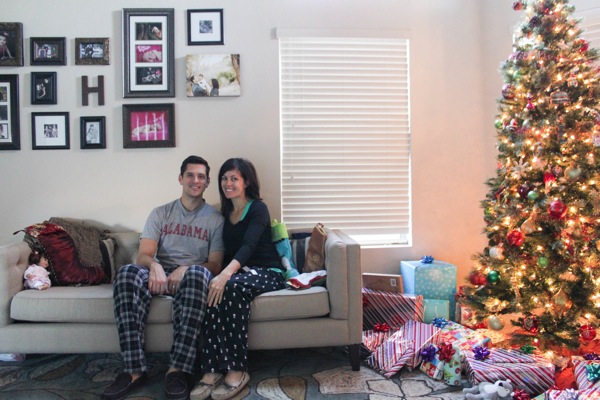 since she was busy wheeling around on her new ride.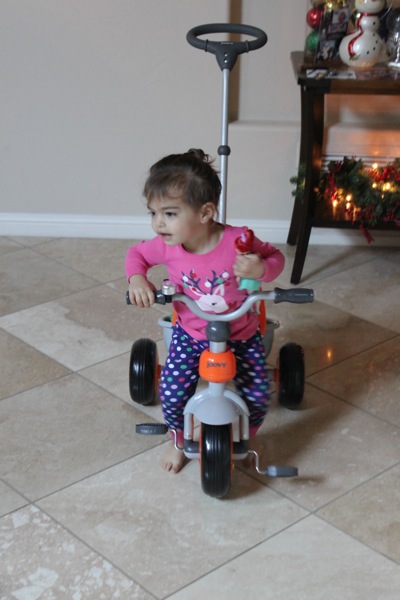 There we go 😉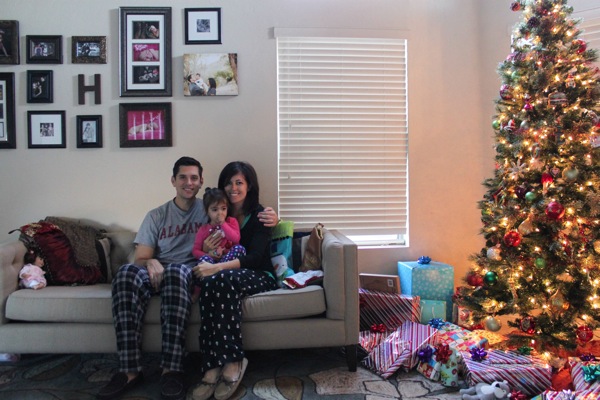 Everyone came over to eat brunch and open gifts together.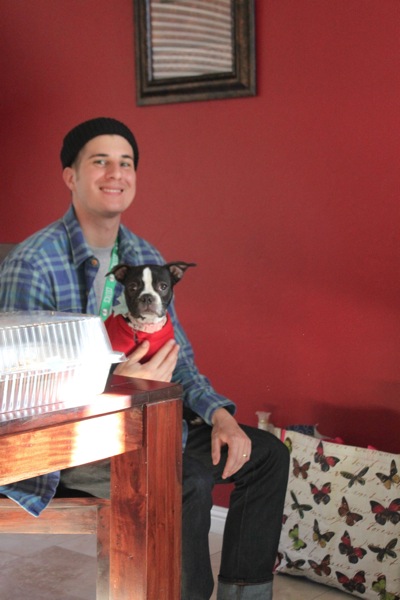 (Look at Christmas Luna!)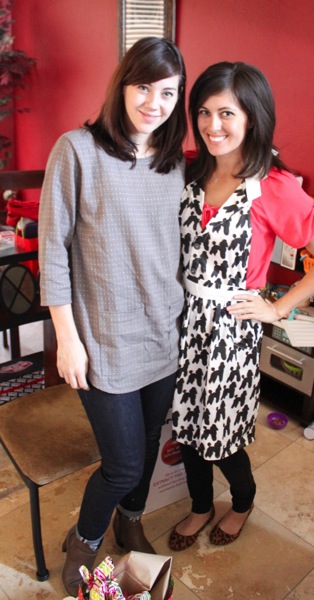 (new apron from Kyle and Meg)
I set out some appetizers: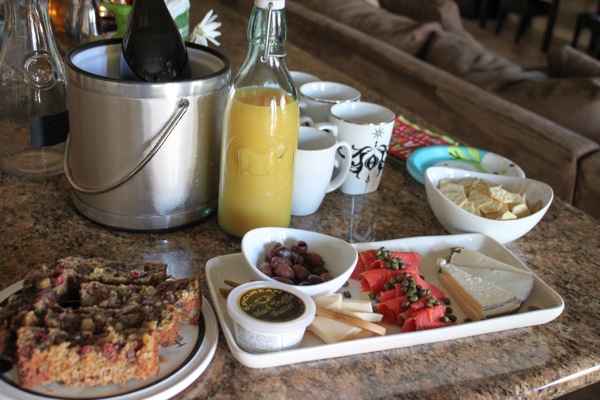 Paleo fruit cake, crackers, mimosa and coffee stuff, cheese plate: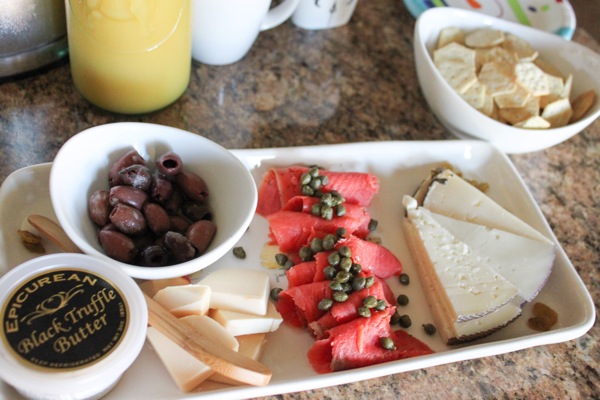 The Pilot made some fresh egg nog: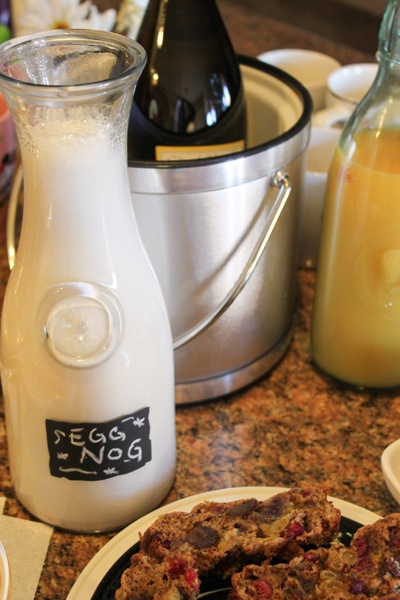 I put the bacon in the oven (sweet/spicy regular bacon, and turkey bacon)
and got started on the waffles.
They were the kids' star of the show: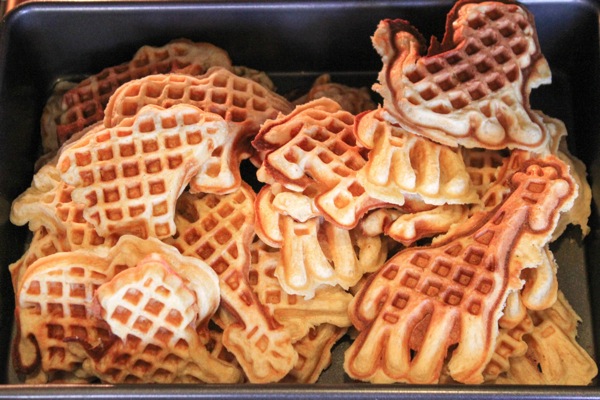 (Giraffe, elephant and lion waffles! The girls went crazy for them)
Madre also brought over beans, tamales, fresh tortillas, Mexican pastries,
GRAMMIES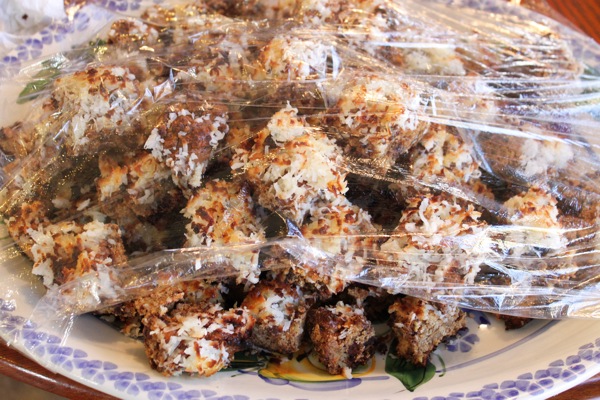 and desserts. Needless to say, eating was kind of an all-day event.
Everyone went home for late afternoon naps -after Livi crashed, I was out on the couch in a grammie/tamale coma- and for dinner, the Pilot roasted his first turkey ever: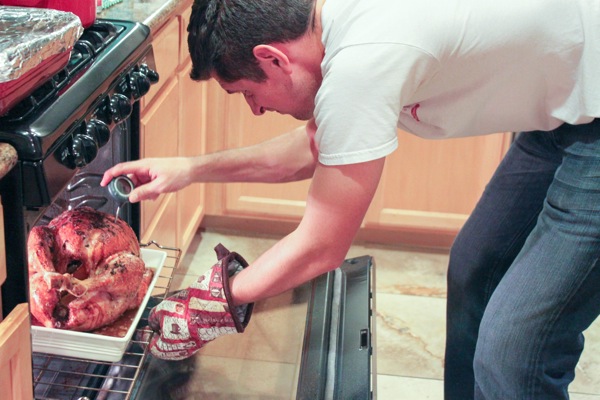 It came out beautifully. He said next year we'll have to get a smoker and cook it in the yard. 😉 Bonus: we officially have all of the ingredients for day-after-Thanksgiving sandwiches. Oh yeahhhhhh.
The evening ended at our cousin's house, watching the Nutcracker and while the little cousins danced around. It was perfect <3
This morning, we're going to start taking down the decorations (womp womp) and take Livi's trike to the park for a test run around the trail.
Hope you have a wonderful day!
See ya later on the Fashion page.
xoxo
Gina
Something to do:
Day After Christmas Crumble!
Here's the workout I did the other day. It only took 30 minutes, and was a BEAST. Hope you enjoy! <3