Circuit Workout with a Twist
This post is sponsored by Nike.
Hi friends! How's the day going? I hope you're enjoying the morning so far! I'm getting the house cleaned up before madre and nana get in from Tucson later today. We can't wait to see them!
As I finished up the year feeling a little blah on the fitness front, I've embraced the surge of New Years' motivation with open arms. I've been crushing my workouts the past couple of weeks, and have felt inspired to try new things, switch up my routine, and take some new classes.
With the New Year, I always look forward to a little something else to add some extra pep in my step: new workout clothes!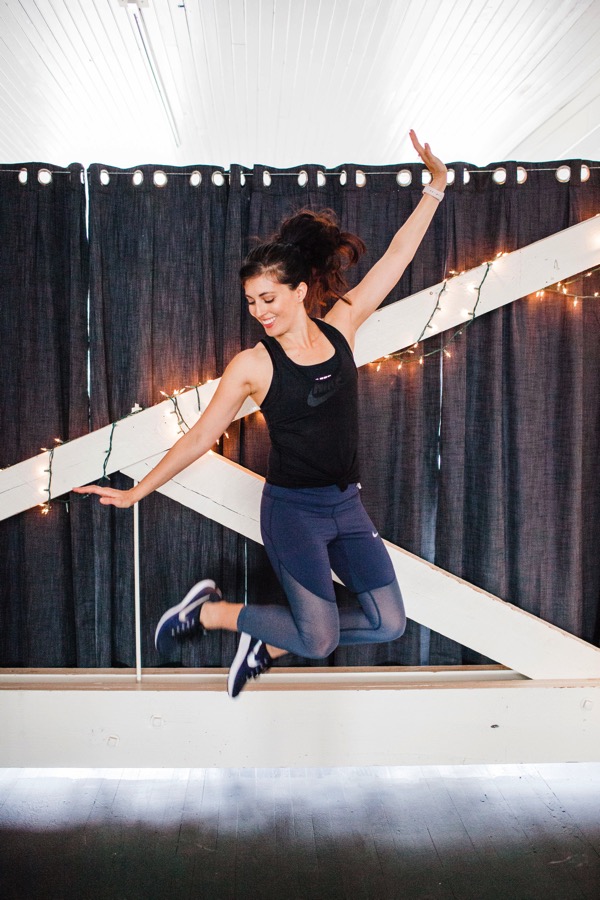 I was so excited to try out some new gear from Nike, especially since my last pair of cross training shoes bit the dust. I'm always looking for cute, functional workout tops and tights for teaching and my own workouts. I've been wearing Nike since my very first foray into fitness (omg, like 15 years ago), with my beloved Tempo shorts. Over time, I branched out from there and fell in love with their functional and classic apparel + sneaks.
I had an easy time picking out some new pieces from their website, and especially loved the color palette right now. It seemed like there were a lot of classic neutrals and jewel tones.
Here are some of my latest faves:
The Air Zoom Pegasus 34 sneakers.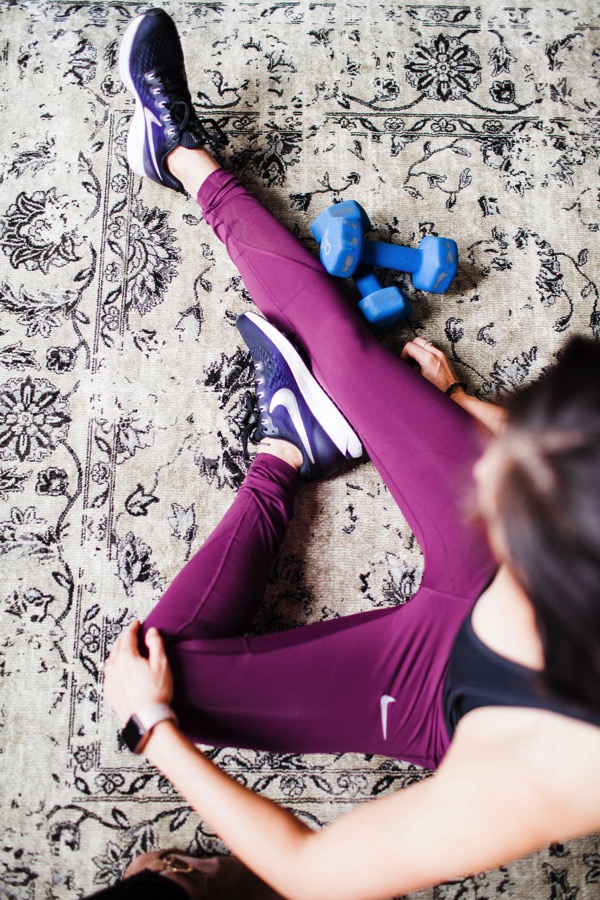 These shoes are so lightweight and comfortable! I've been loving them for strength training, intervals on the spin bike or treadmill, and bootcamp-style workouts in the garage. They're supportive without feeling heavy, and I'll wear them outside the gym with joggers or leggings.
This simple black training tank and purple tights: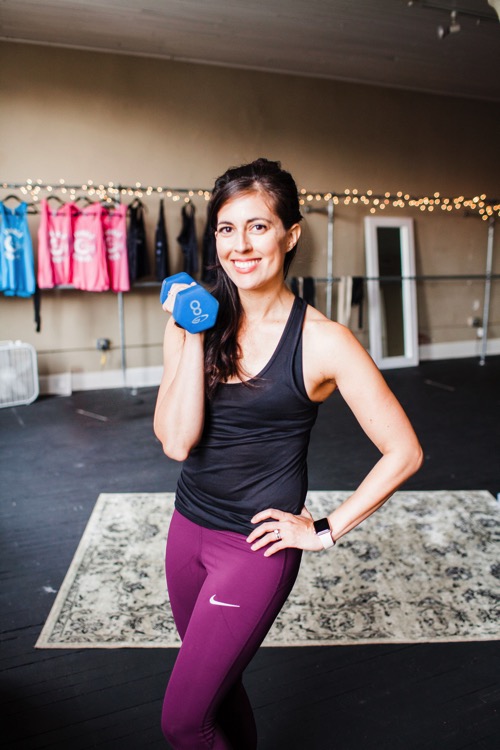 and these Epic Lux Running Crops.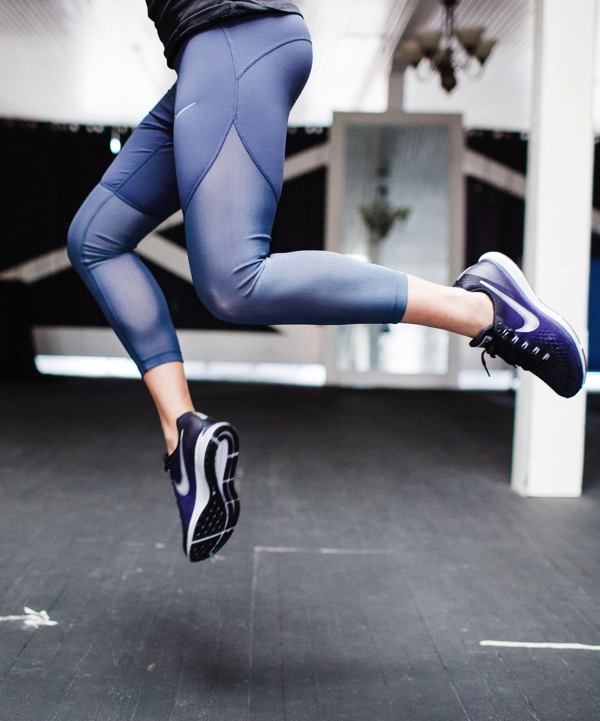 I've gotten so many compliments on these pants already! The mesh detail is fun without being over-the-top, and give a little ventilation during hot yoga. They're thick, well-constructed, and feel amazing. I've been wearing them for yoga, barre, strength training, and intervals. Love the hidden pocket and internal drawstring, too.
I was trying to brainstorm some ways to change up my favorite strength exercises, and I put together this workout if you're looking to do the same thing! Sometimes tiny tweaks, like adding a balance challenge, twist, pulse, or stabilization exercise make a huge difference. Routines that were once ordinary become something to look forward to.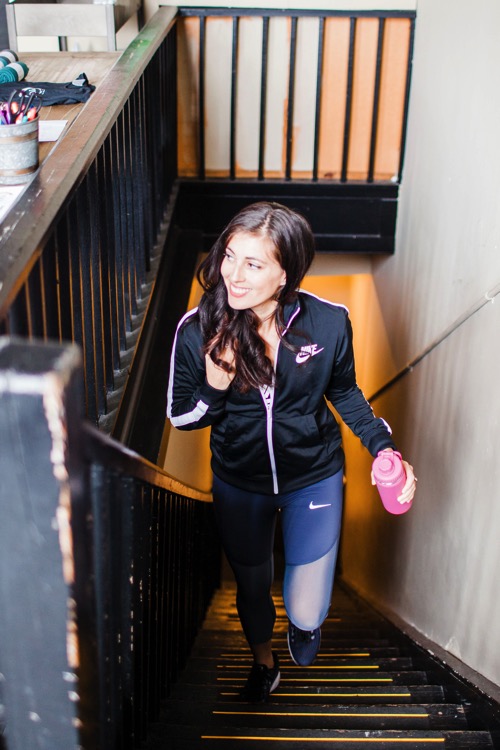 (Wearing this classic Swoosh zip-up and these tights)
Here's how I'm switching up my fave classic strength exercises heading into the New Year!
Strength and Cardio Circuit Workout: (all you need is a pair of dumbbells)

Form cues and tips:
Iso squat with reverse grip row x 10: Hold a low squat position holding two dumbbells, with feet under your hips, booty back, core lifted, and shoulders relaxed. Flip your hands so your palms face up, and squeeze your elbows into your torso to row. Think about squeezing your shoulder blades together, and hold your low squat position as you complete the 10 rows.
Lunge and punch x 15 each: Holding a pair of dumbbells, take a big step forward to come into a lunge position. Watch your alignment and make sure your front knee is stacked over your front ankle, and your chest is lifted with a tight core. As you lunge down, press one dumbbell out into a "punch." Every time you bend your back knee, your same arm punches forward. Complete all reps on one side before switching to the opposite side.
Lateral lunge and knee twist x 10 each: For this one, make sure you take a big step out with your left leg (holding one dumbbell), and that your left foot angles out 45 degrees. (Your right leg stays straight and strong; toes point forward.) Think about sinking your hips down and back into your lateral lunge as you keep your core tight and your chest lifted. As you step back to center, balance on your right leg as you bring your left knee up towards your chest. Twist to the left, using your dumbbell as extra resistance. Repeat all reps on one side before switching.
Squat with side leg raise x 10 each: Make sure your feet are underneath your shoulders (hip width or slightly wider is good) and toes slightly turned out. Focus on sitting back, while keeping your chest lifted and a tight core. Inhale to lower, exhale to rise. Make sure that your knees go towards your toes, but not far past your toes. Sink your hips as low as your flexibility allows, whether it's a small squat, or to hips just above knee level. As you exhale and rise, squeeze your outer thighs and glutes to lift one leg off the floor and out to the side (keep toes pointing forward or down). Lower the leg back down, immediately back into a squat position.
Squat pulse and jump x 10: Get into a squat position (booty LOW and back), and pulse 2 times Keep your abs engaged and chest lifted. Powering through your heels, spring up, reaching your arms towards the ceiling. Land with a soft knee. Complete 2 jumps. That's one rep (2 pulses, 2 jumps).
1-leg deadlift with row combo x 10 each: Hold a pair of dumbbells and tap one leg behind you. You can keep it here, with the weight in your front foot as you tilt forward, bringing the weights just below the knees. Exhale and rise with a flat back. For more advanced variations, you can float this top foot off the floor. Make sure to keep hips parallel to the floor. For this version, 1 arm is doing a wide row, while the other is completing a narrow row. Lifting up from your elbows, bring them high and wide, engaging into your rear delts. Stop the elbows at shoulder height before carefully lowering back down. For the narrow row, squeeze the elbows in and keep your arms from lifting higher than your torso. Inhale to lower down with control. Keep your leg lifted as you row 10 times, then switch sides.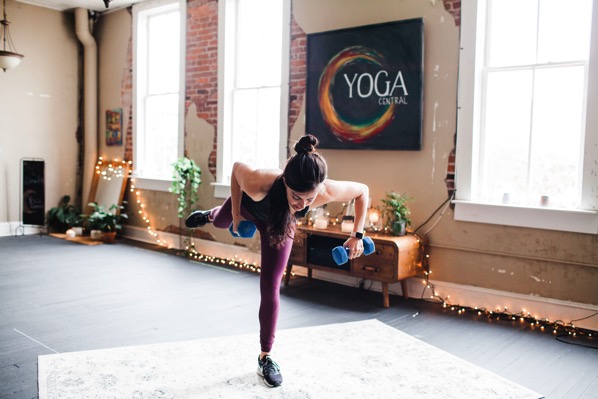 Plank reach through x 10 each: Make sure that your body is in one straight line from your head, all the way back through your knees or toes (depending on whether you're modifying). If you're on your toes, press back through your heels, and no matter what, keep your hips in line with your spine. Tilt your chin away from your chest so your neck stays long, and take some nice deep breaths. Reach one arm out, inhale, and as you exhale, press back into down dog, reaching towards the opposite ankle.
3-leg dog to spider plank x 10 each: Press back into downward-facing dog, lifting your hips, letting your heels move towards the floor, and gently pressing your chest towards your thighs. Lift one leg off the floor. Start to move forward, so your shoulders are above your wrists, bringing the lifted leg's knee to the elbow on the same side. (Knee is bent.)
Narrow push-ups x 10: Knees or toes, with hips in line with your spine and core tight. Keep your elbows close to your body as you lower down, and avoid letting them go above your torso. Exhale to rise. Modify on your knees and keep your hips down.
Glute bridge march x 20 total: Start on your back with legs bent and feet flat on the floor. Squeeze your glutes to lift your hips, keeping your upper back pressing into the floor. Keep your hips high as you "march" each leg and carefully lower down.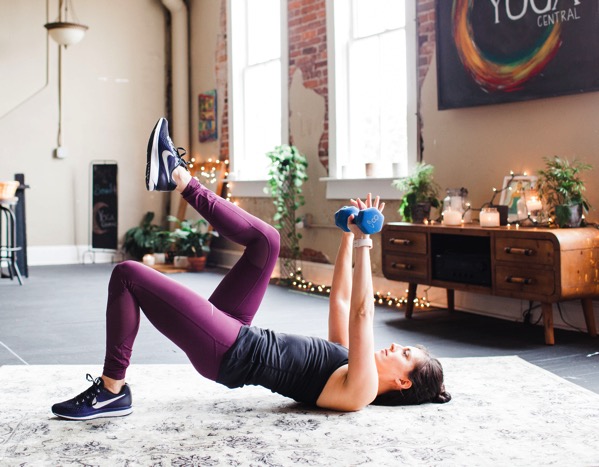 A text-only version for Pinterest or to save on your phone: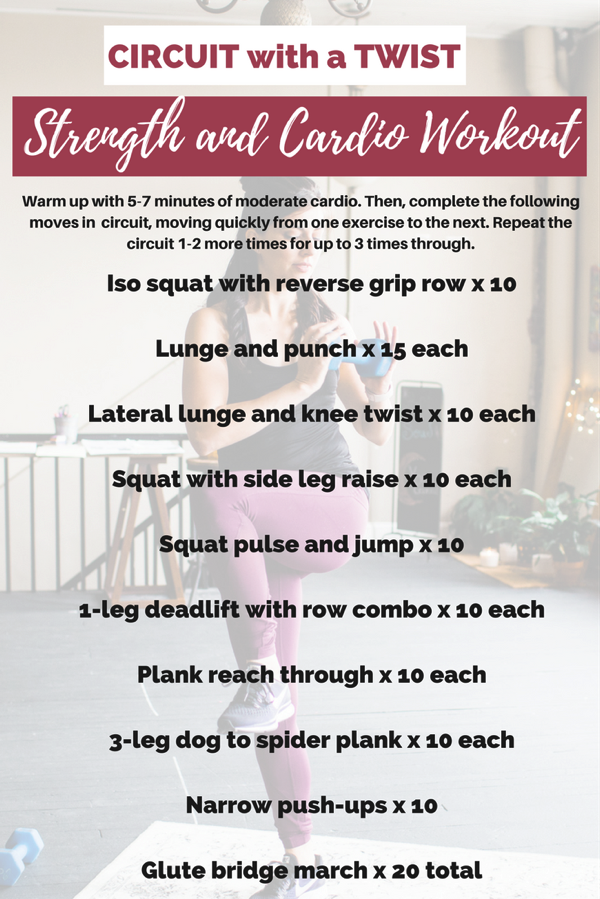 So tell me, friends: what's making you excited for your workouts this year? How are you changing things up?
Have a wonderful afternoon and I'll talk to you soon!
xo
Gina
Photos: Lindsay Colson
Location: Yoga Central