Hi friends! How's the day going? I taught a barre class this morning, and am catching up on a bit of workout stuff before the rest of the afternoon/evening whirlwind.
I finally got the chance to try aerial yoga! Soooo it wasn't exactly my first time using aerial yoga silks – I totally played on them at my old gym in San Diego (do as a I say, not as I do) – but first time in a real class environment. You know, with actual instruction, instead of trying to get into tree pose and spinning around the entire time while people swing kettlebells around me.
My friend Julie asked me to join her for class, and I was so pumped when the timing worked out. The Pilot came home from work and took over for the kiddos, and I met her at Hang Out Yoga for a fun, restorative and energizing class.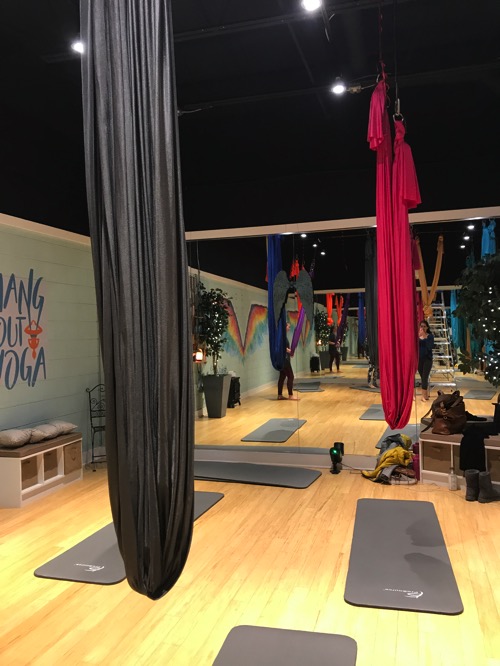 So, what is aerial yoga?
Aerial yoga uses silks or fabrics to assist with the poses. It's an effective way to take the stretches even deeper than usual, and also provides support for balance postures. Many people find that they're able to do poses with the silks that they might have a more challenging time without them.
What to expect?
I kind of expected classes to be similar to the way I did it when I played with the silks on my own. "Try this pose!" "Ok, wheeeee!" "That was fun. Ok, next pose."
It was kind of like that, working on pose after pose, but all of the poses flowed together, so it wasn't nearly as disjointed as it was in my brain. We started off with some much-needed deep arm, shoulder and back stretches. Then, we started into balancing warriors to stretch our legs and challenge our core stability. We did a bound goddess pose, a Warrior 2 with the front leg floating in the silk (an intense inner thigh stretch!) and a Warrior 3 with our arms holding onto the silk.
After we were stretched and balanced, we inverted! We started off in a down dog position (with the fabric at our hip bones) and then floated each leg off the floor to wrap around the silk.
We also did a flying locust pose, like this one: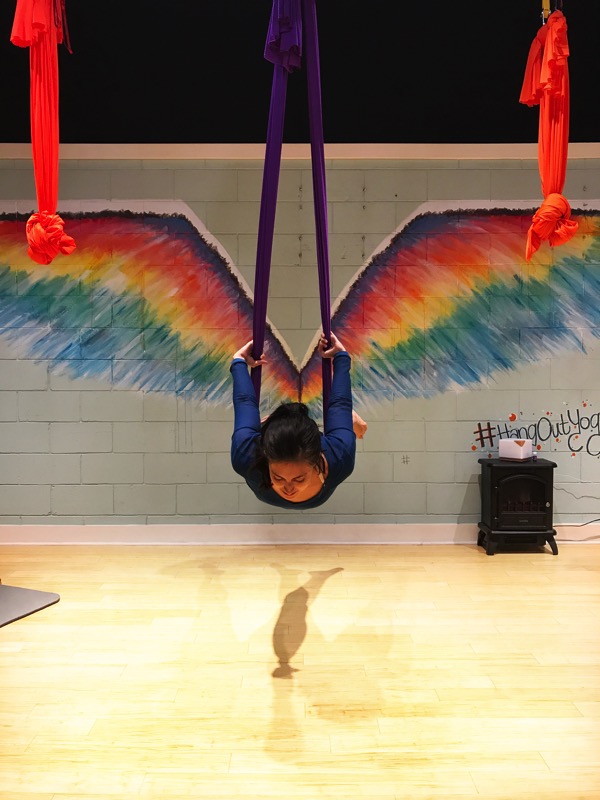 and some others…I wish I could remember the names, but we looked like a vampire bat for one of them. 😉
Something to remember while you're practicing: you can come out of a pose if the blood rushes to your head or if you're swaying too much. Just make sure that something is always holding the silk and touching the floor before you come out of the pose, so you don't fall.
The very best part of any yoga practice: the savasana, and this class took it to the next level.
We were lying in the silks with it supporting our entire body, and the instructor shut off the lights while gentle music played. We swayed in our cocoons while gazing at the ceiling dotted with the illumination of tiny star-like laser lights. It was MAGICAL. She gave a beautiful savasana pep talk about the new year, and how we were in our cocoon and could emerge as the type of butterfly we want to be: sharing more kindness, patience and compassion for those around us. It makes me sigh with happiness just thinking about it.
So as far as what to expect goes: stretch, balance, get upside-down and enjoy the best dang savasana of your whole life. The end.
What to bring?
We didn't have to bring anything, except a water bottle! In other studios, you may be required to bring a mat. I also think sticky socks would have been nice since my feet were a little cold.
What to wear:
I'd wear something snug-fitting, so it doesn't get tangled with the fabric, or move or bother you when you're upside-down.
I'd recommend something like these tights (my very fave ever), a tank, and a light sweater over it.
So, tell me, friends: have you tried aerial yoga? Does it look like something you'd enjoy?
It didn't get my heart rate up, but it's definitely something I'd like to add into my routine to try new poses and get in a restorative stretch.
xoxo
Gina
More Focus On posts: