Hey guys! Happy Monday! Hope your day is off to a great start 🙂
Here's what went down this weekend if you're catching up on the bloggy world:
– Insanity Week 4 Re-cap and Dump Cake Recipe
– A picture of little Gina and a Mother's Day tribute
– Homemade Clif Bar Recipe + Packing shenanigans
Last night, the pilot and I had a low-key all-American feast of burgers and fries.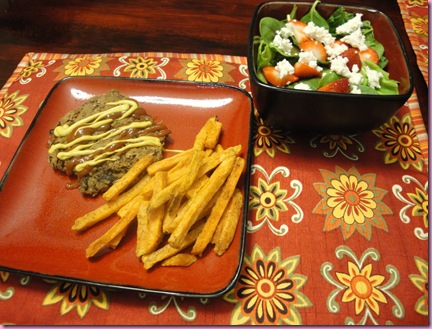 Salad with strawberries, balsamic, spinach, and honey goat cheese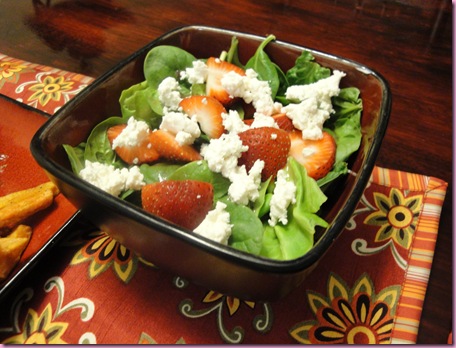 And vegan black bean burgers with sweet potato fries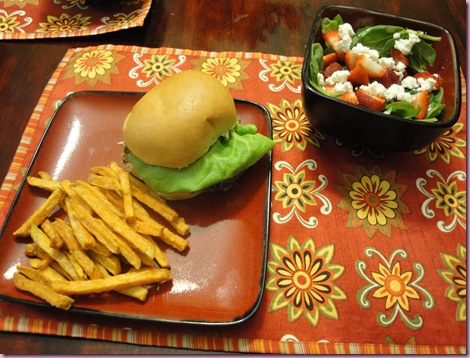 The pilot had his on a bun: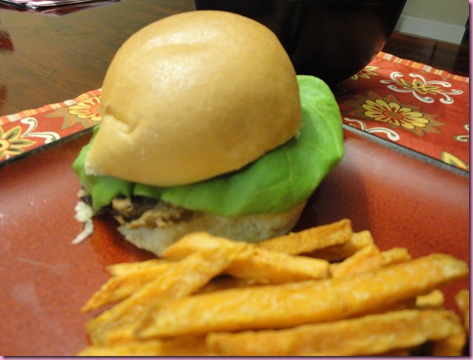 and LOVED it- he said it tasted like tasty bean dip.
I had mine nekkid: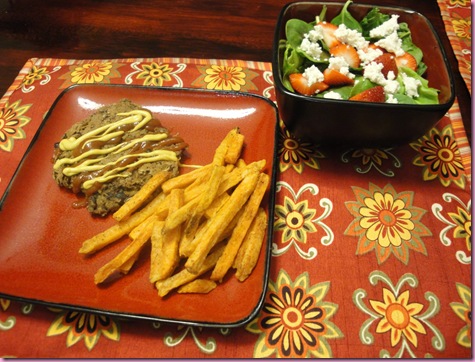 A perfect meal 😀
This morning is going to be a frenzy- I'm going to do the recovery workout for Insanity, take Vieserton to the kennel, hit up the library for some books, cash some paychecks, go to an appt and get on the road!
So for now, I bring you some very cute shirts for a cause 🙂
___________________________________________________________________________________________________
This is from Katherine, an incredible strong woman from my homeland (AZ represent!) who is walking 60 miles to help fight cancer. Pretty amazing stuff.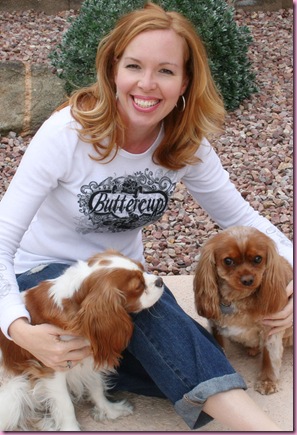 This year I wanted to accomplish something. Something important. Something bigger than myself. On Friday, April 23rd I took on an incredible challenge and signed up to walk sixty miles in three days! I am 40 years-old, never been an athlete, what was I thinking? Why am I walking? I am walking because I am a woman and as simple as it sounds – because I can. Not only is there the huge challenged of walking sixty miles, but there is the challenge of raising $2,300 to walk. I have joined a great group of women "Hugs 4 Jugs" and will be walking in San Diego November 19-21, 2010. To share my store I started a personal blog documenting my journey and to keep friends and family updated – www.katherine3day.blogspot.com Please stop by and follow my progress!

I live in sunny and HOT Arizona with my wonderful fire-fighting husband and two kids (Meghan and Matt). I am also a huge Cavalier lover and enjoy outdoor time with my pups Avery and Mazie. As a family we enjoy vacationing at the Sand Dunes, talk about relaxing! With turning 40 last year I took great interest in my health by working out more, training to run a 5K and cutting meat out of my diet. I have lost close to 30 lbs. over the last couple of years and still find maintain a daily struggle, but through the internet I have found so many wonderful websites to keep me inspired. Gina's Oatmeal Breakfast Cookie – A HUGE favorite of mine!! I share recipes, my workout adventures and more on my fitness blog.

In order to walk in the 3-Day walk I need to raise $2,300 to help fight breast cancer. Gina has stepped up to support my fundraising efforts by creating a t-shirt design for Fitnessista. Please visit my store to purchase Gina's design or one of the many other designs available. I am so thankful for the all of the support and stories shared from those I have never met. There are many different designs available along with several different styles of shirts and accessories for purchase. All proceeds will go directly to my fundraising donations for the Susan G. Koman for the Cure walk. With your help I will walk sixty miles in three days!
Here is the shirt that she designed for us Fitnessistas: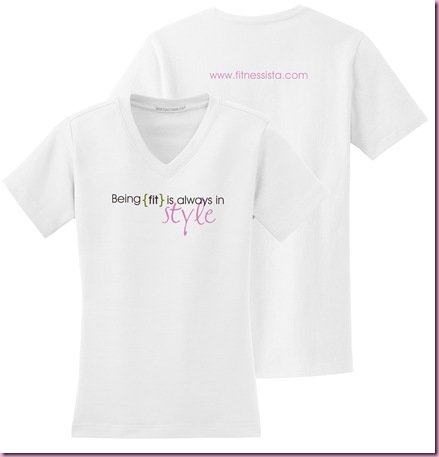 SO cute and I can't wait to buy one 😀
It's available in her store (under Fitnessista on the left) for $22.99 and ALL of the proceeds from the T-shirt sales go to the Susan G. Komen foundation.
It's interesting because the first race I ever ran was the Race for the Cure 5k. I was with my friend Mikaela, junior year in college, and we thought it would be a fun Saturday thing to do. Being surrounded by cancer survivors and supporters inspired me so much. I couldn't help but tear up a little when they played "I Run for Hope" as the race was starting… it was very emotional, very humbling and definitely a race that I will never forget, even though I have no clue and didn't care what my finishing time was. I'm so happy to help Katherine get the word out about her fundraising efforts.
Well I'm off to get ready- see you later today from HOTLANTA 🙂 Yeahhhhhh!
xoxo,
G$
Today's tip: Take things up a notch. During your next weight training sesh, add in some weight for each of your exercises, especially if you've been doing the same weight for quite some time. If it's a cardio day, add in some sprinting surges at the end of your workout. Remember *change creates change*