I did it.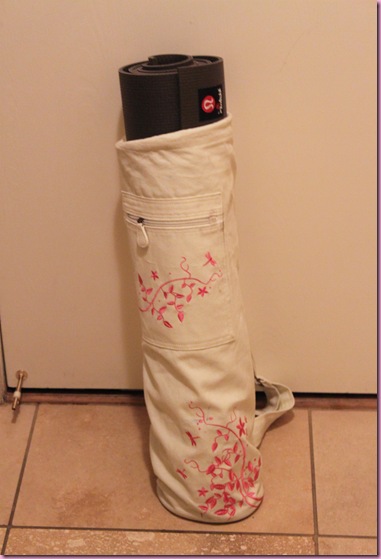 Something about hearing your stories about getting back in the swing of things lit a yoga fire under my booty, and I actually went to a class tonight.
I had my yoga mat propped up by the garage door all day as a visual reminder (and it "Om"-ed at me every time I looked it it), so after a little walk with Bell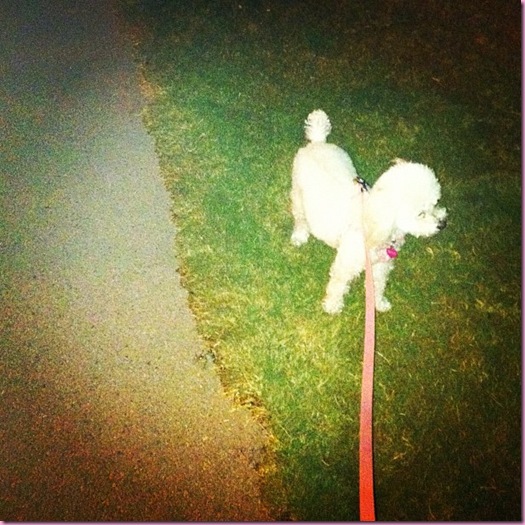 I brought her back home, gave her a treat, and went to class.
It was an amazing practice, and just as this morning's post suggested, I had to be extra patient with myself and understand that I can't do the things I normally do. I spent a lot of time in child's pose, or modifying certain poses, but still got a great class, flood of endorphins, and the noodly yoga feeling I love so dearly.
Yoga isn't a performance, and it's not about perfection, which is why I think it took me so long to embrace it back in the day. t took me a while to comprehend the fact that it's a "practice" and something that you get better at over time, but you won't be able to do everything the 1st, 2nd, or 1000th time.
Every time we go to class, there is a word of the day. Today's work was "chance" and the yoga pep talk was about leaving things up to chance- sometimes it enables us to change, grow and embrace the unexpected, whereas other times, leaving things up to chance can set us up for monotony or stagnation. It's up to us to take a chance to set our goals and desired results into action. Good food for thought.
And here's some of today's food for feasting:
Things were a little backwards over here because I had pizza for breakfast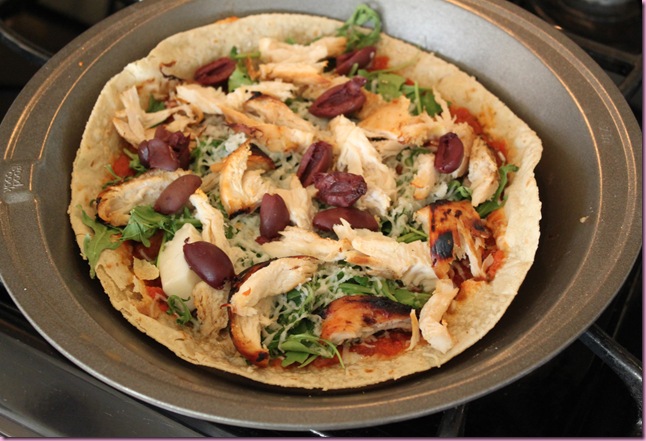 [Brown rice tortilla, marinara, arugula, goat gouda, chicken and kalamata olives]
and eggs for lunch.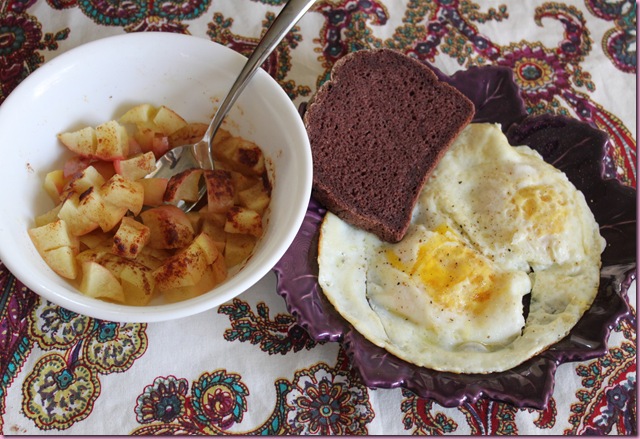 2 over hard eggs with toast and a baked (aka microwaved) apple with cinnamon
Now that I eat the yolks every time I have eggs –I used to have 1 yolk a day and whites the rest of the day- egg whites taste so bland to me. It's all about the yolks.. folks 😉
The Pilot just got home so we're going to enjoy a late night dinner and crash out.
Enjoy your evening!
xoxo
Gina
Do you like getting "pep talks" from yoga or other fitness instructors during class? I love that Chalene says little tidbits at the end of her TurboFire videos ("If your friends don't support your healthy lifestyle, find new friends," etc.) but sometimes when Dave Farmar yaks his face off during his yoga podcasts, I wish there would be silence instead [but that's usually because I'm in pain and can't wait to switch poses, while he's chatting away].