Hey guys! How are ya??? I'm bueno.. took yoga, taught spin and have a belly full of Indian food and cookie. I wouldn't have it any other way 🙂
After my soup butchering incident, I met Jeni at the gym for 30 breezy minutes of elliptical chatting and some abs.
We did twisting crunches with a medicine ball on the decline bench, weighted crunches and reverse crunches with a medicine ball in between our knees. We decided to hit up The Main Squeeze for an afternoon smoothie while I got the coche detailed.
Once again, I decided to BMOP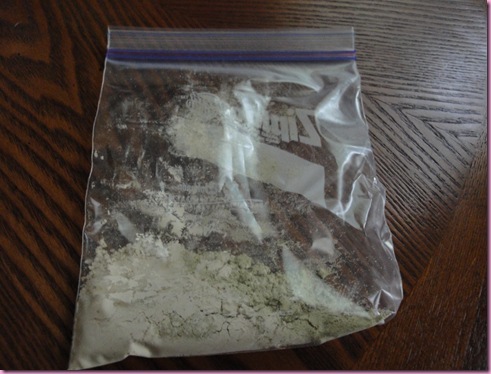 (1 scoop vanilla sprouted brown rice protein, 1 scoop of Vegalicious (which officially made my drink a sludge), and 1 packet of Stevia.
All went into the Tropical Superfood Smoothie: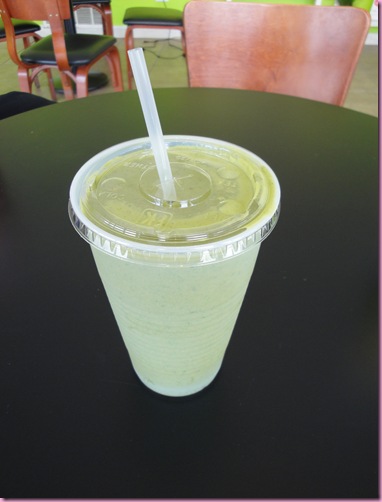 (I decided to roll with the 20 oz today)
Quite a glorious sludge 😀
My car wasn't finished yet, so we decided to kill some time at the health food store—tragedy, I know 😉 Holler to the health food store girls, who told me they read the blog!! How cool is that?!? The owner said that when I come up with my own line of raw snacks, she would sell them. I might have to take her up on that 😉
Here's what I bought: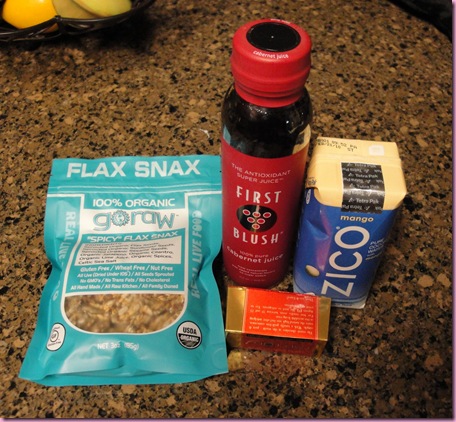 Flax snacks for our roadtrip, WINE juice –from Cabernet grapes (!)—I can't to try this, raw chocolate and a coconut water for electrolyte replenishment tomorrow.
We had to bust open the raw chocolate: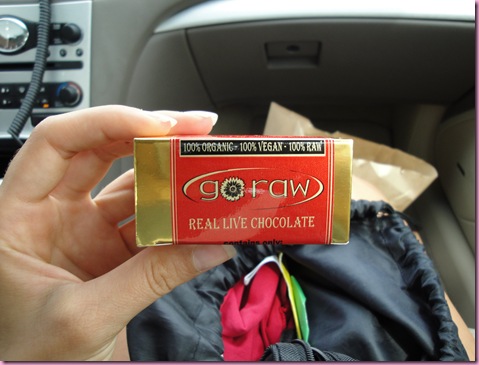 All it has is raw cacao and raw agave. And it rocked my face off.
I picked my car up –she looks BEAUTFUL!!! Like a brand-new car!- and then came home to get ready for tonight's workout sesh.
I took a lovely vinyasa class and then taught spin – and it wasn't my best class :/ My teaching ability has waned a little this week with everything going on, that's for sure. Hopefully I'll still have people when I get back! 😉
For dinner, we all met up at Passage 2 India.. aka the key to my soul
We started with the usual pappadum and dippers: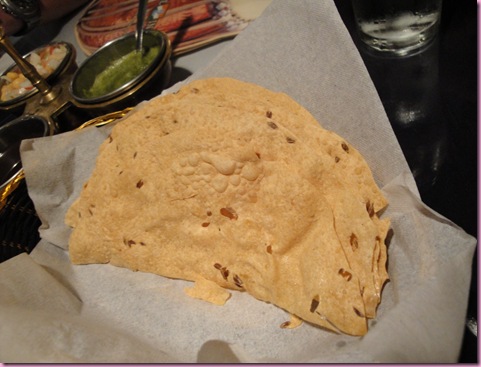 And gobi manchurian, the spicy cauliflower foodgasm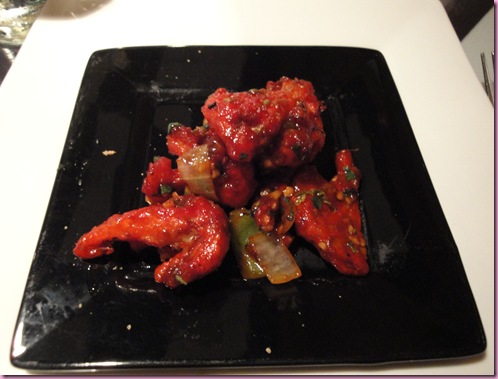 Vino: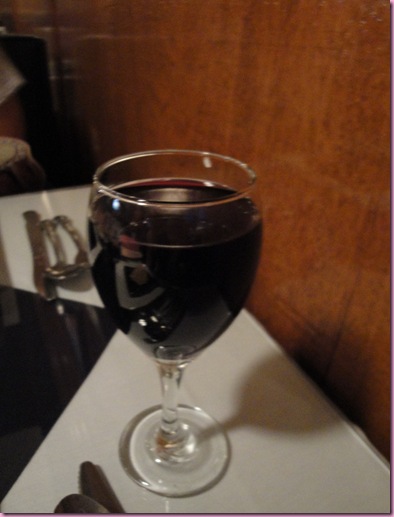 And for my meal, I actually got something different!
Not-on-the-menu veggie delight: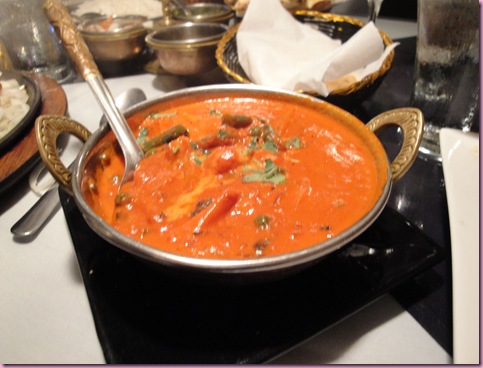 And two of the pilot's shrimp: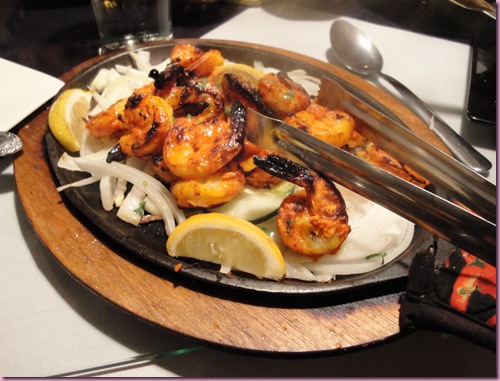 We also did BYOD (Bring Your Own Dessert)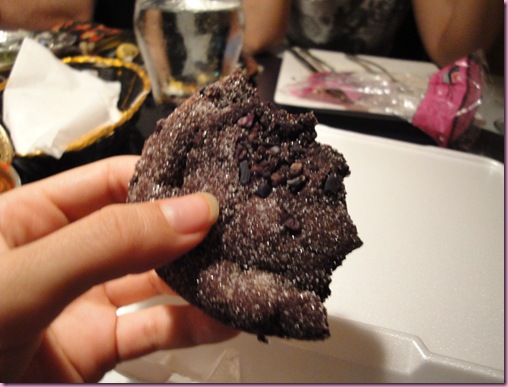 Liz Lovely Vegan Chocolate Moose Dragon Cookie.
My night is complete 😀
I'm off to put on jammies and if I'm feeling spunky, work on my to-do-before-I-leave list 😀
See ya tomorrow!
G$
Something to talk about: The great carb debate. I got a comment on my last post asking what my position on carbs is.
It said:
I was wondering what your thoughts are on lowering carbohydrates for weight loss? Do you think you lose weight faster on a low carb diet, and if so how low should one go, or is it not necessary?
I DO not think you need to go low-carb for weight loss. I do, however, think you need to go *SMART* carb, not only for weight loss but for health purposes in general. Smart carbs are: fruits and veggies, bean and legumes, sweet potatoes, whole grains (brown rice, millet, quinoa, oat bran, oatmeal, spelt, etc.). *Not-so-smart carbs* are things like: white pasta and bread, white rice, processed crackers and cookies, etc.
I used to limit the amount of carbs in my life, mainly due to the fact that I lost a majority of my weight on South Beach, which encourages smart carbs but in limited quantities per day. At one point in my life, I was eating 1-2 whole grain servings. I was small, yes, but smushy and was not consuming enough carbohydrates to support my active lifestyle. As soon as I started adding more grain servings back in, the smush went away and as an added bonus so did the lack of carb crankiness 😀
You will lose weight quickly on a low-carb diet, but fast weight loss isn't the healthy way to go and is nearly impossible to maintain. By choosing a balanced diet of smart carbs, lean protein and healthy fats, you will be able to lose the weight you're looking for (or just tone up if you don't need to lose weight) and will be able to maintain what you've accomplished in the long term.
Healthy eating/living is about BALANCE. When you have a healthy balance of all of your food groups, your body will respond beautifully. Any lifestyle that recommends a severely limited amount of macronutritients should be avoided. The way I feel about it is that the way you eat should be something you should be able to maintain for life. That's the difference between a lifestyle and a diet—a lifestyle is something that you will happily be able to follow from now on, while a diet can't possibly be followed for a long span of time.
Right now, my diet is the highest in carbs it's probably ever been as I like to stuff my face with fruits and veggies all the livelong day 😀 I still don't eat a ton of grains –maybe 2 servings per day- but when I'm feeling it, I'll happily help myself to a bowl of the good stuff.
Have you tried the low carb thing before??? What was your experience like??