Fall 2016 Playlist and Treadmill Workout
Hi friends! Happy humpday! Hope you're all enjoying the week. Thanks for the awesome comments on the Thanksgiving turkey post. Let me know if you give it a try!
It's been a bit of a crazy week over here. Remember how Livi was sick last week? She ended up having pneumonia, which was absolutely terrible. I took her back to the ped because she was still coughing like crazy and not feeling like herself (she had already been twice during the week to check her lungs) and sure enough. Poor little goose. When your baby is sick it's pretty much the worst thing ever. The good news is that she is feeling so much better, and we're getting back into our usual groove.
I've been trying to brainstorm ways to get some structure into the blog. I feel like I have so many things I want to write about that it's easy for me to get sidetracked, especially since I've been devoted a lot of behind-the-scenes time into the PBB revamp and launch of post baby body advanced. I thought about previous fun things I've done on the blog (10 ways…, Indian Food Wednesday!) and thought about making Wednesdays Workout Wednesday.*Throws dumbbell-shaped confetti in the air* It's not the only day you'll find fitness content (because you know, fitness blog), but I'll definitely make sure Wednesday's post is a beefy gem of knowledge, whether it's a full new workout, something you can do to get more out of your gym time, best new fitness gear, etc. Basically all the awesome things to take your workout to the next level or get some new ideas/inspiration.
So today I have a new workout for you using my very favorite cardio training method: musical cardio!
Since I teach and have taught so many music-driven classes, I'm a huge fan of letting music dictate the intensity and moves for my workout. I spend a lot of time planning out my playlists for class, and use music in my own workouts for inspiration.
Here's a playlist for the upcoming season using some of my recent faves: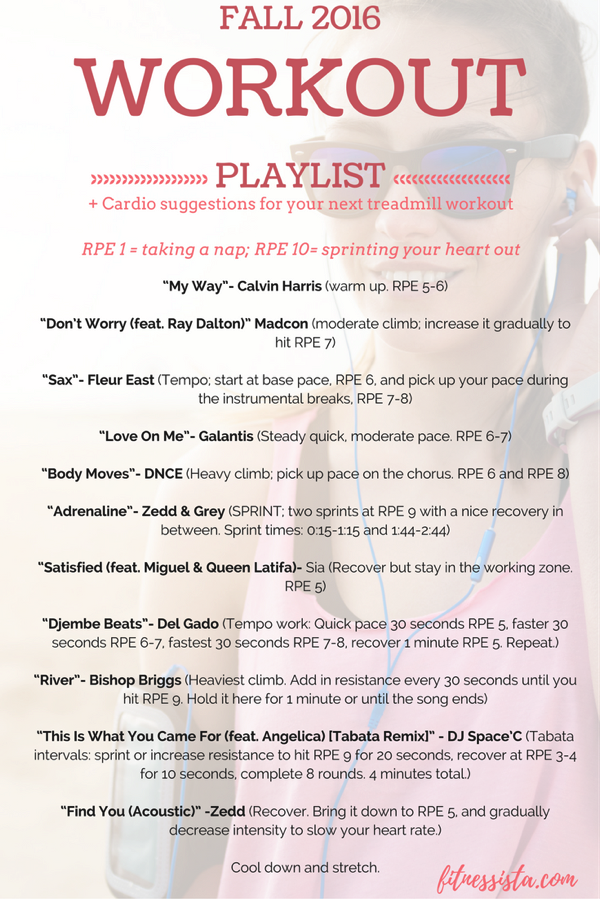 (RPE 1= taking a nap. RPE 5= in the working zone, but you could maintain this pace and incline for a long time. RPE 7= challenging. RPE 9= your hardest level in a safe zone. As always, modify as needed and honor your body.)
Here's a workout to go along with it!
Just Pin the image above or save it to your phone to easily view during your treadmill session. You could also easily modify this for the Stairclimber, elliptical or spin bike.
"My Way"- Calvin Harris (warm up. RPE 5-6)
Take this time to find a steady moderate pace that you could maintain. Focus on taking deep breaths, getting into the zone, and visualizing how awesome you're going to feel when you're done!
"Don't Worry (feat. Ray Dalton)" Madcon (moderate climb; increase it gradually to hit RPE 7)
Keep your moderate base pace, but start to add in some incline or resistance. You should finish the song at an incline that feels challenging, like you have to work to maintain it.
"Sax"- Fleur East (Tempo; start at base pace, RPE 6, and pick up your pace during the instrumental breaks, RPE 7-8)
Bring your incline back down to a moderate incline and keep your pace quick and easy. During the instrumental breaks (she says, "Play that sax!") you're going to pick up your speed. It shouldn't feel like a sprint, but that level just below sprinting pace.
"Love On Me"- Galantis (Steady quick, moderate pace. RPE 6-7)
Decrease your speed to something that feels slightly uncomfortable, but that you can maintain. Keep it here for the entire song.
"Body Moves"- DNCE (Heavy climb; pick up pace on the chorus. RPE 6 and RPE 8)
Slow down your pace and start to increase the resistance. Find an incline that feels challenging, but like you can add some speed. Increase your pace during each chorus, and recover during the verses.
"Adrenaline"- Zedd & Grey (SPRINT; two sprints at RPE 9 with a nice recovery in between. Sprint times: 0:15-1:15 and 1:44-2:44)
Take your resistance all the way back down to a flat road and find a nice, easy, quick pace. Sprint your heart out during the sprint times, working as fast as you can, whether it's a run or a power walk. Really challenge yourself! They're each one minute long.
"Satisfied (feat. Miguel & Queen Latifa)- Sia (Recover but stay in the working zone. RPE 5)
Take this song to recover. Bring your pace down to an easy quick pace and keep it here for the entire song. Stay in the working zone.
"Djembe Beats"- Del Gado (Tempo work: Quick pace 30 seconds RPE 5, faster 30 seconds RPE 6-7, fastest 30 seconds RPE 7-8, recover 1 minute RPE 5. Repeat.)
Start off at a moderate quick pace and hold this for 30 seconds. Add in some speed and hold it for 30 seconds. Add in one more blast of speed for 30 seconds. Take 1 minute to recover, and then repeat this pattern for the entire song.
"River"- Bishop Briggs (Heaviest climb. Add in resistance every 30 seconds until you hit RPE 9. Hold it here for 1 minute or until the song ends)
As you add in heavy resistance, avoid holding onto the handrails. Dig in and find your true MAX.
"This Is What You Came For (feat. Angelica) [Tabata Remix]" – DJ Space'C (Tabata intervals: sprint or increase resistance to hit RPE 9 for 20 seconds, recover at RPE 3-4 for 10 seconds, complete 8 rounds. 4 minutes total.)
For your Tabata intervals, you're working as hard as you possibly can for the 20-second rounds. This can be through speed, resistance, or a combo of the two. The song will tell you when to go and when to rest!
"Find You (Acoustic)" -Zedd (Recover. Bring it down to RPE 5, and gradually decrease intensity to slow your heart rate.)
Take this time to slow it way down. Breathe, get your heart rate to recover, and think about what an awesome job you did! I hope you feel amazing afterwards. Take time to cool down completely and stretch if it feels good.
Please let me know if you give it a try! Have a beautiful night.
xo
G