Hey hey hey! Hope your night is going well. Today was a DOOZY. Jammies have never felt so good 🙂
A couple thingamabobs:
1. I'm SO thankful for all of your comments on the inspiration board! When I posted it, I was thinking that you'd either like it, or think I was a giant goober 😉 Thank you so much for your lovely words- if any of you make your own, I'd love to see it!
2. I didn't donate blood today. It was just some blood work I've been meaning to get done, since I messed it up last time by eating breakfast 😉 I would LOVE LOVE LOVE to donate blood eventually, when I can handle the needle and blood part without causing havoc. By not fainting or crying today during the blood work, that was a huge milestone! Hopefully by the end of the year I'll be able to be brave enough to donate!
3. With work and the holiday insanity, I've been an email slacker. I'm still trudging through the inbox and promise (!) to give you all the answers and responses you deserve.  Hang in there with me, friends! 😀
I have to post the pics the pilot took of his meal last night.
He had organic chicken waiting in the fridge for him to make with the polenta dish, and a can of enchilada sauce to make the chicken a little more exciting.
He was skeptical: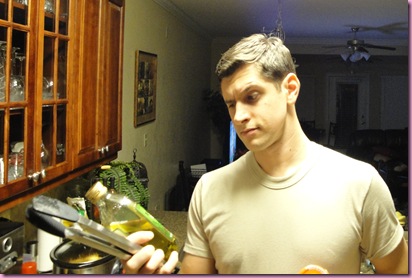 He seared the chicken, sliced a "pocket" into it and filled said pocket with cheese, then baked in enchilada sauce and topped with more cheese.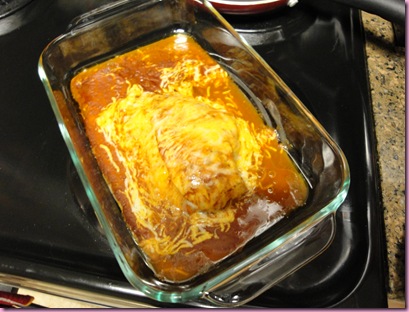 Blanket of cheesiness 😀
He loved it! The polenta dish came out amazingly, too: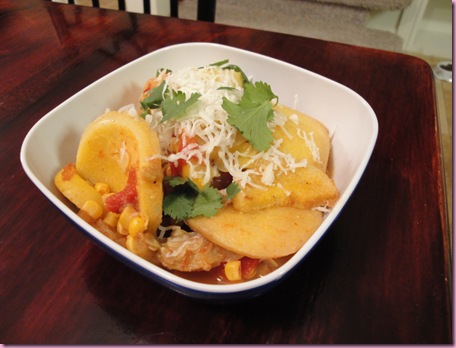 There's corn in there! I had a two bowls! I'm not a huge corn fan, but this meal was glorious. Two more points for Rachael Rizzle 😉
This morning, I made the most aesthetically-unappealing breakfast cookie…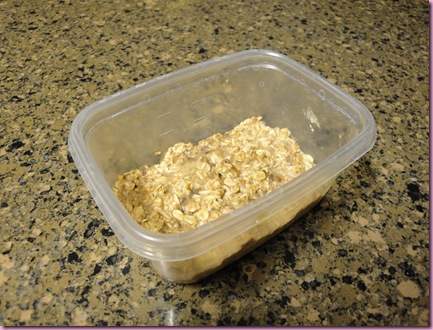 Nice, right?? Haha.
It had to be portable since I couldn't munch before the blood work, so I had it with me (and a giant container of water) to have immediate after 😀
Some of today's eats:
Raw Chili Cheese Crackers that I made the other day (HEAB is going to have to be the official taste tester, since I included some in her bday package)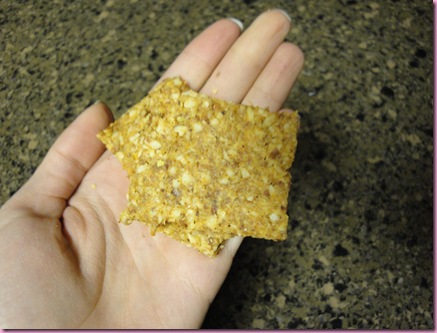 Salad beast and egg whites: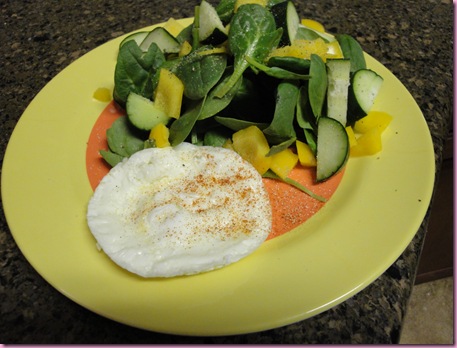 Sweet potato with lots of cinnamon and nutmeg:
And I had the choice to either make something amazing for dinner and head to teach and train, or make a sandwich and use the extra time to nap with the puppies……
I'm pretty sure you know which one I rolled with 😉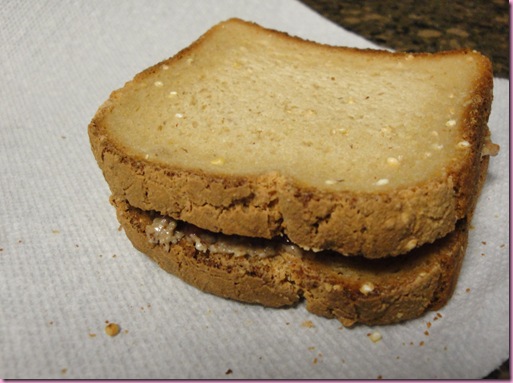 Almond butter and Polaner on millet bread. Dinner of champions 😀
Well I'm off to chillax a little before crashing out. Tomorrow we're going to start packing for Tucson! We leave Thursday 🙂 I'm ridiculously stoked.
Have a wonderful night <3
G$
Today's tip: Adding muscle mass helps your metabolism! As you increase muscle, your body's basal metabolic rate (the amount of calories you'd burn if you laid in bed all day) elevates as well. So more lean muscle = more calorie torching action. Pump some iron! 😀