Full of cheer up in herre
Naked blog: Usually the bloggy has a fun header, but it disappeared this weekend when we updated WordPress and I'm the process of getting ahold of Zesty to get it back up. :/ My bloggy is not usually naked like this 🙁
___________________________________________________________________________________________________________________________
Hey guys! Happy Monday! 😀 How's your morning going??
Mine is feeling extra festive because we got our tree up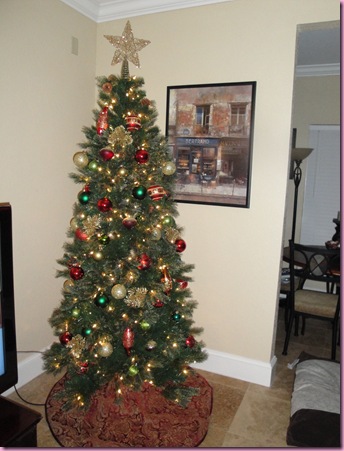 (Jeni and I are going to Hizzle Lizzle for the finishing touches and some more decorations for the casa…. I'll post pics when everything is done!)
and I'm sipping this lovely gingerbread tea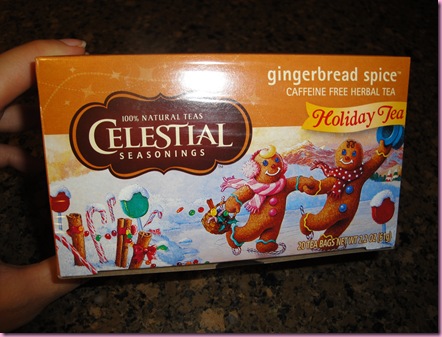 Too bad the high is going to be 80* today 😉
Chances are that I'll actually get to see a white Christmas this year—we're going with the pilot's family to Gatlinburg, TN. I was a little frightened at firsts (hello, ghosts) but after some friends and Tweeps told me it was really nice, I'm actually kind of excited 😀 The only white Christmas I've had was when I was two in Tucson and had the chicken pox. Pretty sure that doesn't count 😉
Yesterday was kind of lazy.. and it felt sooooo nice 😀
Lunch was noteworthy: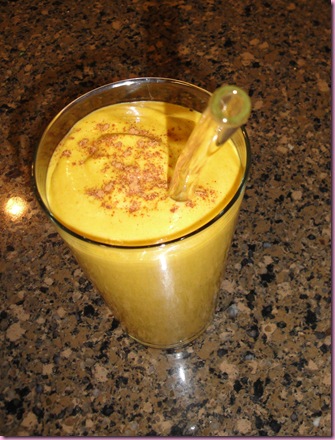 Pumpkin pie shake
-1.5 cups almond milk
-2/3 cup canned organic pumpkin
-1 banana
-1/2 cup frozen Thai coconut meat
-pumpkin pie spice
-2 packs of Stevia
-pinch of sea salt and 1 t vanilla extract
-1 T almond butter
All blended in the Vita-mixalicious into pure pumpkiny justice.
I had two training appointments yesterday- one with a new client that I'm so excited to work with. She was like, "I'll do whatever you want me to, eat however you want me to, I just want to get rid of this baby weight and be SEXY again". A trainer's dream 😀 I LOVE love love when clients are motivated and don't care if they have to change their eating habits… because some people fight it, big time and want to lose a ton of weight without losing their daily bucket of fried chicken. Doesn't quite work that way….
The pilot got B2W while we were out running yuletide errands, so I made a quick dinner at the casa as we decorated.
Greek-style salad: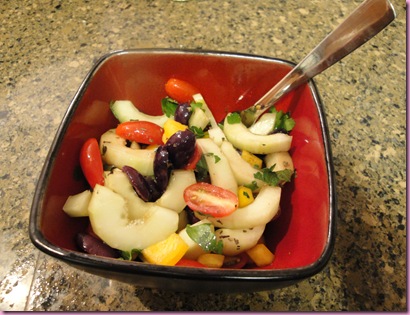 Cucumber, kalamata olives, grape tomatoes, bell pepper, parsley, oregano, olive oil and red wine vinegar
I took a couple of bites and realized it was missing something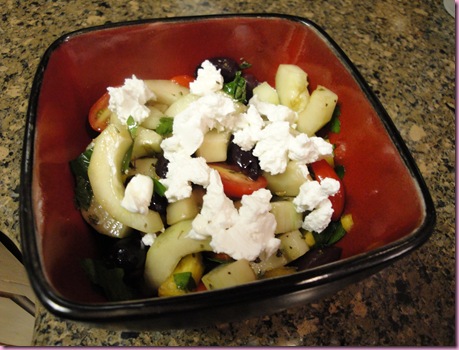 Goat cheese! Much better 😀
And bnut fries with Annie's ketchup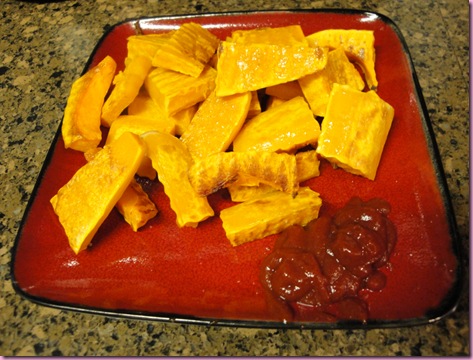 I don't think I'll ever get sick of those things. They taste like McDonald's fries to me. At least what I would imagine McDonald's fries to taste like.. it's been about 8 years since I've had a "real" fry. Do I miss them? Not at all 😀
Plan for the day:
-Make blond macaroons
-Clean
-Go to gym to make orientation phone calls and appointments
-Practice Zumba dances
-Write
-Weights and Hobby Lobby with Jeni
-Teach Zumba
Have a wonderful day!
xoxo,
Gina
Today's tip: One of the major reasons that people fall into plateaus is because of boredom, especially when it comes to workouts and meals. Shake things up a little! For new workout moves, check out the workout page. For new meal ideas, pick up a new cookbook- it's the easiest way for me to make sure we don't keep eating the same old things. Another one of my favorite places to get healthy recipes is the Canyon Ranch website. You have to register, but it's fast and painless, and then you'll have access to a multitude of delicious and healthy recipes.