Heyyyyy 😀 How are ya? It was very interesting to read about the crazy fitness fads ya'll have tried. I've definitely been around the block myself. It was the first I've heard of the cabbage soup diet though… just thinking about it makes my stomach churn.
Today has been busy but a lot of fun 🙂
I met a friend for tea and a chat at Bizzle and and then came home for lunch- a single-sized serving of Sophie's Chopped Salad.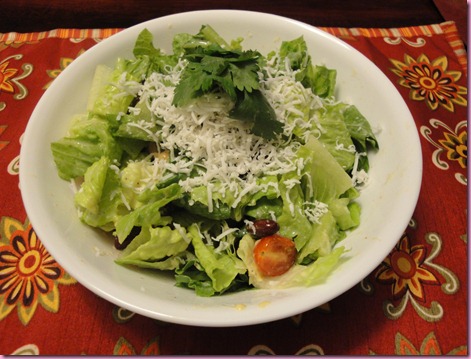 -1/3 C kidney beans
-1/3 C garbanzos
-6 kalamata olives
-handful of grape tomatoes
-Romaine
-Goat gouda
-Cilantro
+ a dressing made of Dijon, olive oil, rice vinegar, sea salt, cayenne and Garlic Gold
With kamut and nooch: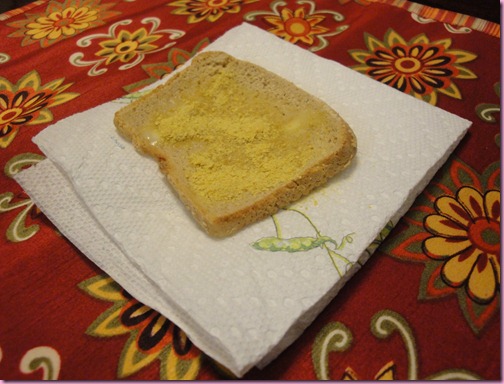 (There are PEAS on our paper towels… reminds me of a certain someone!)
I ran some errands and then met Jeni at Main Squeeze for an afternoon juice.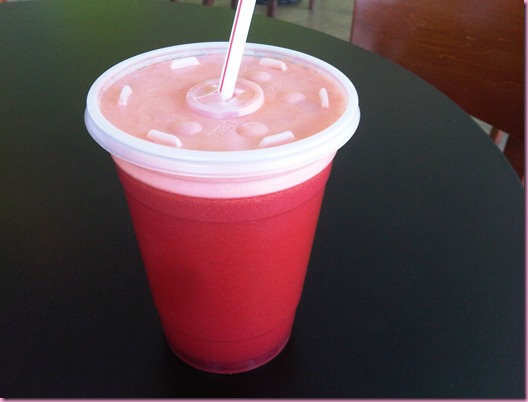 A *Cullen* juice with carrots, apple, beet and ginger 😀
When workout time came around, I did the HIIT 25 TurboFire workout and it was AMAZEBALLS. For this workout, you do 4 1-minute high intensity interval drills, two times on each drill with a minute of rest in between. HIIT is an awesome way to burn a crazy amount of calories in a short amount of time, since you go balls to the wall, recover and repeat. For a great article on HIIT, check out *this page*.
I was drenched in sweat after the 25-minute workout and thought that it would be fun to try a short Hip Hop Abs DVD for a cool down.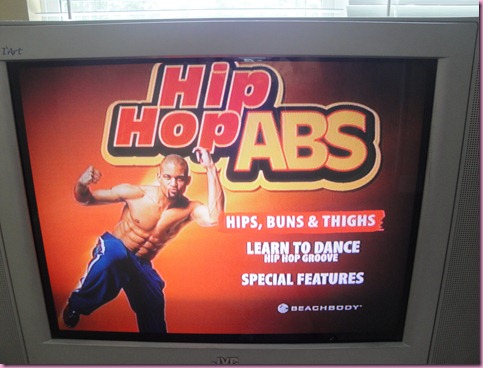 I couldn't finish it.
I was laughing way too hard. It's not that I was making fun of the workout kind of laughing, but laughing because Shaun T. is TOTALLY different in the HHA videos.
When I received the DVDs from a lovely reader, someone mentioned that Shaun T. has two different personalities: his Insanity personality and his Hip Hop Abs personality. I couldn't agree more.
The DVD starts off with a Fresh Prince of Bel-Air-esque rap that Shaun T. himself sings and dances to (think "Yo, yo I'm Shaun T., Imma get you looking hot in yo jeans") and he talks to the beat for the entire workout. Totally different from his drill sergeant yet motivational demeanor in the Insanity workouts.
I realized that I do the same thing, too. When I teach Zumba, it's partyyyyyy time—I don't talk much during Zumba unless I'm giving cues, but have a smile on my face the entire class. For spin and bootcamp, it's totally different. My tough side comes out 😉
What do you look for in a fitness instructor? Does it depend on the type of class you're taking??
I'm back to work and then meeting the girls for dinner since the pilot is flying (again).
xoxo,
Gina
Something to read:
Something to do: Send me a pic of a recent Indian Food feast if you'd like me to include it in tomorrow's Indian Food Wednesday post 🙂