"Hop to It" Jumping Cardio Interval Workout
Here's an Easter workout with lots of hopping, to get you feeling just like the Easter Bunny! This Easter HIIT workout will have your heart pounding in a short amount of time with no equipment needed.
How's your morning going so far? I'm still feeling glorious after an AMAZING Zumba class last night. I went to check out Party Fitness, which only has Zumba classes, and it did not disappoint. Zumba classes are usually very hit or miss (no in between!) and I was pleasantly surprised by the class at the atmosphere. I walked in and wanted to yell, "MI GENTE!" (<– my people) and hug everyone. They have flashing lights, extremely loud music and the instructor was fantastic. I'll definitely be back!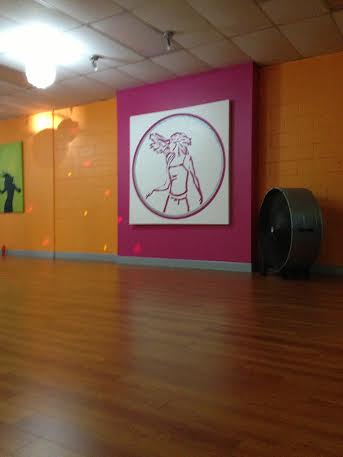 Easter Workout – Hop to It HIIT!
Today we're off to a local theme park, so I thought I'd share a quick and sweaty workout you can do anywhere with just your own bodyweight and a little space.

Here's the printable/pinnable: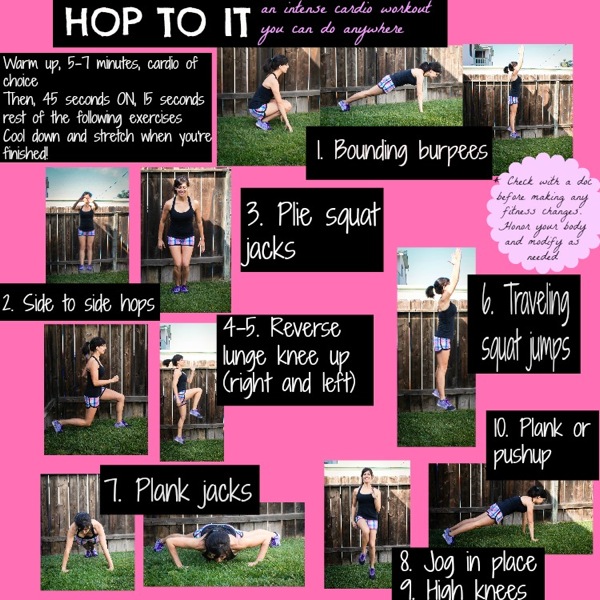 I know many of you will be traveling this weekend, so it's a great hotel or quick travel workout option. Let me know if you give it a whirl!
As always, check with a doc before making any fitness changes. Honor your body and modify as needed.
Form Cues and Tips for Beginners
Beginners: you should be able to comfortably complete 30 minutes of steady state cardio on most days of the week before experimenting with any type of interval training. If you have your cardio base down, low impact options are provided.
Warm up for 5-7 minutes, moderate cardio of choice.
Then, complete the following exercises in a circuit. You'll work for 45 seconds and take a 15 second rest before heading to the next exercise. Want to make it a longer workout? Repeat it from the beginning and cool down for a 30 minute workout (including warm up and cool down).
1.) Bounding burpees. This is a classic burpee, but on the squat portion of the movement, you'll spring forward and travel. In a small space? On the second one, you'll go back the way you came, alternating back and forth. Beginners: you'll "walk" instead of jumping two steps forward, but keep your body low and your knees bent to fire up your quads. Step each foot back into plank position, step each foot back to your hands and stand up to reach up towards the ceiling. Looking for an advanced variation? Add a tuck jump on the vertical jump portion.
2.) Side to side hops. You'll jump side to side, trying to keep your legs as close together as possible. Make sure to land with a soft knee and reach your arms up towards the sky/ceiling on the jump to make it more challenging. Beginners: hop one foot at a time (right left, left right).
3.) Plie squat jacks. For this one, you'll jump out to a wide plie squat, and then jump to bring your feet back together. For a low-impact variation, do regular plie squats. Challenge: hold a flat weight against your chest.
4.) Reverse lunge knee up (right side). Step back into a reverse lunge (keep good form with your front knee over your front ankle, chest lifted and core tight), bring your back leg up and bend it to jump up before going back into your reverse lunge. Beginner/low impact: regular walking lunges are great.
5.) Reverse lunge knee up (left side). Same as above, just switch sides!
6.) Traveling squat jumps. Bound forward with your squat jump, land softly, rotate and jump back. Low impact: the same kind of the bent-knee deep squat walking you did for the bounding burpees. You're going to feel like a giant goober doing it, but no one cares. Just roll with it and enjoy the sweet leg burn.
7.) Plank jacks. Come into a regular ol' plank position. Jump your feet out wide and (optional) bend your arms to lower into a pushup. Straighten your arms as you exhale and jump your feet back to plank. Low impact: walk your feet out one at a time, and skip the pushup if you need to.
8.) Jog in place. Nice, easy jog in place.
9.) High knees. This is where you power it up and get your knees as high as you can. Low impact: march with high knees.
10.) Pushups or plank. Your choice! Looking for ideas? Check out these plank variations and these pushup variations.
Cool down and stretch.
xoxo
Gina