Hey hey hey 😀 What's up, bloggies?
How are those Summer Shape Up workouts going? Anyone pleasantly sore from yesterday's speed workout?
Also, keep those bids coming on Angela's Shop 4 a Cause! Ya'll know when I say I'm sending macaroons that I'll really throw something else in there, too, right? 😉 Maybe some cookies… bars… I don't know, something fun 😉
Right now, we've got some *almost* horchata in the casa: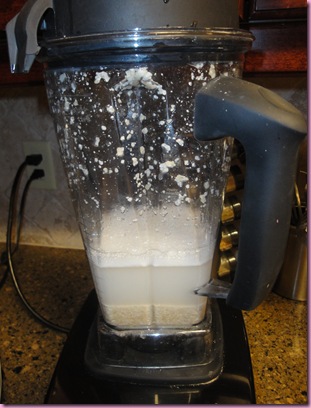 It takes 24 hours to make, but the pilot had requested some 😉 It's kind of a funny story… when we were in Orlando this weekend, the pilot said something about horchata and my aunt looked at me and said "you should make some." The pilot's eyes almost popped out of his face when he looked at me and said "you can MAKE horchata?!"
For those of you who aren't familiar with horchata, it's a Mexican cinnamon rice drink. Hit up your local Mexican restaurant or taco stand and pick some up! It's a perfect complement to spicy foods and well, it tastes like my childhood 😀 I made this batch with brown rice—I'm excited to see how it turns out!
Some of today's eats:
Larabar + Vega Tropical Tango Smoothie after Insanity (Plyo)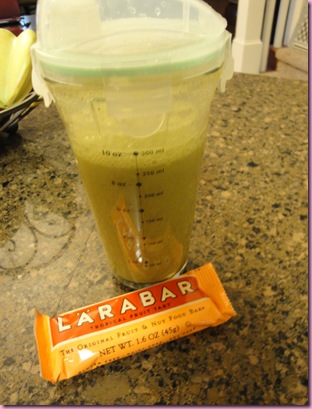 (Loved the tropical flavor, but Vanilla is my fave)
Perfect Protein Pancakes when I got home from work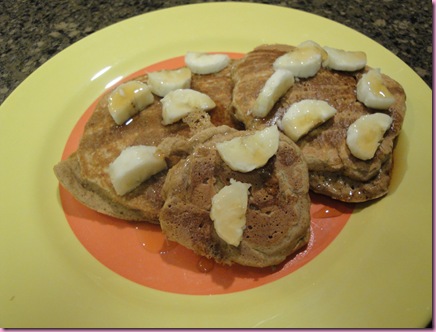 and later, a salad beast with millet croutons + fruit leather.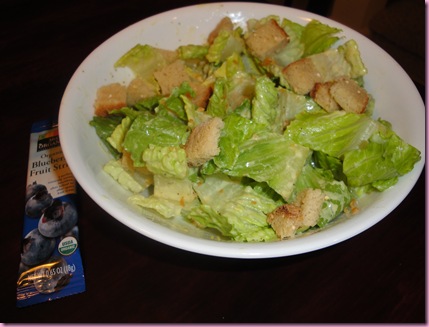 I plan on grabbing some more fuel since I've got to teach spin (which I'll teach off the bike again so I don't overdo it), Zumba and Abs class tonight.
After that, INDIAN FOOD with Jeni! Me <—– stoked.
xoxo,
G$
Today's tip: Add the salad dressing to the bottom of the bowl before you add your greens and mix-ins, then toss. It makes it easier to fully coat the lettuce and doesn't leave you with nekkid salad at the bottom 😉
Something to talk about:
Right now, Oprah is playing in the background as I type this- it's a DVR episode with Julia Roberts on Eat, Pray, Love. It's one of the my all-time favorite books and I can't wait for the movie to come out! Anywho, Oprah always asks great questions and I thought it was awesome when she asked Julia Roberts what her "Eat, Pray, Love" is and got me thinking about my own.
Here's mine:
Eat: A salad BEAST. Not a wimply house salad with iceberg lettuce and some sliced tomato… I'm talking about a fierce salad creation with shrimp, roasted veggies, goat cheese, dark leafy greens and a bold vinaigrette. Nothing makes me happier that chowing down on a ferocious salad beast.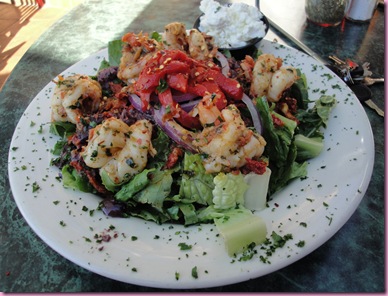 Pray: Usually during the first child's pose of my yoga practice, I stay there for a while and think about all of the things I'm grateful for. My family, my husband, friends and the fact that I have a healthy body that enables me to practice yoga and do the things I do. Since yoga is often one of the only quiet and still times in my day, I usually spent quite a bit of it being thankful and praying.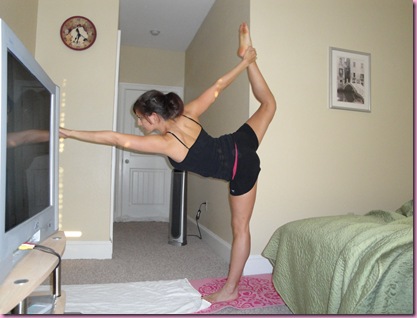 Love: Right before we go to bed, when the puppies are snoozing and I'm curled up with the pilot. That's when everything is perfect 🙂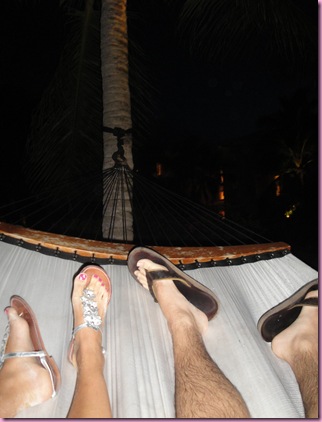 Feel free to share yours if you'd like – I'd love to hear them <3