Hey guys! Happy Tuesday to ya 🙂 Hope your morning is off to a great start.
Last night, I met up with two lovely ladies for tea and yoga: Ryan and Ashley!
We went to Infusion Tea, which is supah close to the yoga studio.
It's a very cute little place with an awesome selection of tea and healthy vegan foodie options.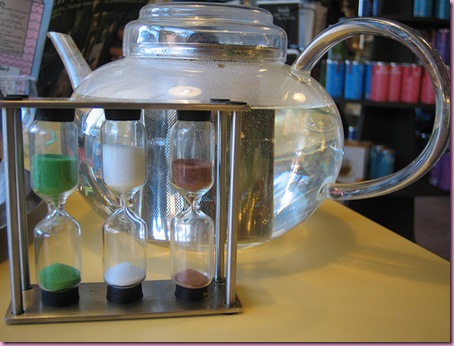 (Source)
Since I was a first-timer, I rolled with what the girls had ordered: a soy Rooibos Chai latte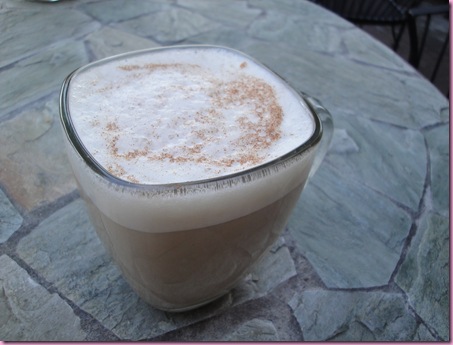 It was beautiful.
I'm learning a lot on this little spring break jaunt to Orlando, including the facts that I really do like soy lattes and I like my yoga according to what kinda mood I'm in.
Class was pretty good… a little slow motion for me, but I got some awesome stretching in. I really prefer the Baptiste style of yoga (unless I'm having a chill/recovery day)- it's faster paced and your heart is thumping throughout. During last night's class, I still got an awesome workout, but my Chihuahua-sized attention span started to kick in a few times. On top of that, I was *dying* to do some balancing poses (crow, balancing half moon, standing splits, dancer) but it wasn't in the yoga stars for me. Chilling with the girls was wonderful and I have two more classes at the studio, so I'm going to check out a couple more classes while I'm here.
Do you prefer faster, more intense yoga seshes or a slower, restorative style?? Or have you never tried yoga?? The beauty about it is that there are so many different types, you're *bound* (heh) to find something you love.
After class was over, I couldn't wait to dive into the food I had ordered to-go from Infusion Tea.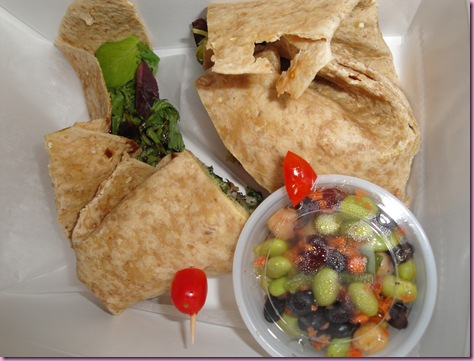 A Concorde wrap on whole wheat: Hummus, tabouleh, organic field greens, sunflower seeds, balsamic glaze and it didn't have a chance—I scarfed that bad Johnny down within about 5 minutes and it was everything I could ever wish for. Said wrap of justice came with a lovely bean salad on the side with chickpeas, black beans, edamame and carrots. Since I was driving, I didn't even mess around with a spoon- I just drank bites out of the cup. Cool, right?? Hahah. 
This morning, I'm heading to spin class with my favorite teacher (Israel! He's incredible) and then going to the pool with my cousin.
xoxo,
Gina
Today's workout jam: "Armada Latina" Cypress Hill feat. Pill Bull (this song is BEGGING to be Zumba-fied)
Something to do: Since we already have a spiralizer winner, don't forget to enter your email address on this promo page if you'd like a 10% off coupon to use in my OpenSky store. There's some fun stuff if you're in the shopping mood… which is a permanent state of mind for yours truly, haha 🙂