Insanity Workout Re-cap Week 1
Hi guys! How's your day been?
Thanks for your awesome feedback on the Show Me Your Smoothie post! I hope you get some fun new ideas from it 🙂
Feel inspired by all of the creative smoothies, I decided to get in on the action and try something NEW!
Special ingredient: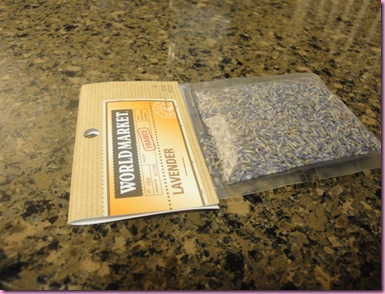 Blueberry Lavender Smoothie

-1 C almond milk

-1/2 – 1 C water

-1 C frozen organic blueberries

-1/2 banana

– 2 t hemp seeds

– 1 scoop vanilla Sun Warrior

– 1 t dried lavender (+ extra for garnish)

-1/2 T maca

– 1 t vanilla

– pinch Stevia (optional)
It was SOOOOO delicious 😀
Kind of like Shaun T's abs…. haha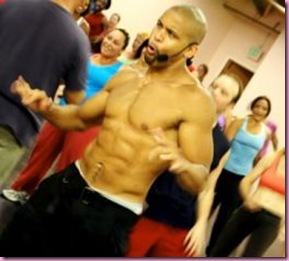 (He's the mastermind behind Insanity)
So as ya'll know, Ashley and I have been doing the Insanity workout. (FTC disclaimer: I'm not getting paid for this review and did not get the DVDs for free. Ashley paid for them- I'm just providing the workout location and occasional protein smoothies) At the request of some lovely bloggies, I'm going to write up my initial thoughts on the program and will update ya'll each week with my progress and reviews on the workout.
Here's some info on Insanity:
-It's a 60 day max interval training – this is the exact opposite from traditional interval training. Instead of going at a recovery pace and adding really difficult blasts for short amount of time, you go balls to the wall for longer, with short rests in between. The workouts are intended to be done 6 days per week, with one of those days being a recovery, more restorative type of workout and the 7th day of the week totally off.
–Insanity utilizes your own body weight for resistance (no weights), can be done in a small area and the DVDs are short (less than an hour each day) but very effective.
Even the packaging is intense: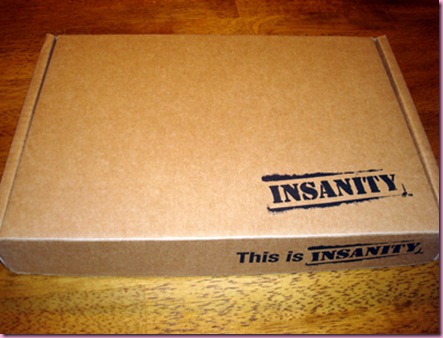 (Source)
-It includes 10 DVDs that you rotate through according to the schedule:
1. Dig Deeper Fit Test (30 minutes)
2. Plyometric Cardio Circuit (40 minutes)
3. Cardio Power and Resistance (40 minutes)
4. Cardio Recovery and Max Recovery (40 minutes each)
5. Pure Cardio and Abs (40 minutes)
6. Cardio Abs (20 minutes
7. Core Cardio and Balance (40 minutes)
8. Max Interval Circuit (60 minutes)
9. Max Interval Plyo (55 minutes)
10. Max Cardio Conditioning and Abs (50 minutes)
The program also includes a nutrition guide, calendar and fitness guide, which goes over a lot of the exercises.
Week 1 thoughts:
– I feel really, really good. To be honest, the first Fit Test scared me a little, but it was a great way to start the program and will be a good way to see how much stronger I get as we continue. The workouts are ridiculously challenging, but not impossible or to the point where I dread them—I really look forward to our AM Insanity seshes. Because I sweat like a beast, it feels glorious to get the toxins out and the intense cardio gives me noticeable energy and feel-great endorphins.
–Shaun T. is an excellent teacher. He's motivating, but not in a cheeseball way, and encourages you to take breaks when you need them. He goes over the movements while you're doing them to make sure you have proper form and always says that if your form starts to suffer, take a break and then get back into it the right way.
-This workout program is definitely about quality over quantity. From teaching, lifting weights, running, yoga-ing, doing Pilates and training clients, my workouts were starting to slip into the "more time, way lower quality" category. Less is more.. if it's effective. I'm working out for far less time each day and after a full week, I'm already seeing subtle (but celebrated!) physical results.
-The movements are very high impact and if you have bad joints, medical conditions or are injured, I would not recommend the program at all. I danced for my entire life, so hopping and jumping aren't foreign things to me, but I could see that if I were beginning this program at the start of my weight loss journey, I wouldn't stick with it. I would be intimidated, lose motivation, become discouraged and the DVDs would be pushed to the bottom my exercise DVDs.
-This program isn't for beginners. A lot of the exercises begin with the assumption that you already know proper form- if you don't, you could easily hurt yourself. I really think that this program is better-suited for active, athletic people who are just stuck in a rut (like ME!). It's a great way to shock your body and trick your muscles into evoking change.
–I'm excited to see what our results are like! Ashley started a week before I did (and then re-started the program with me when I got back from Orlando) and her abs look AMAZING. We took pictures and measurements (which I'm not going to post on the blog because well, that info wouldn't really help anyone) before starting the program and I can't wait to compare our end results.
So that's it for my Week 1 thoughts- I'll give ya'll an update each week and will write a final review post when it's over.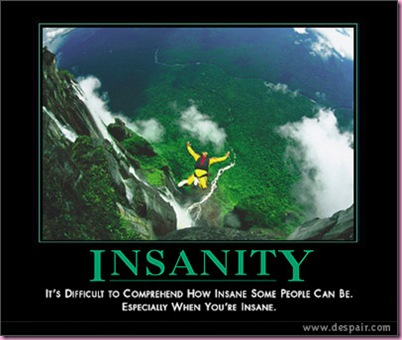 (Source)
I would probably do each Insanity workout in a row before I'd go skydiving. Just the thought scares the dickens out of me!
Off to walk the puppers <3
G
Have you ever tried a DVD workout program?I haven't in a looooong time, but I used to Tae Bo like it was nobody's biznazz 😉