I planned on having this post up yesterday afternoon, but we got sucked into the vortex of Livi's new room -it's coming together so well, so far!- and had to make a quick Ikea trip after her swim lessons. I'm really excited about this workout because it's my favorite style: driven by awesome music. It's similar to the last one I did here! It's a great way to change up your strength training routine and get a total body workout while using the music as your strength motivation.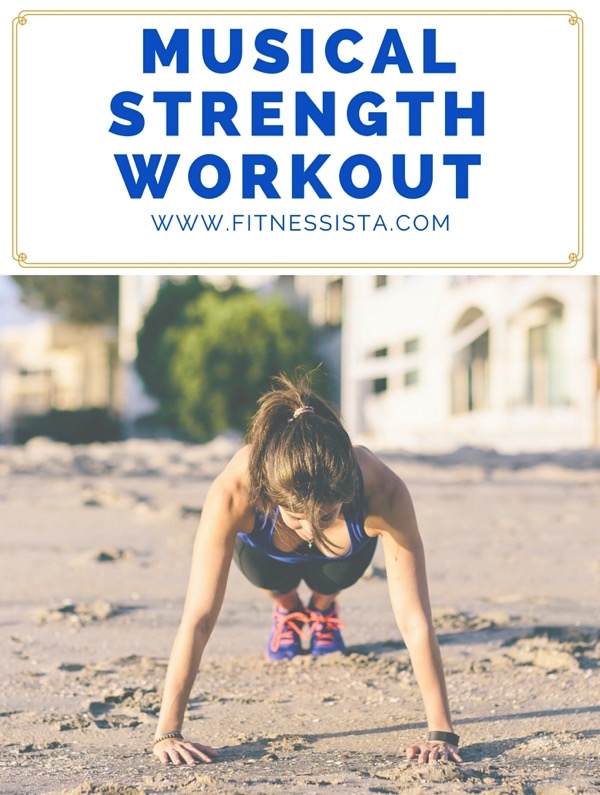 Music is Key for Workout Motivation
As you guys know, I'm a huge fan of using music to drive workout motivation. Whether I'm teaching a class or enjoying my own sweat session, a killer playlist can really pump me up. I always love thinking about exercises that work well with the music (it's the dancer in me), and putting together ideas to share with ya. Here's the latest, featuring some of my current favorite songs. When I'm feeling better again, I'd like to share some live/video workouts like this so we can do them together! In the meantime, let me know how it is, k?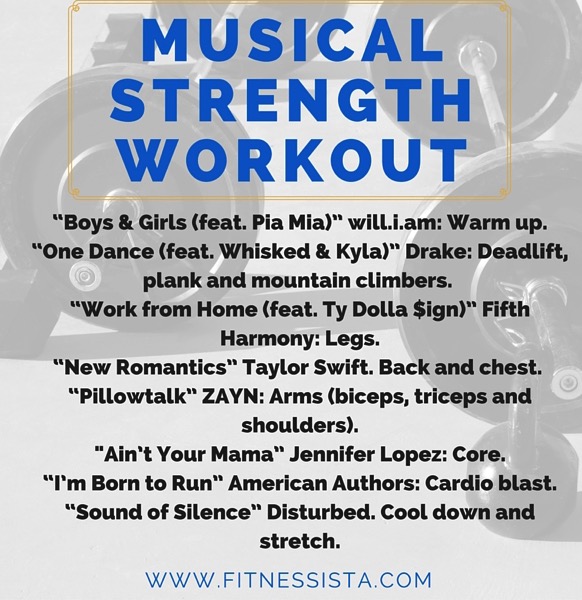 Here's the playlist:
Workout Cues
(As always talk with a doctor before making any fitness changes. Modify as needed and honor your body.)
"Boys & Girls (feat. Pia Mia)" will.i.am, or your favorite warmup song: Warm up on the treadmill with a moderate pace and incline. By the end up the song, bring your speed up to a challenging but maintainable pace.
"One Dance (feat. Whisked & Kyla)" Drake: Deadlift, plank and mountain climbers. Start with slow deadlifts. Keep your knees slightly bend and a flat back as you hinge forward from your hips. Squeeze your glutes and exhale to rise. When the female lyrics come in, bring yourself into a plank and hold it. Breathe, and keep your back flat whether you're on your knees or toes. On the funky beat interlude at about 1:40, take it into mountain climbers, as fast as you can. Stand up, and on the female lyrics "tell me, I need to know" take it back to deadlifts, moving a little more quickly. When Drake starts singing again, bring it back to plank and hold until the end.
"Work from Home (feat. Ty Dolla $ign)" Fifth Harmony: Legs. Start off with lunges on the right side. Create 90 degree angles with both legs, and keep the front knee stacked over the front ankle. Keep your core engaged and exhale to rise. For the chorus ("You don't gotta go to work work work…"), hold your lunge and do a tiny straighten and bend of the back leg. For second verse, take it into lunges on the left. Keep them smooth and watch your front knee. For the chorus, hold your lunge and do a tiny straighten and bend of the back leg. "We can work from home": jumping lunges. Keep this going through the rap interlude. When you max out, take it into walking lunges. Set up your lunge before you sink down. For the last chorus, take it into smooth squats (and get control of your breath because your heart rate will be elevated from the jumping lunges). Focus on keeping your chest lifted, sinking back and down into your heels, and exhaling while you squeeze your glutes to rise. "We can work from home": pulse your squats. Find the lowest point, and rise two inches and lower two inches until the end.
"New Romantics" Taylor Swift. Back and chest. Start off with heavy narrow rows, holding a barbell or pair of dumbbells. Keep your back flat, core pulled in, and your neck long. For the chorus: release the weights to the floor, and doing a walk out to plank and 3 push-ups on your hands or knees. Walk your hands back to your feet and slowly roll up. Second verse: wide rows. Second choruses: walk out to plank and do 5 push-ups this time. Finish with chest presses on your back. Keep your elbows wide and your core pulled in. For the last chorus, pulse your chest presses. If your weights are too heavy, go back to modified or regular push-ups.
"Pillowtalk" ZAYN: Arms (biceps, triceps and shoulders). Start off with bicep curls, holding heavy weights. Really squeeze your biceps as you lift the weights. Chorus: triceps dips with bent or straight legs. Second verse: shoulder raises. Bring the weights up to shoulder height (no higher) and keep your core pulled in and slightly bent knees. Second chorus: triceps dips with straight or bent legs.
"Ain't Your Mama" Jennifer Lopez: Core. Start off with a plank, keeping a nice straight line with your back and core pulled in. Breathe the entire time. First first: hip dips right and left. "We used to be crazy in love" rotating side plank. For more excitement, lift the top leg as you rotate. Chorus: walking plank. Take 4 steps to the right (right hand and right foot, followed by left hand and left foot). Next verse: leg lowers and lifts (on your back). Exhale to lift your legs up, and inhale to lower them as low as you can (bend your knees if you need to). Last slow chorus: hip raises. When the beat drops and it picks back up, back to walking planks, 4 each side. Do this until the song is over.
"I'm Born to Run" American Authors: Cardio blast. Tempo on the treadmill. Start off at a moderate pace, and increase your pace every 30 seconds. Finish out the song at a full sprint.
"Sound of Silence" Disturbed. Cool down and stretch. Walk for a couple of minutes to get your heart rate back down, followed by your favorite static stretches and/or foam rolling.
Are there any new songs that really pump you up? If you could only listen to one artist or DJ on your playlist, who would you choose? For me it would be a tie between Calvin Harris and Fallout Boy. They both ALWAYS get my workout mojo going.
Also, I had to share this because I came across it searching for awesome music:
I know, right?
Have a happy Wednesday! See ya later today with some random adventures from the week.
xoxo
Gina
More musical workouts: