"Where the wind comes sweepin' down the plain (Oklahoma!)

And the wavin' wheat, can sure smell sweet

when the wind comes right behind the raaaiiiiiiin!

Ohhhhhhhhhhhklahoma!

Every night my honey lamb and I

Sit alone and talk, and watch a hawk

making lazy circles in the sky!"

Oklahoma! by Rodgers and Hammerstein
(Any other big time Broadway musical nerds out there?)
Poor pilot. We just crossed the border into Oklahoma (Ohhhhhhhklahoma!) and I proceeded to sing the entire song. Then I repeated it in my best opera voice. He's a trooper, fo sho 😉
How are you guys doing?? This lack of blogging/reading thing definitely has me missing all of you, but I plan on spending some QT with the good ol' Google reader once I bid adieu to my love for a month.
We had such a blasty in Little Rock with the pilot's familia.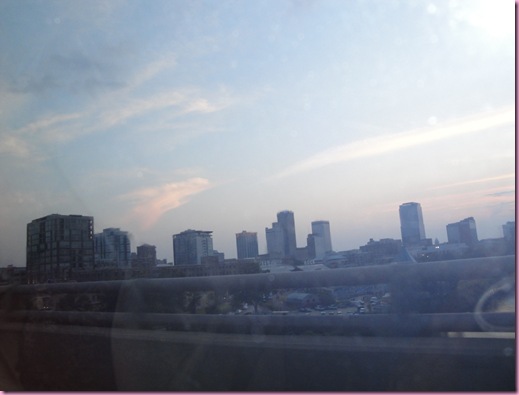 After hitting up the base gym, we all met up at US Pizza Co for some dinner.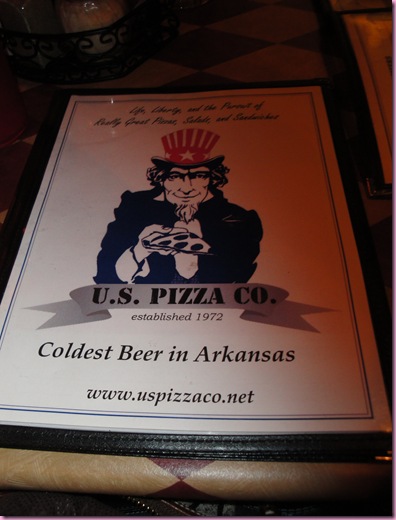 I had some beautiful Shiraz.. I asked for the Yellowtail but the bartender informed me they were out and had house Shiraz. I glanced over and saw a box of wine and was like, "You mean the wine in a box?" and he said yes, but that it was very good and promised I'd like it.
He was right. Doesn't say much though, I love all things red vino.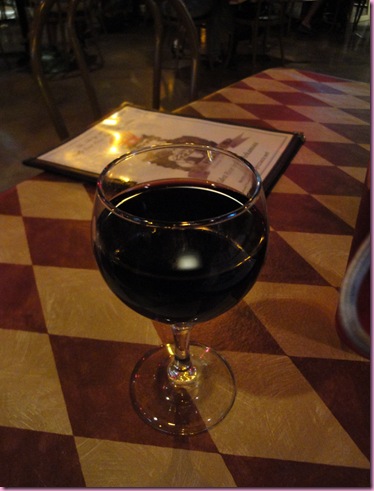 Dinner was unpictured guacamole and chips and what I like the call the Third Times a Charm salad.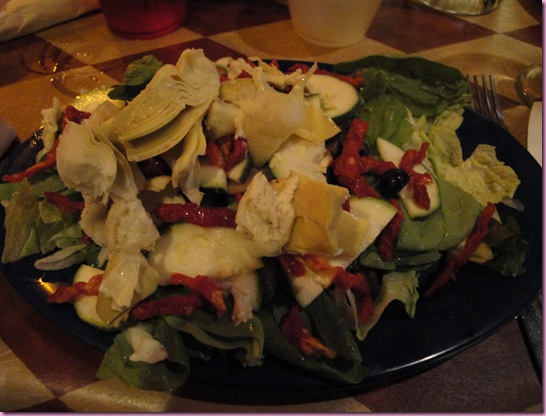 It took them 3 times to get it right and as much as I hate being difficult, the first time it came out covered in cheese and the second time it was covered in bacon bits. The final version was quite lovely though 😀
I was glad the pilot got to hang out (and play swords and ninjas) with his nephew, Caden: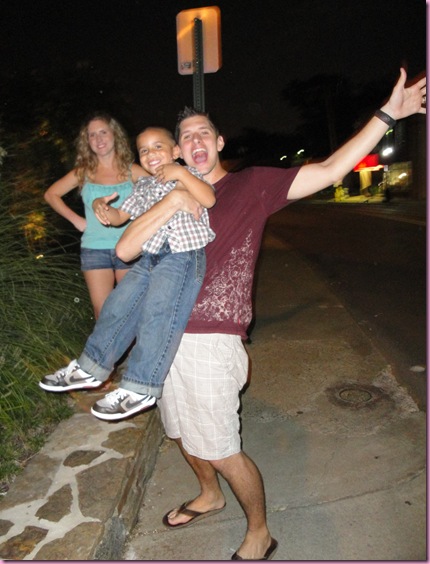 (his beautiful sis Shannon is in the background)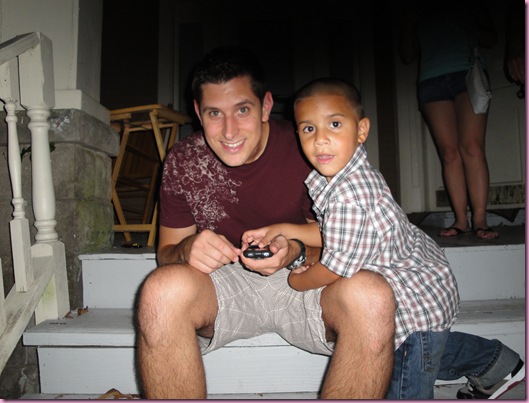 Future heartbreaker, right there 😀
This morning's bfast was a almond butter and jelly sludge: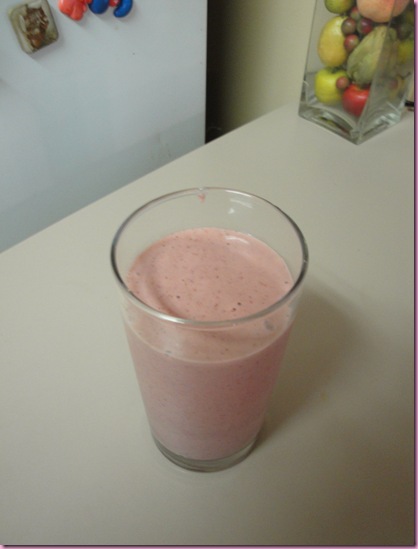 (Hemp milk, vanilla brown rice protein, Vegalicious, frozen strawberries, banana, almond butter, Stevia, sea salt, cinnamon)
And then we hit the road to Oklahoma City 🙂
On-the-road snacks were one bite of this bar: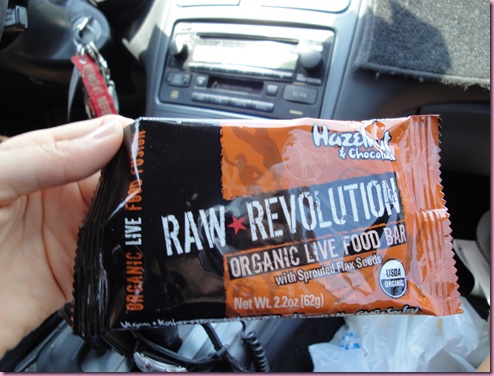 The rest went in the trash because it tasted like death and was redeemed by half of this bar: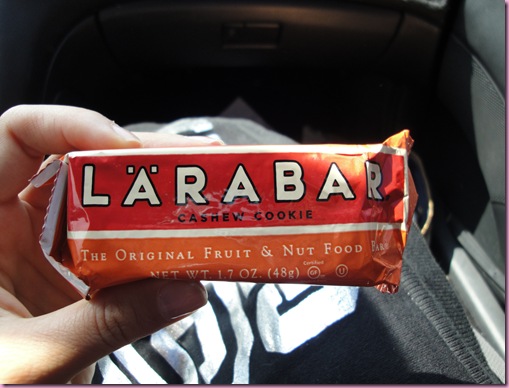 Larabar saves the day!
And a juicy apple: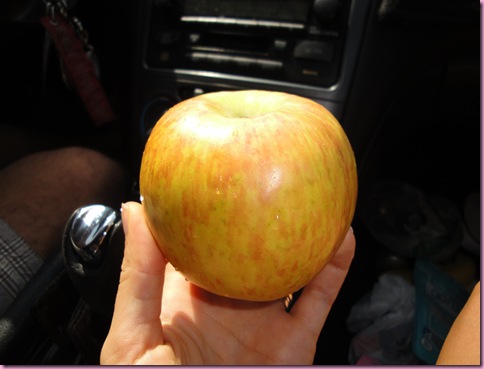 I also worked on the "mad face" a little 😛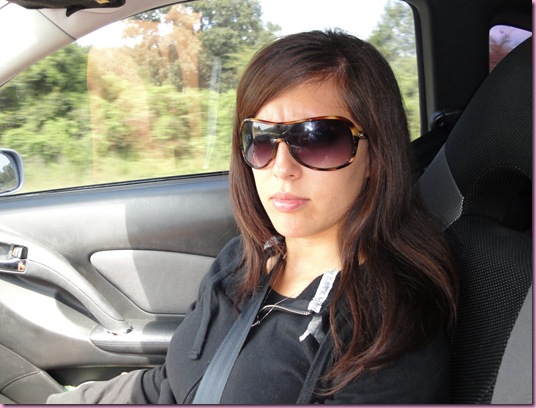 After a couple of hours of driving, we were starving and I had spent most of the ride talking about how much I wanted salmon.
My fish wish was granted.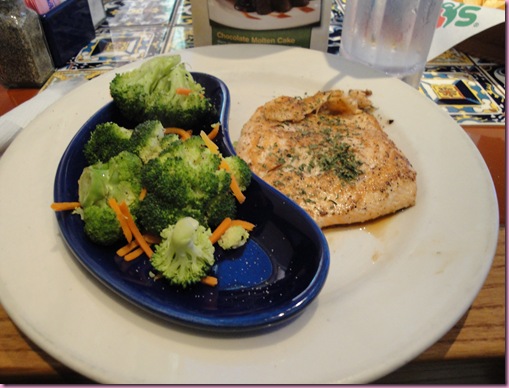 Clean plate club – president: Gina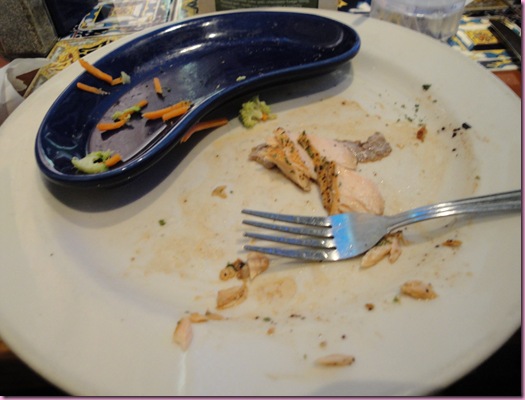 I'm about 30 seconds away from crashing out (sorry pilot, haha), but my abnormal posting schedule should resume as soon as we get settled in OKC.
Have a fabulous Saturday!
Much love,
G$
Today's tip: When you don't have a chance to hit up the gym (ie. me because I overslept this morning) just make an effort to eat as cleanly as possible that day. Getting off schedule a little won't hurt you (at all)- just get back in the routine when you can.