Hey everyone!
Thank you so much for all of your feedback on the new bloggy 😀 I announced the unveiling via Twitter and I have to say I'm way stoked with how well it came out. I consulted the people at Triskele (after hearing good things about them from Mama Lovin) and I have to give them MAYJAH props for helping me switch over my entire set of archives (477 posts!). They also gave the bloggy a cleaner and easier-to-navigate kinda feel. If anyone needs help pimping their blog, check out Triskele 🙂
I still have quite a few things I want to do (like add recipes, workouts, FAQs, etc) but I know have the capability to DO IT so I'm way excited!
To start the morning, I had a lovely sludge: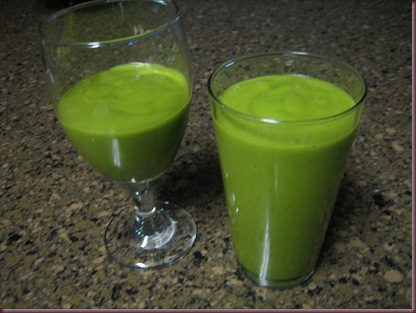 It had 1 frozen nanner, coconut water, sprouted brown rice protein (I've been using Sun Warrior and like it a lot), Stevia, cinnamon, sea salt and a big ol' handful of spinach.
No walk for the puppies this morning (sorry, puppies!) because the pilot didn't have to be in until 2:15 pm and we had a lovely lazy morning.
We went to Best Bizzle and bought my new camera (!) which won't get here until next week, and then had Indian buffet for lonchi.
I had mint chutnet, cucumber salad, chickpea salad and a lentil and veggie dish.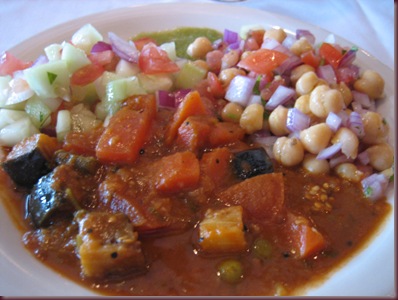 The way Sam sets up the buffet is pretty awesome- one side is totally vegetarian and the other side includes the meat dishes.
I bid adieu to the pilot and hit up the gym for some cardio and legs.
50 breezy minutes on the elliptical followed by side lunges, kettleball crunches, leg extensions, 1-leg hip raises and plie squats.
When I got back to the casa, I had some random snacks before starting to get ready to meet the girls. (1 tbs unpictured almond butter and a handful of Mary's Crack con hummus)
For dinner, the girls and I had McAlister's and instead of my usual veggie chili with veggies, I got the Mediterranean flatbread with no cheese.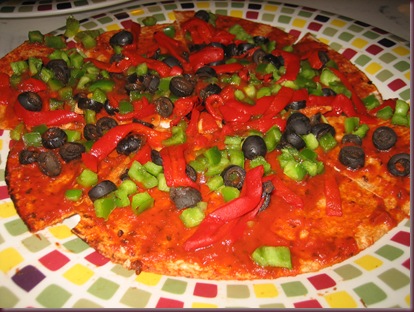 It was ok, but it was one of those meals that could easily be made at home and it would taste 100x better.
After dinner, we saw The Time Traveler's Wife. Um, total bawlfest. I let two tears slide out before I talked myself out of it, because I'm one of those people who can't stop crying once they start. It was an interesting exercise in self control to say the least 😉
I did like the movie (a lot!), but even though I haven't finished it yet, I like the book more.
Well I'm going to take these puppies out but my ABnormal blogging schedule will resume tomorrow 😀
Have a fabulous evening <3
xoxo,
G$